Important Characters of Harry Potter (spoilers)
Sort by:
Showing

40

items

Add items to section
Dumbledore's Army
Dumbledore's Army, also known as the D.A., was a secret organisation initiated by Harry Potter, Hermione Granger, and Ron Weasley to teach their fellow Hogwarts students proper Defence Against the Dark Arts. This organisation was made necessary by the refusal of Dolores Umbridge, the subject's professor during the 1995–1996 school year, to teach anything in her classes other than textbook theory.

Add items to section
The Order of the Phoenix
The Order of the Phoenix was a secret society founded by Albus Dumbledore to oppose Lord Voldemort and his Death Eaters. The original Order was created in 1970, after Voldemort returned to England from abroad and started his campaign to take over the Ministry of Magic and persecute Muggle-borns.

Add items to section
Death Eaters
The Death Eaters (originally the Knights of Walpurgis) was the name given to Lord Voldemort's followers. The group primarily consisted of wizards and witches who were pure blood supremacists, who practised the Dark Arts without regard or fear of Wizarding law.

Add items to section
Ministry of Magic
The Ministry of Magic (M.o.M.) is the governing body for the magical community of Great Britain. The Ministry connects the British Government to the wizarding world. Its headquarters is in central London, deep underground.

Add items to section
Other characters
Sybill Trelawney
Professor of Divination at Hogwarts
Talent:
Predictions
Sybill was the one who made the prediction about Harry.
Lexie's rating: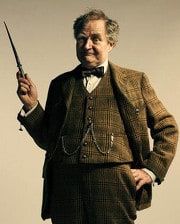 Horace Slughorn
Positons master of Hogwarts
House:
Slytherin
Talents:
Potions, Occlumency and Transfiguration
The list does not include information from the epilogue.
Added to