The biggest scandals of Hollywood
Sort by:
Showing

18

items

Add items to section
Murders

Add items to section
Suicides

By 1962, sex symbol Marilyn Monroe had racked up an impressive list of ex-lovers and enemies to go with her cinema successes: outfielder Joe DiMaggio, playwright Arthur Miller, singer Frank Sinatra, wiseguy Sam Giancana, President John Kennedy and his brother Robert, the Attorney General. And those were just the household names. So when Monroe's body was found in her Brentwood, California home early on August 4th, an apparent victim of a drug overdose at 36, the media could be forgiven for cooking up few conspiracy theories.

While her cause of death was listed as "probable suicide," forensics now shows her overdose was probably caused by a sedative enema – not a way most people prefer to go. Did one of her doctors give her a bad prescription? Or was the enema a murder weapon? Witnesses, ignored by the police, claim that RFK entered the home with some goons around the same time she was telling friends on the phone that she was going to reveal secrets about the Attorney General and his President brother. There were also reports of an ambulance coming and going from the house before the discovery of her corpse, also suggesting that her handlers had something to hide.

With nearly everyone involved now dead, it seems unlikely we'll ever know the full story. But whether her "probable suicide" was an accident, Kennedy-sponsored murder or just what investigators claimed it to be, few who knew Monroe's emotional issues and chemical addictions thought she would have lived much longer. As Miller later said, "It had to happen. I didn't know when or how, but it was inevitable."
Lexie's rating:


Peg Entwistle was an actress whose career wasn't going so hot. In fact, her life really wasn't going so hot. Her widowed father was killed in a traffic accident shortly after the two of them immigrated to America from Wales. His accident left her completely broke so she earned money by working on Broadway. Unfortunately, the Great Depression hit and people could no longer afford to spend money on extras like the theater. Peg started drinking heavily and headed to L.A. to pursue acting in April 1932. She received a role in the movie Thirteen Women, but her screen time ended up getting drastically cut. Right around this time, RKO Pictures decided not to renew her contract and didn't even invite her to the September premiere of Thirteen Women. The night of the premiere, she told her uncle (whom she was living with) she was taking a walk. She headed for the famous 50-foot Hollywood sign (which still said Hollywoodland at the time), folded her coat, placed it on the ground next to her purse, climbed the maintenance ladder of the "H" and jumped. Her body was found two days later; sadly, her uncle said that the day she was found, a letter arrived offering her the lead role in a stage production. Her character would have committed suicide in the final act.

In her suicide note, Entwistle wrote: "I'm afraid I'm a coward. I'm sorry for everything."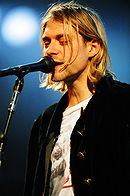 Nirvana's Kurt Cobain charmed the world with his mopey outlook and striped t-shirts. It was a brief romance. Fans barely had time to memorize the lyrics on Nirvana's third album before Cobain checked out, killing himself with a 20-gauge shotgun blast.

Conspiracy theories abounded. Was he moved to suicide by some bad heroin? Was he murdered? Skeptics pointed to facts such as the massive amount of heroin in Cobain's system, which would have sapped him of the strength to pull a trigger. Handwriting experts also scrutinized the suicide note to see if Cobain really had written it.

Add items to section
Other scandals
Added to

33 votes
Favorite Lists
(119 lists)
list by JayTrotter
Published 10 years, 8 months ago

4 comments

38 votes
Celebs Life & Death
(65 lists)
list by SFG¿mystic
Published 10 years, 8 months ago

1 comment