Sort by:
Showing

10

items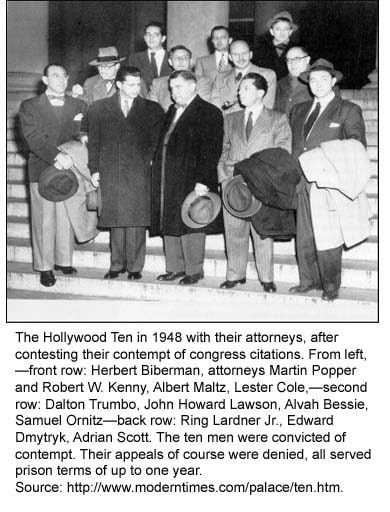 In October 1947, 10 members of the Hollywood film industry publicly denounced the tactics employed by the House Un-American Activities Committee (HUAC), an investigative committee of the U.S. House of Representatives, during its probe of alleged communist influence in the American motion picture business. These prominent screenwriters and directors, who became known as the Hollywood Ten, received jail sentences and were banned from working for the major Hollywood studios. Their defiant stands also placed them at center stage in a national debate over the controversial anti-communist crackdown that swept through the United States in the late 1940s and early 1950s. Besides the Hollywood Ten, other members of the film industry with alleged communist ties were later banned from working for the big movie studios. The Hollywood blacklist came to an end in the 1960s.
The Hollywood blacklist—as the broader entertainment industry blacklist is generally known—was the mid-20th-century list of screenwriters, actors, directors, musicians, and other U.S. entertainment professionals who were denied employment in the field because of their political beliefs or associations, real or suspected. Artists were barred from work on the basis of their alleged membership in or sympathy toward the American Communist Party, involvement in liberal or humanitarian political causes that enforcers of the blacklist associated with communism, and/or refusal to assist investigations into Communist Party activities; some were blacklisted merely because their names came up at the wrong place and time. Even during the period of its strictest enforcement, the late 1940s through the late 1950s, the blacklist was rarely made explicit and verifiable, but it caused direct damage to the careers of scores of American artists, often made betrayal of friendship (not to mention principle) the price for a livelihood, and promoted ideological censorship across the entire industry.
(From WIKIPEDIA)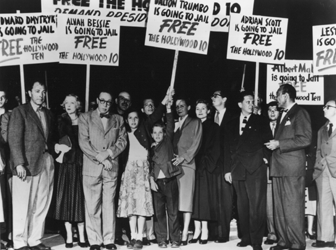 Added to

21 votes
Excellent Lists 4
(49 lists)
list by Kenji
Published 8 years, 1 month ago

4 comments

13 votes
PERSONAL THEMATIC LISTS
(8 lists)
list by Rath
Published 10 years, 4 months ago

1 comment

25 votes
Censored Cinema
(13 lists)
list by Gia
Published 10 years, 6 months ago

1 comment

7 votes
PERSONAL LISTS. CLOSED TO NEW ADDED.
(23 lists)
list by Rath
Published 10 years, 3 months ago

1 comment