30

vote
Film Journal 2020
Sort by:
Showing 1-

50

of

105
Decade:
Rating:
List Type:

Add items to section
October

Add items to section
September

Add items to section
August

Add items to section
July

Add items to section
June

Add items to section
May

Add items to section
April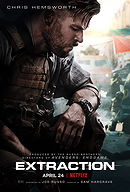 Netflix churning out technically proficient films without a soul or any thought placed behind them just so they can have more content is starting to be a bit of a bummer, at least in the action genre where odds are your actors are too busy being mopey to actually bring any spark to the material. It'd be fine if this was 75 minutes of action but two hours with like absolutely nothing for an hour in the middle oh my gggg


VierasTalo's rating:

This movie spends an hour doing nothing but hot dogging and grand-standing, moving from one insane setpiece to the next (to name few: a sex ed class where we get to hear all sorts of words subbed in for a penis and the whole class chanting "condom", an impromptu Bob Fosse eqsue choreographed dance set to a song about girls liking boys including a "two women in a towel to look like a very tall person" sight gag, the now infamous rap scene (and more of them to boot!)) seemingly without a care in the world. Eventually our titular Teen Witch grows complacent and the movie slows down, but until then it is a wild ride and it feels downright John Watersian in the way it sort of ignores any semblance of reason or sensibility and just does whatever the hell it pleases. Bonus points for every single article of clothing and every hairpiece.


VierasTalo's rating:
Load more items (55 more in this list)
Movies I've seen in 2020. Updating as I feel it, you can follow in more real time over at my Letterboxd:
letterboxd.com/vierastalo/
Added to