20 Facial Expressions Challenge (Kids Edition!)
Sort by:
Showing

20

items
It was harder than I thaught to find these pics, that's why I just put 20. But if you find another facial expression, feel free to suggest!
Hope you all like it!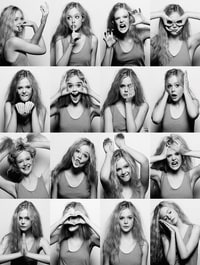 Added to
22 votes
All Facial Expressions in 1 List!
(12 lists)
list by Gaby
Published 5 years ago

1 comment
23 votes
Favorite Lists
(27 lists)
list by maddiee
Published 6 years ago

3 comments
4 votes
Favorite Lists
(17 lists)
list by Polonia
Published 5 years, 9 months ago

2 comments
People who voted for this also voted for