38

vote
100 & 99 Of My Favorite Films From The 1970's
Sort by:
Showing 1-

50

of

199
Decade:
Rating:
List Type:
Load more items (149 more in this list)
To be honest, when I first decided to start making lists of my favorite movies by decade, I only intended to make 'em as my Top Ten. But as I began compiling the movie entries, I found that making a list based on the ten best of the seventies turned out to be much more difficult than I anticipated. IMO, the seventies was the last era of the pioneering film spirit (I mean, y'know... a spirit defined more by my personal tastes that any thing else). A spirit which, by my observations, had taken a backseat to the formulaic blockbuster craze, by the time it reached the 80's. And even though this blockbuster binge technically started in the late 70's, it was a trend that truly began to overwhelm theatre screens throughout the 80's decade & forward on (which really isn't as much of a criticism as it sounds... I recognize that this was the natural route that it was going to take based on the progression of film as a popular artform for the masses).
Anyways, even after extended to list to 20, then forty, then 50, it still wasn't as easy a task as I thought when I first initiated it, because there were certain films that made it feel almost painful for me to omit. I mean, how can anyone make a list of the best from this time period & not include titles like The French Connection, Five Easy Pieces or Nashville?
In other words, this is a list that I can do again next week and have a whole set of different films included in the first top ten (well...with the exception of the Godfather).
So I finally settled for making a list as long as possible (199 to be exact), to include as many of the films as possible from this ten year period, quite possibly the last decade IMO where the bad films didn't outnumber the good by so much.
Now, keep in my mind that with this many entries, the individual ranking could shift on a weekly basis. But for now, the current arrangement is the best that I can do with at the moment of this posting. Heck, even as I reflect on what I have undertaken, I can already feel the need to start re-arranging what I have up to this point.
So hurry up & read what I got so far before I change my mind.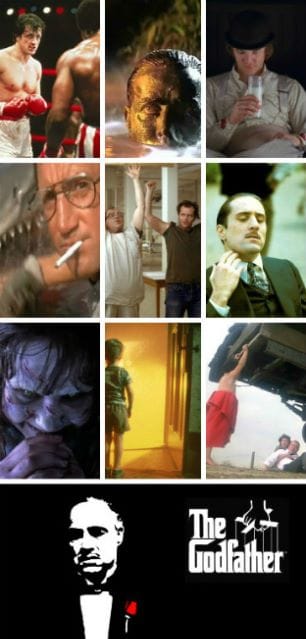 Lists from other time periods:
The 20's:
www.listal.com/list/10-20-my-fvaorite-films
30's:
www.listal.com/list/19301939-my-top-ten-favorite
40's:
www.listal.com/list/19401949-my-top-ten-favorite
50's:
www.listal.com/list/my-top-20-favorite-movies-thecelestial
60's:
www.listal.com/list/30-60s-my-favorite-films
80's:
www.listal.com/list/my-favorite-100-films-80s
90's:
www.listal.com/list/films-from-the-1990s
00's
www.listal.com/list/200-first-decade-new-millennium
Of all time:
www.listal.com/list/150-favorite-movies
Other lists by The Mighty Celestial:
My Top 20 Female Movie Bad-Asses
www.listal.com/list/my-top-10-female
10 Movies That Feature A Dancin' Travolta In 'Em
www.listal.com/list/my-list-9158
Yep. When It Comes To Comicbook Movies ....
www.listal.com/list/yep-am-huge-comicbook
WAATAAAH!! My Top 10 Favorite Martial Arts Flix!
www.listal.com/list/my-list-thecelestial
My Top 80 Favorite Sci-Fi Films Of All Time
www.listal.com/list/my-top-75-favorites-science
Can't We Be Dysfunctional Like A Normal Family?
www.listal.com/list/dysfunctional-family-movies/edit
My Top Favorite Romantic Comedies
www.listal.com/list/my-top-30-romantic-comedies
Added to

39 votes
Operation Save the Front Page!
(133 lists)
list by brazilfashion
Published 10 years, 2 months ago

14 comments