7

vote
31 Days of Horror (Halloween) 2021
Sort by:
Showing

34

items
Decade:
Rating:
List Type:

Add items to section
Bouns Reviews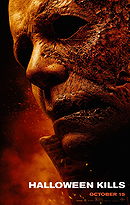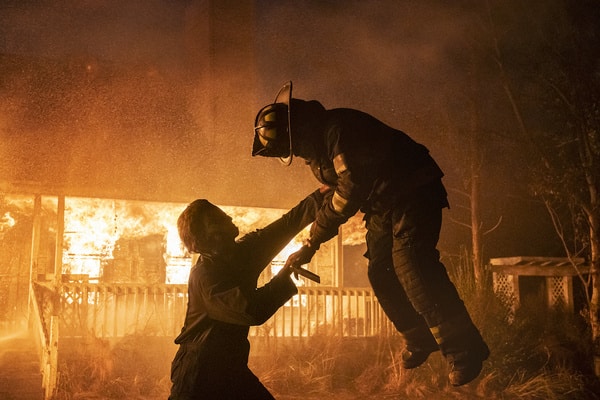 Date: 10/14/2018
Viewed: In theaters
First Viewing
Note
: Spoiler Review.
It took some time to write this review since I needed time to think about the movie thoroughly. I was glad to see it on the big screen because watching it in a crowded theater was a blast. Many people were cheering and screaming in excitement. I enjoy Halloween Kills for what it is. It's a fun and trashy popcorn flick in my opinion. I don't think it's a particularly good movie because the script has numerous flaws. Laurie Strode barely does anything in the film, and some characters are complete morons.
The mob squad pretty much decided to go after someone that they think is Michael Myers but didn't think beforehand. When the mob squad beats up Michael Myers in the final act of the film, no one bothers to shoot him in the head. They could have simply killed him by blowing his head off with a shotgun or cutting his head off with an ax. They know Michael Myers is capable of withstanding multiple gunshots to the chest. It seems really stupid that they didn't think this whole thing out. The gay couple only exists just to be killed off when they could have easily run away instead of acting like sitting ducks. It's a shame that they killed off Karen because I felt like that there was no reason to kill off her character. None of the humor is funny and it feels out of place in my opinion.
The acting isn't good, but it's not as bad as some critics claim in my opinion. I do agree that the dialogue could have been better and the CGI does stand out like a sore thumb. Despite the flaws of Halloween Kills, I had a good time watching it. I really enjoyed how brutal and gory the film's killings were. They did a good job of making Michael Myers seem terrifying by portraying him as a never-ending killer. Halloween (2018) was trying too hard to play things safe, whereas Halloween Kills chose to go absolutely insane. I'm glad they didn't rehash the older films and weren't afraid to make a dumb film.
Overall, if you want to turn off your brain for 100 minutes, Halloween Kills is a good choice to do so. I recommend giving this movie a chance with an open mind.
AVPGuyver21's rating: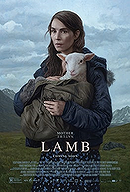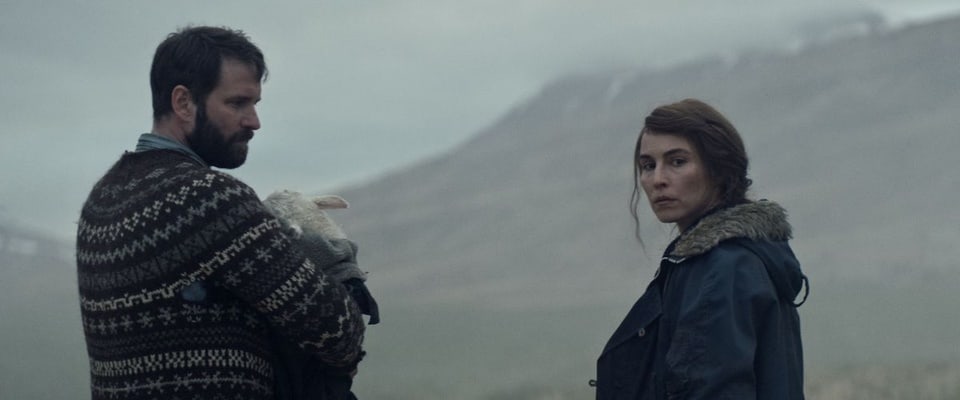 Date: 10/20/2018
Viewed: In theaters
First Viewing
Note
: Spoiler Review.
Before it leaves my local movie theater this weekend, I finally got the chance to see this film in theaters. Apart from the fact that it received positive reviews from movie critics, I know nothing about this film. I have a hard time writing my thoughts for Lamb because I have no idea what to say. I liked it, but I wasn't as blown away by it as the majority of people were. Despite the fact that it is labeled as a horror movie, it does not feel like one. I didn't find the movie terrifying or spooky in the slightest. This isn't a horror film, so don't expect it to be one. In my point of view, it's a drama thriller. My favorite thing about Lamb was the atmosphere and cinematography. I really like how the film portrays Iceland's chilly and dry weather. By watching this film, you can get a sense of how chilly everything is.
There are a lot of breathtaking location shots of Iceland that are wonderful to look at. You can pause almost any scene in this film and hang a picture of it. I like the eerie tone because it has a weird vibe to it. Lamb almost feels like if Ingmar Bergman directed Eraserhead (1977) in my opinion. The exciting story leaves you guessing about what may happen next. The characters are likable, and I was fascinated by their way of life. Most people complained about the pacing, but I didn't. The film moved at a good pace for me, and it didn't feel slow at all in my opinion.
My biggest problem with this film is that I wish something were explained more. I'm surprised that the two married couple are okay with a lamb humanoid creature living with them. They didn't bother to ask what is going on. The film builds up to some goat monster, and the pay-off was worth it. Too bad, you don't know where the hell it came from.
Overall, Lamb is an entertaining and unique film. It's nice to see a weird foreign film get a major theatrical run in the United States. I recommend checking it out if you enjoy artsy movies.
AVPGuyver21's rating: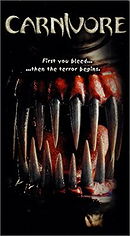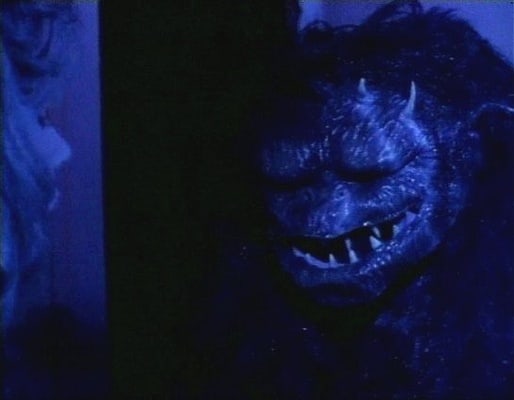 Date: 10/29/2018
Viewed: Youtube
First Viewing
Note
: When I was a kid, I remember wanting to see this movie because the VHS cover art is so cool. Despite the fact that Carnivore was released in 2000, the film was shot in 1989 and took over a decade to be released, according to what I've read. To my surprise, this film wasn't nearly as bad as I had originally expected. Carnivore is an entertaining bad film to watch. The film's low budget and poor acting adds to its entertainment value. I couldn't stop laughing at how bad the dialogue was and how ridiculous the story was. I also couldn't help but have a huge smile on my face because the characters are so idiotic. I love the monster's costume in this film because it looks so cheap and fake.
Carnivor has an amateur film-making vibe to it as if it were made by a film student in college. Some scenes could have been shot after hours on someone's college campus, which wouldn't surprise me lol. If not for the slow pacing and poor lighting, I would have given this film a higher rating. Perhaps the YouTube transfer was poor, but some scenes were too dark. Because they were so dark, I couldn't see some of the cool gory kills. I'm glad I saw this movie, and I can see why Mike from Red Letter Media likes it for Best of the Worst.
Overall, Carnivore is a hilariously bad film that you should watch with your friends on a Friday night while drinking some beer.
AVPGuyver21's rating:
Each day of October, I watch a horror movie and posted my thoughts on it. 31 horror movies, 1 for each day of October.
Added to