30

vote
Movies the giraffe watched in 2015: January
Sort by:
Showing

23

items
Decade:
Rating:
List Type:
The breakdown: 23 movies watched one of which was abandoned, of those 15 were via Netflix, 4 were on DVD, 2 were streamed (non-Netflix), and 2 in the theatre. Of those 18 were first views, 5 were re-watches, and they came from the following decades: 1960s, 70s, 80s, 90s, 00s & 2010s.

Well, my projects for the year got off to a good start. I managed to watch one recommendation from everyone participating in the Netflix Instant Project so far, and while they were all to my taste they did all have aspects I appreciated & provided some variety. My Bond project started off so well I worked in an extra film before the month ended, and I managed to get a few movies watched that had been sitting around here waiting on me. Not too bad. The only project I haven't started yet is the one where I'll be renting films for my daughter & I to watch together, but that's one I'm not too worried about hitting a goal on every month so no big deal for now. Netflix was much nicer to me this month, as they only removed a small number of films from my queue & thus I was able to watch all the ones I hadn't seen already.

The most difficult thing now that the month has ended is picking a candidate for hidden gem. Frank, Short Term 12, Death of a Superhero, and The Imposter could all take that spot for me this month. Tough to choose my favorite of them. So whichever film I wind up putting in that spot please note the rest of these could have gone there too.

Best new-to-me film for January: From Russia with Love
Best hidden gem: Frank
Worst film: Kingpin, though 47 Ronin could go in this spot too...just reluctant to put it as the pick since I failed to finish the damned thing

Add items to section
Year-long focus: James Bond series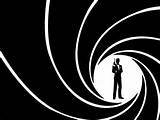 When I was growing up I watched most of the James Bond series with my dad. He'd find one of the movies on TV & call me in to join him, and at the time I liked them all. I haven't seen any of the Sean Connery or Roger Moore films since the '90s began though, so I figured I'm long overdue to revisit them as well as check out the rest of the lot. So I'm spending 2015 with about 2 Bond films per month, watched in the order they were released. At this point I'm not planning on going through the Daniel Craig films again, but I reserve the right to change my mind on those down the road. The only Craig Bond film I definitely intend to see this year is
Spectre
& by that point I should be about done with the series.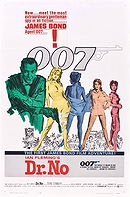 First viewing
- Jan. 7th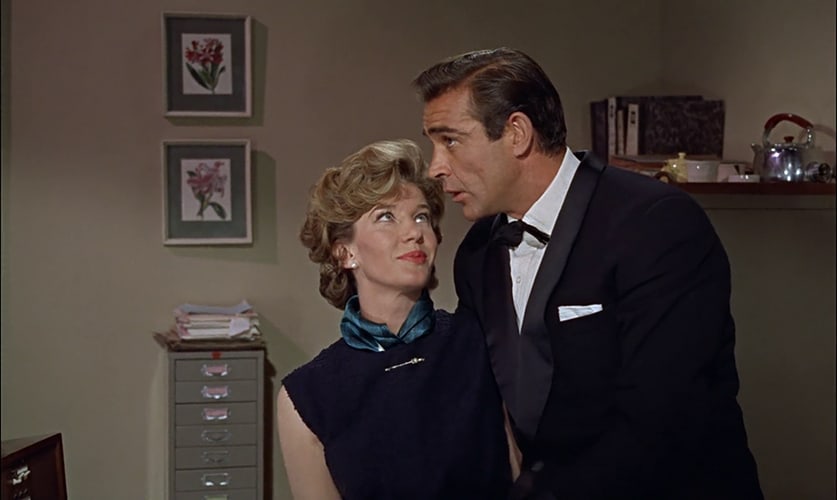 So first off, I had previously believed I had seen
Dr. No
and
From Russia with Love
but since almost nothing from either film was familiar to me I must be mistaken. The first ever look at Bond in this film was the only moment that was familiar, and that's mainly because that shot has widely made its rounds.
Overall this one is definitely a solid movie. It establishes the formula that would define the series for years to come, the cast is solid, and it's mostly entertaining. Personally I found the tunnel sequence near the end went on longer than necessary, and I wasn't very impressed with the villain. Those complaints may not be major, but they did prevent the film from moving past an 8/10 for me. And if I'm being honest, it's barely an 8 in my book because a week later I'm already forgetting some parts of it. So while I'd certainly watch it again, it might be as much to remind myself what happens in it as because I'd enjoyed it.
the giraffe's rating: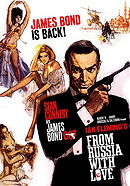 First viewing
- Jan. 8th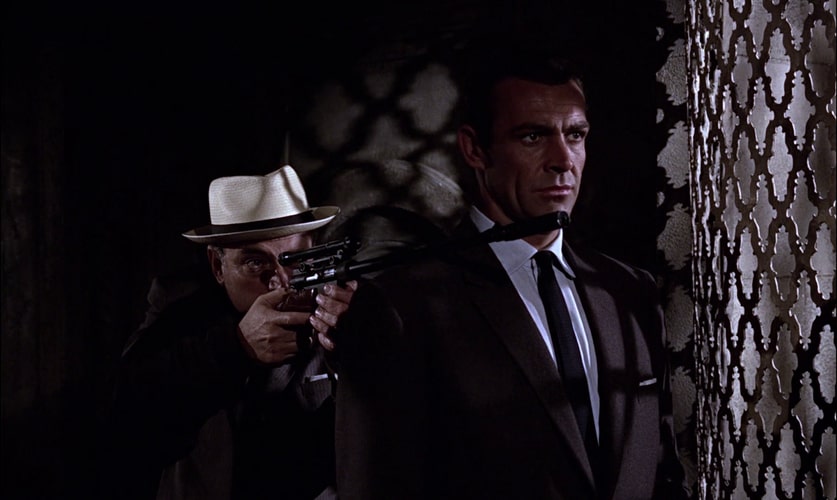 Now this is a Bond film that hits all the right marks. Aside from a couple of predictable moments I couldn't think of anything to complain about. The cast is memorable and a joy to watch, the film flows much better than its predecessor, and the villain is better utilized within the plot. And Connery seems to relish his role as Bond so far, which also elevates these films. When it ended I was so pleased that I re-watched the ending one more time, and I almost never do that.
Just a thought:
Seeing SPECTRE in these two films has elevated my excitement for the new Bond film. I'd kind of forgotten about them over time.
the giraffe's rating:
Re-watch
- Jan. 25th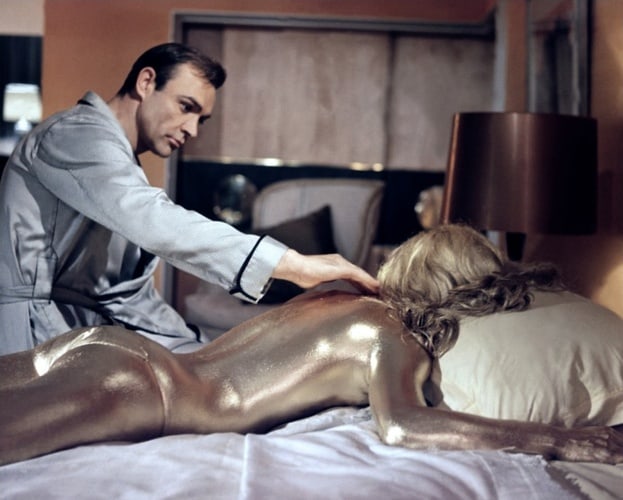 I really had intended to stick to two Bond movies per month, but since I enjoyed the first two so much I figured I'd watch one more before the month ended. And it's a decision I don't regret at all.
Now this one I do remember watching before, even if it was back before I was old enough to drive. Watching it again I have a deep appreciation for the villain here who provides one of the best adversaries Bond has ever faced. He's so smart he almost defeats Bond, and that deserves respect. And of course his main henchman Oddjob is especially memorable between his hat-throwing and being nigh indestructible. I had no complaints about anything here, and the only thing missing was that magical feeling I get from the films I give 10/10 to. That said, I'd give a slight edge to
From Russia with Love
at this point just based on my overall enjoyment of the two films. Really though they're equally awesome.
the giraffe's rating:

Add items to section
Netflix Instant Project for 2015

Netflix Instant Project for 2015
The ongoing Netflix Instant Project involves recommendations from my fellow Listalites of lesser-known/lesser-seen films that are currently streaming on Netflix. If you use Netflix Instant Watch & want to participate, please check out the list above & the
thread in the Movies Forum
.

Add items to section
Big screen attractions
Films caught in a theatre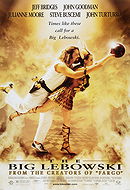 Re-watch
- Jan. 26th - Quote-Along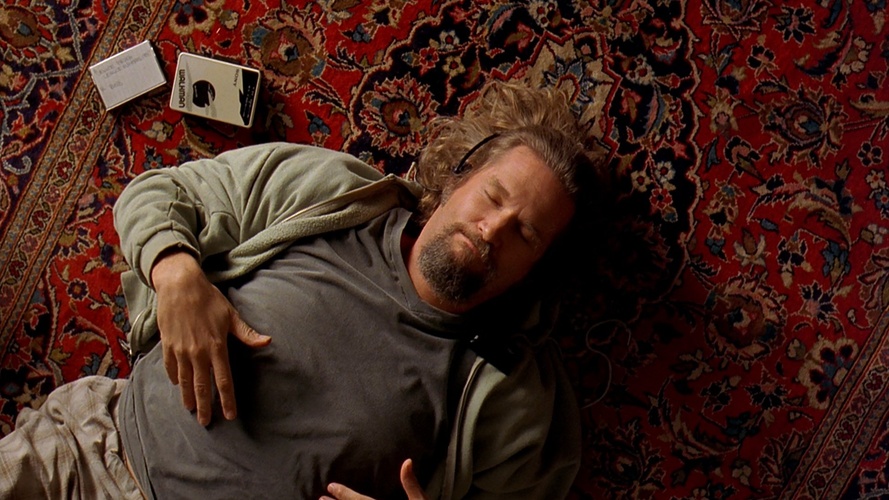 This was, I believe, my second time seeing this on the big screen, and I know it was my first time to see it given the Drafthouse Quote-Along treatment. It's definitely a film that's worthy of having an audience play along with it and quote its many memorable lines. I've got to say though I was a little disappointed with the props on this one, as we were all given inflatable clubs to beat each other with during the scene where Walter takes on the Corvette, and a glow stick for the dream sequences. Kind of underwhelming. It was nice of them, however, to offer discounts on White Russians for the screening (I didn't have any though, as I'm not a fan) & they had the right idea of having a bowling contest to kick it off (the ball & pins were also inflatable). Still, it was fun & worth going to.
Interesting how things are connected:
Lebowski
was referenced in
Tusk
, and the emcee for tonight's proceedings mentioned
Kingpin
which I'll likely watch before the week is out.
the giraffe's rating: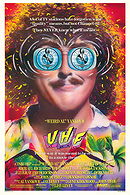 Re-watch
- Jan. 28th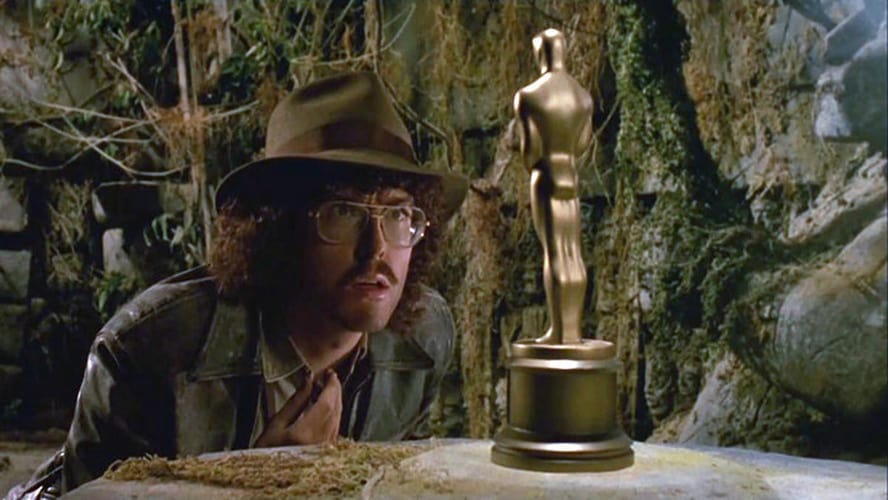 When I found out Drafthouse was screening
UHF
, I jumped at the chance. This is a film that screened for about a week in theatres when it first came out, so like most people I first saw it on VHS and had to settle for being part of its devoted cult following. Now I have added my name to the short list of people who have seen it on the big screen as it was intended to be seen, and for that I'm grateful. The only way it could have been better is if they'd made it a Quote-Along or had Weird Al show up. To their credit though, they did stage a 3-man competition to see who could eat 5 Twinkie wiener sandwiches the fastest, and the two losers got to share the contents of a large cardboard box they had sitting in a corner. If you've seen the movie, you should be able to guess what was in the box. Plus they gave everyone a
UHF
pin as a souvenir, which was pretty great. Now I just have to decide whether I'm keeping it for myself or giving it to my daughter since Weird Al is currently her favorite musician. Maybe I'll keep it for myself for now & give it to her later on.
the giraffe's rating:

Add items to section
Netflix exorcisms
Films I watched before Netflix removed them from my queue

Add items to section
I tried, but I gave up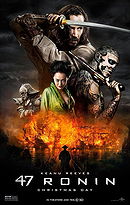 First attempt - Jan. 19th

I couldn't get into this at all. Too much CGI, mediocre acting (and for most of what I saw the actors looked bored to be involved in the film), and a plot I'm certain I've seen before left me with two impressions. One that I might get more out of it had it been made pre-CGI or with practical effects instead, and two that I could be watching something better. So about the time Kenunu decides to team up with the guy who has hated him for most of the film to go rescue the girl & defeat the bad guy I decided to quit. And I'd be surprised if anyone wants to argue that I was wrong to do so because I missed something worth seeing.
New year, new projects. I'm planning a year-long focus on the James Bond series, and a separate year-long focus on introducing my daughter to more classic films she hasn't seen yet but should enjoy. I'm also keeping alive the Netflix Instant Project for 2015, because that's brought a lot of worthwhile films my way & I like sharing what I find with others on the site. The only thing slowing me down this month is having to work mandatory overtime at work every week, which cuts into my movie time on Wednesdays. Otherwise I'm excited to dive into another year of new and old films. So, let's get this ball rolling, shall we?
Added to

30 votes
the giraffe's movie lists guide
(195 lists)
list by the giraffe
Published 11 years, 9 months ago

2 comments

2 votes
the giraffe's lists for 2015
(16 lists)
list by the giraffe
Published 7 years, 9 months ago

1 comment