55

vote
2D or not 2D?
Sort by:
Showing

25

items
Decade:
Rating:
List Type:

Add items to section
That is the question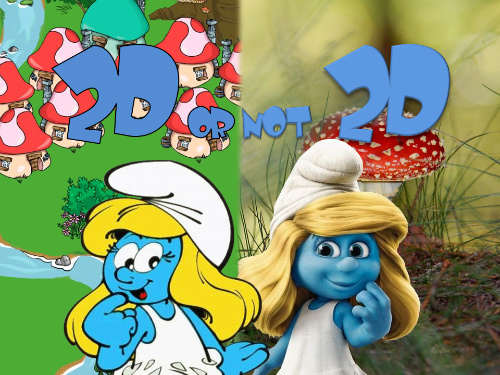 CGI is becoming easier to do than 2D animation, despite it still existing in anime, ads, cartoons and even some Disney movies. So we're getting many characters changed into CGI, like Mickey Mouse, Winnie-the-Pooh, Tinkerbell, Road Runner and
Punchy
. They've been CG'd before, mainly in video games, but sometimes it makes them too realistic. Take
Jeeves
, the
Vlasic Stork
and the
Silentnight characters
for example. Because CGI is becoming easier to use, ads are rushed in CGI, and often made into an Alvin and the Chipmunks style. Might be due to the Nielsen ratings on live-action ads being more effective than animation. And saying the name of Alvin and the Chipmunks brings me to this list.
Due to the popularity of CGI, and the fact that Robin Williams' Popeye was released in the early 80's, people are doing to cartoon/fantasy comic creatures what Steven Spielberg did to Dino - give them the 'CG Eyes'. Although a movie adaptation of The Smurfs had been in development when Scooby-Doo was released, Alvin boosted the craze to make it go too far. And I say it goes too far because none of these films are critical successes. Here's my comparsions between the old and the new, to see what I really think of the designs and their personalities.

Add items to section
Damn you, Rhytmn and Hues

Add items to section
And the winner for Most Unfaithful Adaptation is..
This guy's getting a movie, too.
So are these.
As a spin-off from my "Why childhood is facing extinction" list, here's a list that decides which talking animal movie is the least faithful to its original, hand-drawn source.
Added to