27

vote
Your Favorite Smile - Top 10 (Actresses Poll)
Sort by:
Showing

10

items

Add items to section
Winner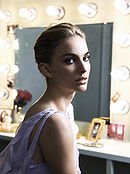 CarrieLove's rating:

This poll is for you to choose the winner of your favorite actresses`s smile from the previous list, the most voted top 10 actresses are in this list . The Winner will compete with other women from other sections as Model and Singers.

Rules-
Give Each lady in the list the amount of points you think she deserves from the scale of 1-10, 10 is the best and 1 is the worst.
You don`t have to put it in a particular order, just in a way you are comfortable with.

1.Natalie - 10
2.Gemma-7
3.Jane- 8
4.Drew-7
5.Julia- 4
6.Evangline- 9
7.Emillia- 8
8.Megan-3
9.Jessica- 7
10.Olivia- 7
Added to

23 votes
Polls worth looking into.
(39 lists)
list by reallly
Published 6 years, 7 months ago

5 comments