Sort by:
Showing 1-

25

of

69
Decade:
Rating:
List Type:

Add items to section
Volume One: On and Off the Rails

Add items to section
Volume Two: See Britain by Train
Load more items (44 more in this list)
This is a list of the films by
British Transport Films
that have been released by the
BFI
. I'll update the list from time to time, when I watch more films from the DVDs. I'll try to write a short text about every film after I watch them, but because the films are mainly about trains, the texts may seem like they are the same with every film. If a film doesn't have any text about it, then I haven't watched it yet.
I personally know nothing about trains and I'm not British. I'm not even sure why I'm doing this list. Yet there is something very interesting about the releases. Completing this list will probably take me forever, so please be patient.
If you want to see a fuckload of trains, this is the list for you, and you should probably buy the DVDs. If you don't want to see a fuckload of trains, this isn't the list for you, and you probably should not buy the DVDs.
So far, the
BFI
has released twelve volumes of these films on DVDs. At the moment I have watched five of them. I'll add more films as I watch them, so the ones on the list are always those that I have seen.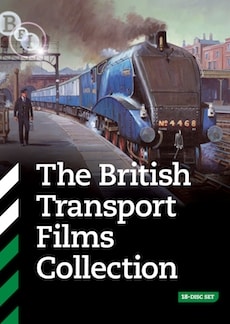 From Wikipedia:
British Transport Films was an organisation set up in 1949 to make documentary films on the general subject of British transport. Its work included internal training films, travelogues (extolling the virtues of places that could be visited via the British transport system - mostly by rail), and "industrial films" (as they were called) promoting the progress of Britain's railway network.

It was headed by Edgar Anstey until 1974, and from then until its demise by John W. Shepherd. Initially it made films mostly for the British Transport Commission, but after that organisation was broken up in 1963 the majority of its films were for the British Railways Board. However it also made films for London Transport, the British Waterways Board, the travel company Thomas Cook & Son and the coach company Thomas Tilling.
Added to