Sort by:
Showing

16

items

Add items to section
Good Guy

Add items to section
Bad Guy

Add items to section
Neutral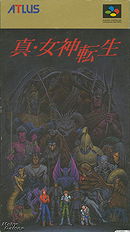 Shin Megami Tensei may be the first game to allow the character to choose an alignment that had a direct impact on the game and ending. The beauty of it? None of them are necessarily good or evil as the choices are Chaos, Neutral, and Law....And all three are both good and evil in their own ways, depending on your personal point of view of what's right and wrong. That being said, I'm usually right down the middle in the Neutral part of the game, unless I adjust to one alignment or another in an attempt to recruit a demon friend.
ape's rating: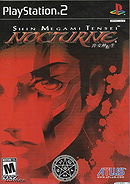 I've beaten this game a few times, but most often with the Neutral alignment. Quite frankly, I'm not a huge fan of the worlds my 'friends' in the game want to create...As a result, I go down my own, neutral path and create the world the way I want to. I'm a rebel and a loner, Dottie.
ape's rating:

Add items to section
Chaos Alignment

Like mentioned above, the Shin Megami Tensei series determines alignment differently, with no clear-cut 'good' or 'bad' alignment, leaving it up to the interpretation of the player to figure out what side is good and what side is bad. That being said, in Devil Survivor, I found myself in the Chaos alignment...The alignment that sympathizes with the demons...And hey, with Black Frost as a recruitable group leader, can you really blame me? Hearing adorable, high-pitched "hee hoo's" while Black Frost taunted enemies was more than enough reason for being Chaos.
ape's rating:


Another SMT game where I chose the path of Chaos. I usually like to go down the path of Neutral on the Megami Tensei games, but the angels really made me not want the world that they wanted to form...Sounded a bit like slavery to me...So, I went a tad overboard with my decisions to ensure that there'd be no way of me ending up on the Law side of things....And sure enough, the final few battles against the angels made me feel as if my decision was a correct one.
ape's rating:
This is more of a personal list to reference what alignment I took when playing games that have such a mechanic in them. Was I a good guy? A bad guy? Neutral? I dunno. That's why I made the list, ya dig?
Added to

10 votes
Favorite Gaming Lists
(20 lists)
list by LordDarkrai
Published 11 years, 5 months ago

4 comments

35 votes
Kami-chan's Favourite Lists
(60 lists)
list by Kami
Published 11 years, 6 months ago

9 comments