Added by Keaster
on 13 Jan 2020 03:38
2

vote
Read in '20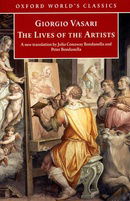 Got to have those good old kriittisyyskakkulat or critical goggles on when reading Vasari, because it's mostly based on hearsay that he personally collected in the sixteenth century. But apparently surprisingly large part of what he writes is accurate or close enough, and even if it wasn't, the book is highly interesting and entertaining as a period piece, and as a collection of amusing anecdotes about a bunch of very colorful persons. Also a good way to tune in to the Renaissance.

I read the Penguin edition from 1965 abridged and translated by George Bull.
Keaster's rating:

Architecture of the Renaissance: From Brunelleschi to Palladio...
A very brief introduction to the basics of Renaissance architecture. It's organized in a bit strange and slightly unlogical way, but is still clear enough. The most basic information, like the orders, short terminology etc. could've still been presented in the very beginning because it would've taken max two pages.
Books I've read through in 2020. Apparently in English, but possibly sometimes in Finnish if I feel more like it.
Added to