4

vote
Louis Vuitton Resort 2015
Sort by:
Showing

44

items
Review by Nicole Phelps
The steep, winding streets of Monaco are fenced up and guardrails hug every curb. The Grand Prix begins here next Thursday, but this weekend belonged to Louis Vuitton. Team LV set up a see-through tent with custom-made Pierre Paulin seating for three hundred in the Place du Palais, and Nicolas Ghesquière favorites including Charlotte Gainsbourg, Jennifer Connelly, Adèle Exarchopoulos, Brit Marling, Ziyi Zhang, and Mackenzie Davis sat in the front row. All of them stood up when Prince Albert and Princess Charlene, accompanied by a battalion of security guards, walked in with Bernard Arnault.

The Cruise collection, Ghesquière's second show for the LVMH powerhouse, was an elaboration of his first. He's still thinking about "a wardrobe," but these clothes were significantly more embellished than what he did for Fall, and, by extension, more playful. Ghesquière appeared to be having quite a good deal of fun: collaging mismatched prints, embroidering lace with tiny seed beads, and accessorizing with spiky silver belts and gladiator sandal-boots that inched up toward the knees. Deep pink was paired with baby pink, and caution orange with yellow and sea blue—"a game of colors," he called it. It made his debut look almost austere by comparison.

At Vuitton's March show, the blinds louvered open; here, the curtains closed and moving images of water flowing over rocks, shot by the artist Ange Leccia in Corsica, began playing on the video screens installed in the floor. "I liked the spirit of the girls walking on digital water," Ghesquière said, referring to the Oceanographic Museum around the corner from the Palace. Aquatic motifs extended to the clothes. Coral branches were embroidered on a flaring, knee-length skirt, and the printed top it was paired with was decorated with two cutout portholes. Formula One, another Monégasque reference, got callouts of its own in the form of a snug racing car red leather jacket and a jersey dress printed with a checkered flag motif.

Ghesquière is still liking the fit-and-flare silhouette he introduced for Fall, but there was more diversity on the runway tonight. High-waisted, slightly flaring trousers will stir memories for fans of the leg-elongating pants he used to make at Balenciaga; on the other hand, embroidered slips with scalloped hems were among the least structured things he's ever done. And because this was a Resort collection—in stores longer than any other season—the show ran the gamut, from a sheared fur coat to jersey T-shirt dresses. The handbag offering has grown, as well: The Petite Malle now comes with a chain handle, and he's added a new, wide-mouthed bucket bag.

The overriding impression was of a designer not holding back. There was an engaging new eclecticism, but it didn't come at the cost of the easiness that he established as one of his key LV codes back in March. The sensational first look—a silk top inset with LV's classic monogram pattern embroideries and a pair of those high-waisted flares—captured that yin-yang best. Other looks, like the printed pantsuits, seem destined to garner the cult status that so much of his output has in years past. So, Ghesquière is enjoying himself at Vuitton? "I am. I'm inspired and I'm very happy." It's catching.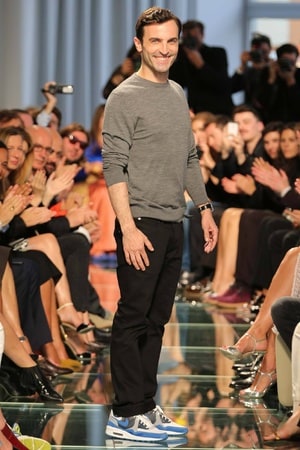 Added to

3 votes
My fashion Collection/Show Lists
(86 lists)
list by IsabellaSilentRose
Published 7 years, 1 month ago

2 comments