Sort by:
Showing

10

items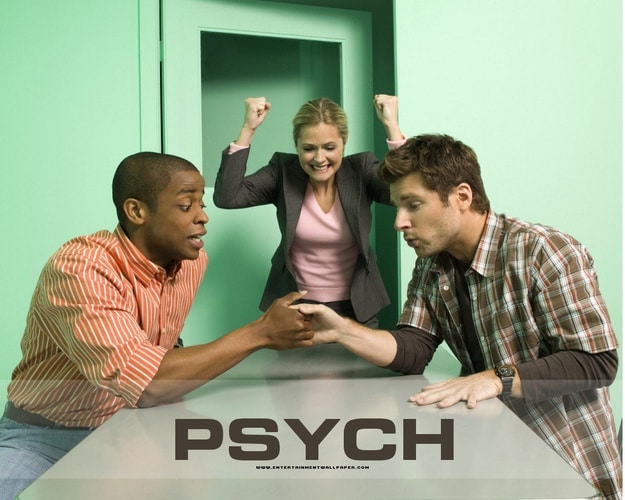 I freaking love this show! Why? Because It's brilliant! Plus I've always loved Sherlock Holmes, and Psych is sort of a modern take on the Arthur Conan Doyle's great detective.
Sure, the storylines themselves are pretty loosely connected, but in the basic structure there are more similarities than you would think.
First of all, Shawn (the protagonist) is hyper observer, just like Sherlock. That means that their minds can notice the smallest details and process them with enormous speed.
But it's not just the power of the observation that makes them similar. They also think the same way. Shawn may seem infantile, but that is how he copes with life. His "hedonism" is what's getting him through and the same thing goes for Sherlock.
Another thing they share is a lifestyle. From living in a dry cleaners to riding a motorcycle and not owning a car, Shawn's lifestyle doesn't scream conventional. He thrives on using his powers of observation to solve problems and keep things exciting, just like Holmes.
Shawn also has his Watson. Although Gus is not a doctor of medicine, he works for the pharmaceutical company, which gives him elementary medical knowledge and inside in drugs. (which helped them i numerous cases) Another thing Gus and Watson have in common is their concern for their best friend. They both try to keep their heads cool and sustain themselves and the protagonists form any impulsive and reckless actions.
Also, Gus and Watson both enjoy working with Shawn and Sherlock, but it's not something they would likely confess.
Sherlock and Shawn both have a love-hate relationship with the local police. They've solved numerous cases for the police which doesn't always help them to be respected.
Now, when it comes to the question of Shawn's Moriarty, the closest thing to it would be Yin. While it's quite believable that Yin is Shawn's Moriarty, I'm hoping it's not. Although Yin and Shawn think alike, and they both have a deep passion for the movies, plus the fact that Yin was clearly Shawn's biggest chalange makes it possible, the whole thing ended rather too quickly.
Another interesting, but questionable fact are the similarities in names between 'Shawn and Sherlock' and 'Lassiter and Lestrade'.
Although it's not official adaptation of Arthur Conan Doyle, similarities are indisputable.
But obviously the fact that it's based on Sherlock Holmes isn't the only reason I like this show. I've never been a huge fan of procedural crime shows, but I like this one because of its humoristic side. And also another interesting fact is that with time Steve Franks tried to put some elements of famous movies and pop culture in some of the episodes of this show, so you could say that some episodes are designed as a tribute for a certain movie or TV show.
Also I love the basic concept and the main plot of Psych.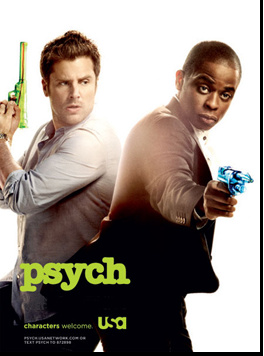 Psych
is a comedy crime tv show created by Steve Franks.
During his childhood, Shawn Spencer developed a remarkable talent for noticing the tiniest of details under the guidance of his policeman father. However, upon growing up he found it difficult to get a job, and spends most of his time using his skill to give the police anonymous tips. However, the tips are so good that some cops become suspicious that he is involved with the crimes himself. To clear his name Shawn finally settles on a career: he pretends to be a psychic. No one really believes him, but he continues to be so helpful to the police that they keep calling him in on cases they can't solve. Shawn soon brings his childhood friend Gus into his scheme, and between their bantering they manage to solve every case they're presented with.
Here's a title sequence from the season 5 to get you in the spirit of the show. Enjoy!
Added to