27

vote
Favorite Games - A Year by Year Review
Sort by:
Showing 1-

50

of

120

Add items to section
1980
I came to most of these games a few years after their initial release, obviously. I grew up as much with Atari early on as I did with NES, and played a number of Atari games. My all-time favorite came out the year before, 1979, and was called Galaxian. Among the 1980 releases, it was a toss up between Warlords and Berzerk, though I went with Berzerk because I probably spent more hours navigating forcefields and coaxing mindless robots to kill themselves than I ever did bouncing a ball at enemy strongholds.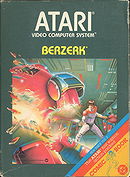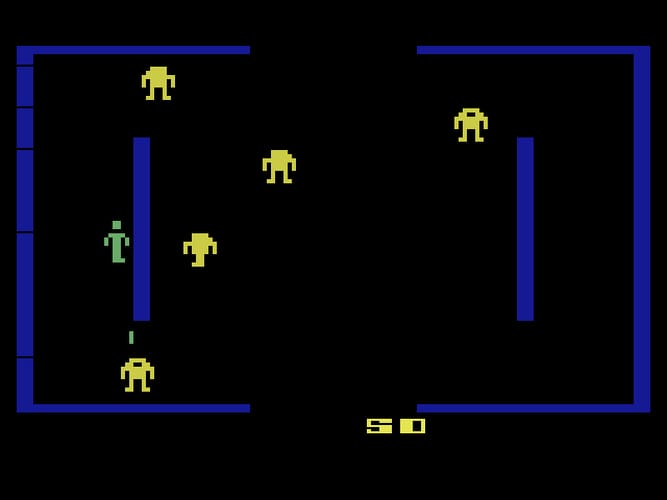 This game is a true classic, and the fact that you can't actually beat the game, like so many Atari games, can be frustrating for anyone not used to such games. I loved this game, though I have yet to cycle over on this one, as you can on some other ones more easily, like the game Defender.
Fraterlucis's rating: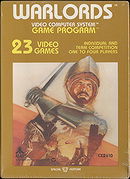 This game is great even with just two people, but it really shines when you have four people playing it. It seems a simple concept, but can be quite difficult when you're playing all human opponents. The AI on this one isn't great, though I suppose that's what you'd expect on these older games. Still, I'd recommend giving this one a try.
Fraterlucis's rating: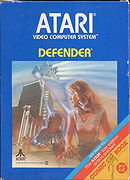 Saving earth from invading aliens in a rocket...carrot? Yes, a great game, and one that is surprisingly addictive. I've never cycled this game over to the beginning before dying, but my brother has at least once. I'm not just that good at saving planet earth I guess.
Fraterlucis's rating:


Add items to section
1981
While there were some games this year that I enjoyed, only two made the final cut for favorite games. By far, Frogger was number one, and is a game I still enjoy playing at times. It's interesting to see the many versions and games he's been in since this one, but it's hard to beat this classic.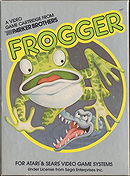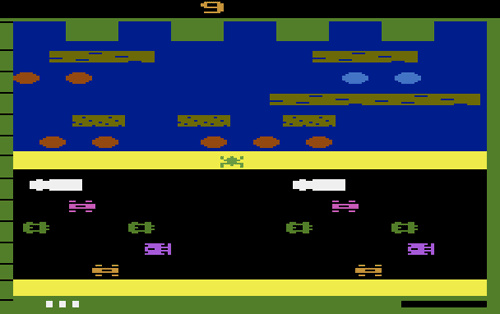 This game reminds me of the old "Why did the X cross the road" joke, though obviously it's much cooler than that. In spite of a simple concept, this game is highly addictive and each level becomes more difficult. I was never a master at this game, but I did manage to make it far enough in the game to see the spiders that attack you and the alligators you can actual jump on, if you're careful. A true classic worth giving a try.
Fraterlucis's rating: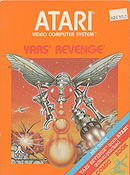 I'm not sure if this falls under Hide N' Seek or Dodge Ball, but it's a similar type game. You play an avenging insect trying to infiltrate an enemy stronghold and kill the boss. It's quite interesting and challenging. I was never great at this one, but it was quite fun.
Fraterlucis's rating:

Add items to section
1982
There was some debate in my research on the exact year Pac-Man came to the Atari 2600. I opted with this year, but if I am in error, please let me know. Pitfall also made this favorite games year, but Pac-Man is timeless in many ways, and is a game still enjoyed at times. Pitfall doesn't quite have that same re-playability for me any more.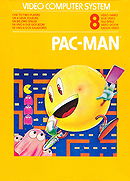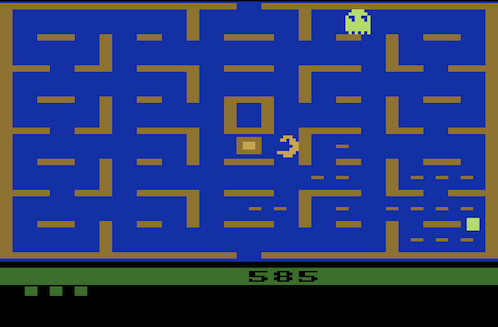 What I find most interesting about this game is that it's one of two games often blamed for the decline of the Atari system, the other being E.T. I can see E.T. being blamed. I don't see such a horrible game often. However, Pac-man is a classic, and has since had a number of sequels and off-shoots. Could this popularity be a "reboot" phenomenon and the original was really bad? I don't think so, but then, I've been known to be wrong.
Fraterlucis's rating:

This game is a true classic of Atari, though I'm not sure it could hold the interest of the newer generations. It has had a few sequels, and I'm not sure how popular they were. I found this game enjoyable, if frustrating at times. I always seemed to fall down the pits at the worst times. Still, it is one of the classics of the system.
Fraterlucis's rating:


Add items to section
1983
Yes, only one game listed on this year, but this game was and still is an awesome classic. While there was probably no way to dual with light sabres on an Atari 2600, this was the next best thing. And who doesn't love playing with light sabres?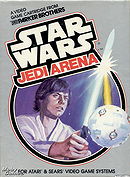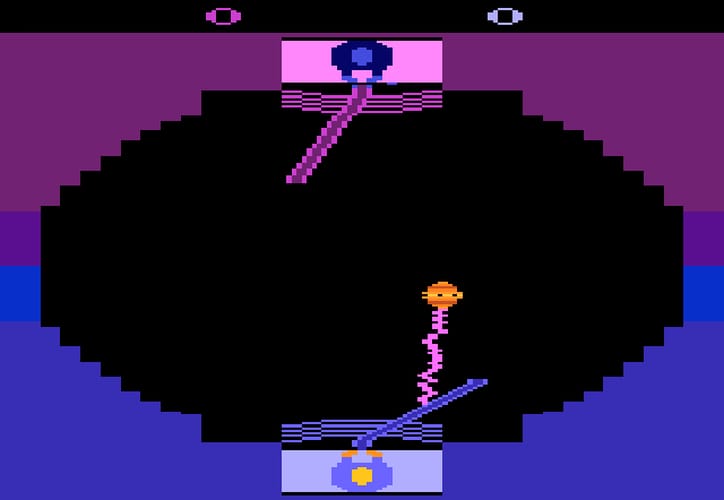 Alright, so this isn't exactly a Jedi Knight caliber game, but for this system, it's a classic, and I won't say addictive, but certainly worth a try. Remember Luke training for the first time with a light saber on the Millenium Falcon? This game simulates that experience while making it a two-player game. The training ball fires blasts of electricity which is fired by you or your opponent. The training ball also goes crazy after a set period of time and will shoot blasts at you or your opponent. Yes, I'm sure I'm not doing it justice, but if you're going to try an Atari, I'd give this one a try.
Fraterlucis's rating:


Add items to section
1985
While most of the games in this section could easily be listed first, I had to give the title this year to the original Mario Bros. from NES. While I had played many games on Atari by this point, the experience of this game was so new and engrossing during its day, it's hard not to place this game first, if for no other reason than it was the beginning of a different era in home console games.

Add items to section
1986
There were many notable games during this year as well, but hardly any more notable than the original The Legend of Zelda. There had never been a game like this before, and it proved to be a game changer, one that spawned a formula for so many other games afterwards, both in and outside the Zelda franchise.

Add items to section
1987
Some of these may be arguable on this year, but for me, the top two were difficult. As much as I loved and played the original Pirates! on our new PC, Metroid has proved to have a longer impact on me, and thus got the nod. I still enjoy going to this old game, even if all the maps are mostly memorized by this point. Metroid is a true classic. That being said, it's notable that this year was the beginning of my long love affair with PC games. I had dabbled with PC games before this, but the publication of Pirates! and Maniac Mansion spurred a far greater interest in PC games from this point onward.

Add items to section
1988
I am sure my number two on this list raises some eyebrows, as Simon's Quest is often considered a bastard child of the early Castlevania's due to its huge change from the first one in style. Still, I enjoyed it enough to place it second. The choice of first was a no-brainer for me. I love everything about The Battle of Olympus. It had many of the elements that the original Zelda had, puzzles, various dungeons and bosses, upgrading equipment, and it explored the world of ancient Greece and mythology that I love so much.

Add items to section
1989
This was a difficult year to rank, as I love all five of these games. All are classics in their own genres and unique enough to merit playing again many years later. In the end, I gave Baseball Stars the edge. Why? It's hard to nail down, but perhaps because there has not really been a baseball game like it since. Most have taken another track, that of trying to imitate MLB and current players. This game is truly unique in that you build your own team from scratch, including names and the ability to improve your players. A true classic here.

Add items to section
1990
This is the first year that PC games outstripped my passion for console games. This was also the year Sega Genesis game out, though I never truly embraced that system. Super Mario World still makes the list as a timeless classic, but for me, by far the most addictive, humorous and enjoyable game this year was the original The Secret of Monkey Island. For any one who has played it, no description is necessary, but for those who haven't, it's a truly unique game that told a humorous story built entirely on puzzles and humorous solutions. In a similar vein as Maniac Mansion in its quirkiness, but with a style all its own. This game still gets played these many years later.

Add items to section
1991
The choice during this year was extremely difficult for me. The Legend of Zelda still gets played, and is truly a timeless classic. Still, even though I no longer play the original Civilization, I gave it the edge during this year. No other game released this year inspired so many long nights and "...just one more turn" afternoons than this game. In spite of its flaws, this game also changed the gaming landscape and spawned a love affair with the series that only ended with the release of Civilization V.

Add items to section
1992
For me, the number one game this year was an easy choice. In spite of some other great games, Darklands will also be that truly unique gaming experience that no other game has since replicated for me. There are many that use alchemy, and the upgrading of weapons and armor is hardly new. I think it was the story and atmosphere, combined with the unique aspects of gameplay (alchemy, prayer to saints, the choice to abide by the law or slay everyone you encounter) that make this game the unique experience it is.

Add items to section
1993
There were a number of notable games for me this year, but my favorite this year was another easy choice. Lands of Lore: The Throne of Chaos is a genre of game that has since fallen largely out of favorite, no in the epic fantasy realm, but in its closed-ended approach to the game. In spite of having different heroes with different strengths in the game, there really is a narrow story and path, with no true side quests as we see today. In spite of that, I loved this game. The story and gameplay was addictive, and even with a few bugs, the game featured a narrator of Patrick Stewart, the actor of Star Trek fame.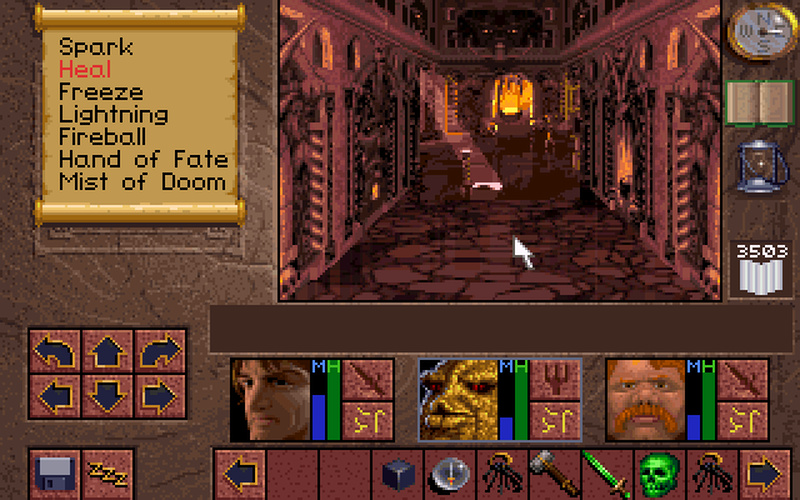 Another classic RPG, and one that features Patrick Stewart's voice. For those Star Trek fans like myself, that is a huge plus. The game itself has multiple ways to overcome various obstacles in the game, as you choose a "class" at the beginning via starting character selection (balanced, thief, magic user, warrior). While the exploration of the map is somewhat restrictive (if you've played any EA RPGs, think narrowly defined areas you can explore with set boundaries), but the fun part is in the puzzles and fighting. You can, with some effort, make any of the character classes work with any skill set (melee, magic casting, ranged/thievery), which I find interesting, but it is much more difficult when doing so. I recently played through with a magic user class whom I turnt into a thief. It was quite challenging, but rewarding to win that way.
Fraterlucis's rating:


In addition to a whole new game, this also give you access to several other Mario games and is a great value if you don't have many of the older games in the series.
Fraterlucis's rating:


Again, not a huge sports game fan (a sports fan, but not a video game sports fan), but this is one of my favorites. Previous games I enjoyed were simpler (such as Blades of Steel), but this game is still a simple enough game to NOT require a year to master the controls. So many sports games, especially football ones today, require a manual and many hours of practice to master the controls, only to find your copy has now been replaced by the title just released. This one does not do that, and allows you to enjoy the game much more quickly.
Fraterlucis's rating:

Load more items (70 more in this list)
This list ranks my top games year by year, starting at the year of my birth - 1980. I've limited the rankings to five per year. This list excludes games I did not or have not played, which may include some classic titles, such as the N64 Zeldas. This list also excludes arcade games, as I was not a huge arcade frequenter. Many of the early years have only one or two entries, in part because I didn't not truly begin gaming until 1985, when the original NES came into existence in the US. If a year is missing early on, it's because there were no notable games I played that year.
Added to