7

vote
704 Views Share:
Alex Kidd series
Game list created by Ricky F
Sort by:
Showing

15

items

Add items to section
Cameo Appearances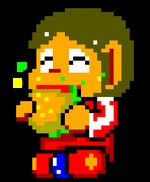 Alex Kidd is a video game character whose popularity peaked during the late 1980s and who was the protagonist of both a series of video games released by Sega and their fictional universe, as well as in numerous spin-off merchandise such as novelizations and comics. For a time he was an unofficial mascot of the Sega Corporation.
He was the protagonist of several video games over the years, spanning various platforms, and appeared in the arcade and on the Sega Master System and the Mega Drive/Genesis home consoles. Alex Kidd's popularity was at a peak with the release of the first game in the series, Alex Kidd in Miracle World, in 1986, which was later built into the Master System console without need of a cartridge and was playable from purchase of the console.
In 1991, Sega introduced Sonic the Hedgehog, who became more popular and recognizable than Alex Kidd, and Sonic subsequently replaced Alex Kidd as Sega's mascot. After this, the popularity of the character waned somewhat, although the character has made numerous cameo appearances in later video games
Added to