64

vote
2014 Oscar Contenders - Best Picture
Sort by:
Showing

28

items
Decade:
Rating:
List Type:

Add items to section
And the Nominees Might Be...
The films that I predict, 10 months before the nomination will even come out mind you, to make the cut.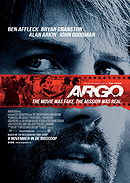 As of December 6th.

*American Hustle
*Captain Phillips
*Gravity
*Inside Llewyn Davis
*Her
*Nebraska
*Saving Mr. Banks
*Twelve Years a Slave
*The Wolf of Wall Street
BradWesley123's rating:
Well, it's finally over. The 2012-2013 Awards season has come to an end, with Argo being crowned the champion. Every year, to close the season, I like to come up with a list of predictions I have for the upcoming year. Rarely am I ever right, though I did predict several nominees last year, but it's always fun to look back and see just how wrong I was.
Added to
12 votes
BradWesley123's most voted for lists
(11 lists)
list by yreesesfreak
Published 7 years, 7 months ago

1 comment

4 votes
Favorite Lists
(10 lists)
list by Sylme
Published 9 years, 2 months ago

1 comment

6 votes
Oscar predictions 2014
(4 lists)
list by Sylme
Published 9 years, 3 months ago

1 comment