8

vote
Movies the giraffe watched in 2020: February
Sort by:
Showing

26

items
Decade:
Rating:
List Type:

Add items to section
Noteworthy: The best films I saw this month
The breakdown: 25 films and 1 short film watched
19 first views, 7 re-watches
19 via streaming, 3 via DVD/BR, and 4 in the theatre
Decades touched: 1950s-2010s

This month was heaviest on content from Starz because I'd planned on canceling the subscription. Then when I went to do that they gave me an option to keep it for another 3 months for $0.99 or 6 months for $2.99, so I'm hanging onto it for longer than I'd initially planned. It's fine, however, as there's plenty of older content on there for me to keep watching it periodically plus I didn't completely clear out my list in time. There's also a bit from Prime this month because I scored a free month, and the more I looked through options there I decided to hang onto it for a month where I'm paying for it before dropping it again. Had I known of the Starz offers I probably would've made Prime my focus instead, but c'est la vie. I'll make Prime my priority next month instead.

The small quantity of theatrical releases that I wanted to see was rewarded in quality, so I'm not too upset about only making 3 trips to the theatre all month. I could have put 3 of the 4 films in this top section, but I opted instead to highlight the best film of the bunch. Thankfully things are about to pick up on that front...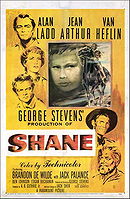 First viewing
- Feb. 15th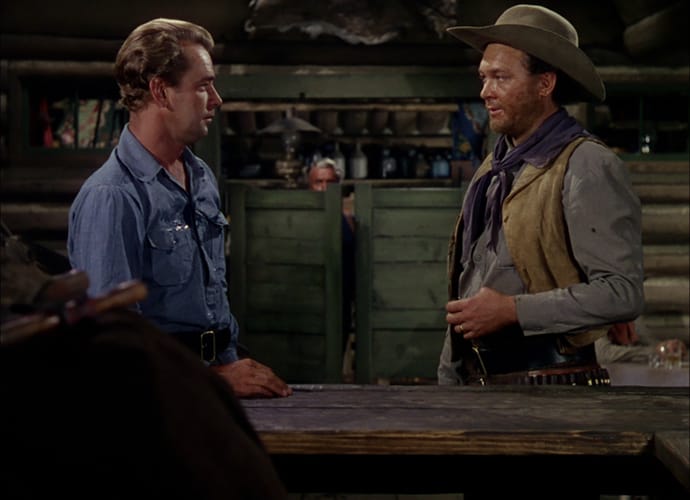 Growing up my dad would watch
Shane
whenever it was on TV, but for some reason I never managed to watch it with him. Even more curious is the fact that every time I found him watching it the film was at the end. So I've always known how the last minute or two play out, but not the rest of the film. Luckily it popped up on Starz this month and I was able to finally give it a look. The film is a classic for a reason, and I can't find anything to fault in it. The story, the characters, the visuals, everything fires on all cylinders and it's consistently entertaining. I feel silly for not having seen it sooner, but I'm so glad I finally managed to watch it.
Just a thought:
Not as many Van Heflin fans out there as Van Halen fans.
the giraffe's rating: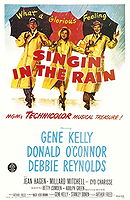 First viewing
- Feb. 22nd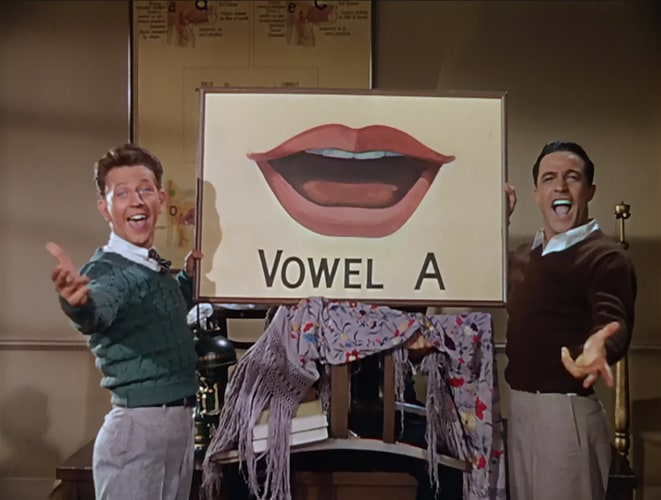 My buddy at work brought up
Singin' in the Rain
and I admitted I'd never seen it and he was baffled. I explained that it's largely because I'm not a fan of musicals, but also I've never had any friends or significant others who insisted I watch it with them so it's never been a priority. He then loaned it to me and suggested I watch it with the kiddo, which I did. And to my surprise I wound up pretty much loving it. It helps that some of the musical numbers are funny (credit largely due to Donald O'Connor), as well as that they're not over-the-top to the point of absurdity. But probably what I most appreciated was the way it explores the time of transition from silent films to "talkies". Add to that a story that's well-constructed so that the characters earn their way to the film's final moments, and it's tough to find anything to criticize here. The only thing it lacked for me was that magical 10/10 feeling, and I feel silly for not having watched it sooner.
the giraffe's rating: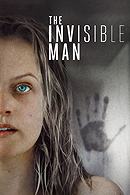 First viewing
- Feb. 29th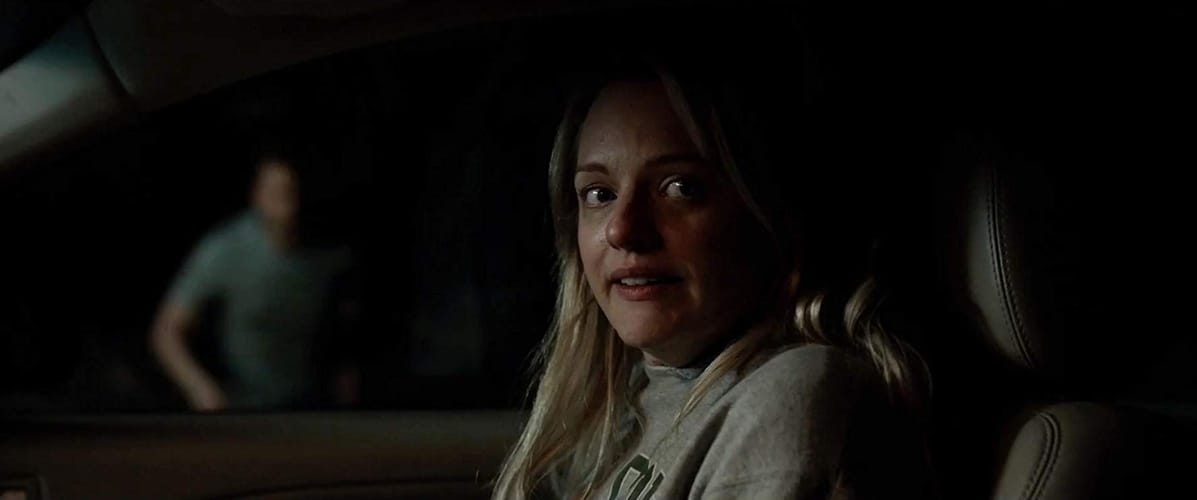 Leigh Whannell is fast becoming one of my favorite filmmakers, a fact solidified by his work here. This time out he demonstrates that he took good notes while working with James Wan on how framing should be used to build suspense and get under the audience's skin, thus allowing the horror aspects to deliver in satisfying ways. Elisabeth Moss impresses at every turn as the film's lead, showcasing a wide range of emotions in a performance that's Oscar-worthy and yet will likely end up forgotten by awards time just like Lupita N'yongo's performance in
Us
last year. I don't want to get too much into the film since it just came out, so suffice it to say that when it ended I seriously considered sticking around to watch it a second time.
Just a thought:
I would love it if Moss could play Sue Storm in the MCU in the near future.
the giraffe's rating:

Add items to section
Home viewings

Add items to section
Big screen attractions
Films I caught in a theatre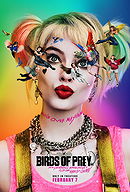 First viewing
- Feb. 15th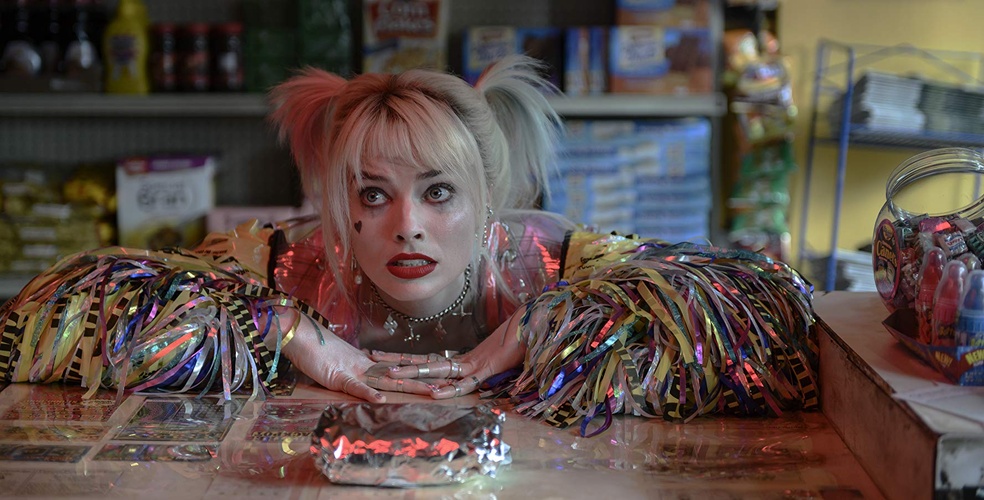 Finally, a reason to go to the theatre this month. And hey, the movie is a good time to boot. The action scenes are well-staged and shot in ways that make sense, the characters are a lot of fun, and I dug that it took the approach of having Harley be our narrator for the entire film. Granted her mental state leads the film to backtrack a couple of times which can be annoying after the first time, but overall it works. There were quite a few surprises along the way, and some truly memorable moments. The cast is clearly having a blast with their respective roles, though if there's anything lacking it's that we could use a little more time with the titular group spending time together. Perhaps they'll make another one, and if so I'd be down for it. The soundtrack is pretty good too, and I'm glad DC continues to make moves in the right direction.
Just a thought:
I look forward to watching this one with the kiddo when she's older.
the giraffe's rating: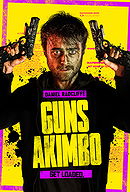 First viewing
- Feb. 28th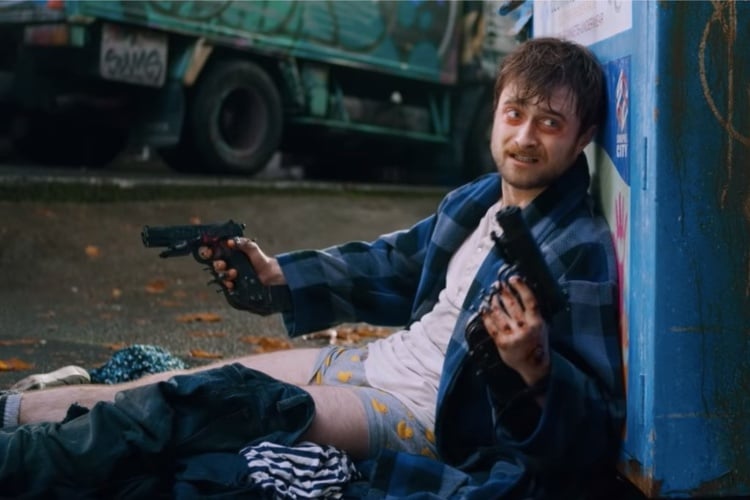 If you saw
Deathgasm
this is from the same director. Add to that the fact that it stars Daniel Radcliffe and Samara Weaving, and there was no way I was going to miss it. Luckily it popped up on a non-kiddo weekend so I could catch it before heading home after work on Friday night. The film is a total blast, and it's clear Ms. Weaving relishes her role. The story takes some unexpected turns and has a lot of fun playing with the hardships of having guns bolted to one's hands. The film moves along at a fast enough clip that it doesn't overstay its welcome or wear out its premise too soon. My only complaint is that there's a lack of practical effects which would make the film feel more realistic. Watching gun blasts and blood spurts that are obviously computer-generated diminishes the impact of it all and occasionally breaks the spell. But overall it's a fun film that I'd sit through again.
the giraffe's rating: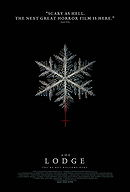 First viewing
- Feb. 29th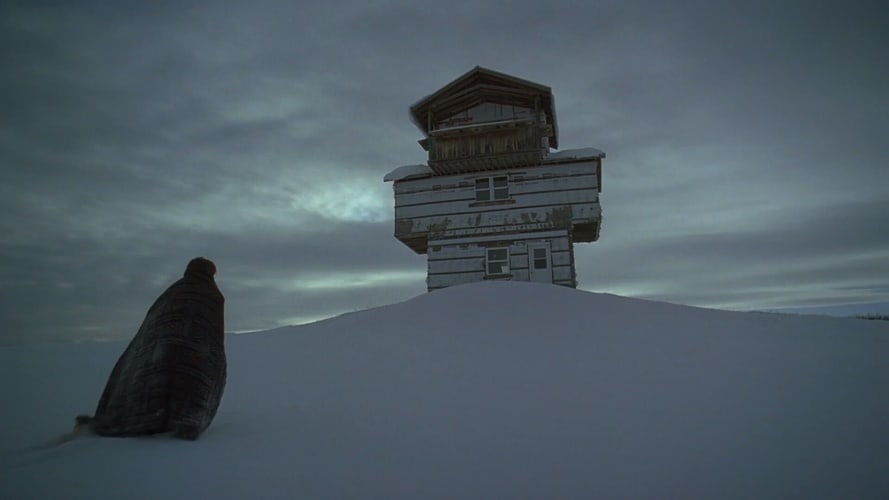 This month hasn't given me many reasons to catch films on the big screen, so I figured I'd end it by catching a double feature of new horror movies.
The Lodge
comes to us courtesy of the same directing team that delivered
Goodnight, Mommy
, and they're here to bum everyone out. This is a dark film that commendably sustains its mood despite the fact that a little bit of humor to relieve the tensions would be welcome. The cast delivers across the board, and the story unfolds in ways that keep you guessing about what's really going on. Where it ends up may be less of a surprise, however, and I felt like there were some character motivations that didn't completely track or at least weren't clearly defined enough to fully justify. In the end this is worth seeing, but I'm skeptical of whether I'd sit through it again.
the giraffe's rating:


Add items to section
Year-long focus: Godzilla's Showa era
I picked up the Criterion Collection release of Godzilla: The Showa-Era Films, 1954-1975 in 2019, and have decided to watch all of the films in it over the course of 2020. There are 15 films in all, so I'll watch no more than two per month.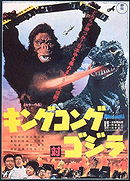 First viewing
- Feb. 22nd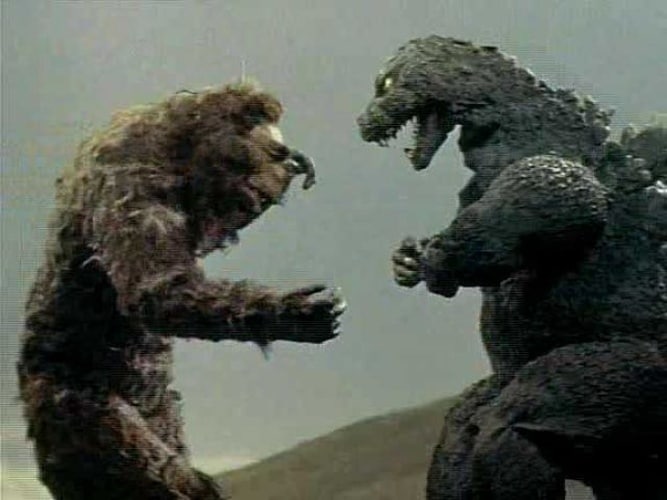 The kiddo and I closed our Saturday movie marathon with the next entry in our year-long project, and overall it was more fun than the previous film in the series. I thought maybe I'd seen it when I was younger, but if I did I'd forgotten all of it. The story struggles a little to juggle all the different characters, and maybe overextends itself to bring the two titans together, but it works well enough. Watching them fight each other is rewarding enough to keep the film in my good graces, even if it's kinda obvious we're watching two dudes in suits wrestle each other. The human characters were more interesting/entertaining than in the previous entry too. The kiddo still laughs at the model work used in these films, and to be fair there are times where it's obviously models and not the real thing. Whether that's more apparent thanks to the Blu-ray transfer or just was always the case I can't say for certain, but it brings us some additional unintentional laughs at times.
the giraffe's rating:

Added to

30 votes
the giraffe's movie lists guide
(195 lists)
list by the giraffe
Published 11 years, 9 months ago

2 comments