Fly the Friendly Skies: History of Flight Sims
Sort by:
Showing

29

items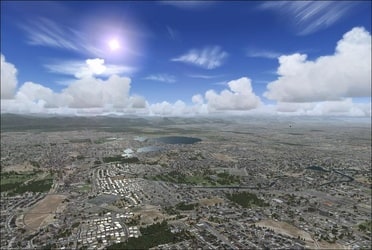 This list is a showcase, from most recent to original, of the wonderful world of flight simulators. I've only included civilian-centric simulations (i.e. no battle or warfare flight sims). Enjoy!
Timeline of SubLOGIC, makers of the first Flight Simulator
1975: Bruce Artwick, an engineering student at Univerisity of Illinois in Urbana-Champaign, developed FS-0 for his thesis, a 3D demo of a flight simulator running on Apple II hardware

1979: Bruce Artwick and Stu Moment found SubLOGIC to market and develop flight simulators for the personal computer market

1980: FS-1 Flight Simulator, the first ever flight simulator software, is released by SubLOGIC for the Apple II

1982: Microsoft contract SubLOGIC to develop Microsoft Flight Simulator 1.0 for the IBM PC market

1983: Under pressure from Apple fans, SubLOGIC releases Flight Simulator II for the Apple II, and gets extra colors, more airports, roads, and scenery

1984: SubLOGIC develops Microsoft Flight Simulator 2.0, with most of same features found in its 2nd generation simulator

1986: SubLOGIC begins to develop add-on scenery for both Microsoft and their own flight simulator series, gradually covering all of the US

1987: First European sceneray add-ons developed by SubLOGIC

1988: Bruce Artwick leaves SubLOGIC and founds BAO Ltd, and takes the 'Flight Simulator' trademark with him
- BAO Ltd develops Flight Simulator 3.0 for Microsoft
- Microsoft eventually acquired all trademarks for Flight Simulator series and Bruce remained with Microsoft as a consultant

1990: - SubLOGIC develops a new simulator, Flight Assignment: ATP, focusing on airline industry and mission-based flights

1994: After the split from Microsoft, SubLOGIC developed and released Flight Light simulator

1995: Still under Stu Moment's leadership, SubLOGIC was working on a follow-up to Flight Light when they got bought out by Sierra

1998: Sierra merged SubLOGIC's team with their own Dynamix development studio, creators of the Aces series of WWII flight simulators, and released Pro Pilot '99. It was not the success Sierra hoped it would be.
Other Simulator Lists:

* As Real As They Get: BEST SIMULATORS

* Evolution of Racing Simulators

* WWII Air Combat Flight Simulators

* WWI Air Combat Flight Simulators

* Dive! Dive! History of Submarine Sims

* All Aboard! History of Trains & Rails - (coming soon)

* Ahoy Mate! History of Pirates & Sails - (coming soon)

* Bogie on your six! History of Modern Air Combat Sims - (coming soon)

* Helicopter Flight Simulators - (coming soon)
Added to