Add items to section
Death 2000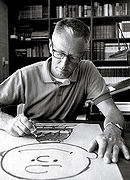 Full Name at Birth: Charles Monroe Schulz
Age: 77 (age at death)
Date of Birth: 26 November, 1922
Birthplace: Minneapolis, Minnesota USA
Date of Death: 12 February, 2000
Location of Death: Santa Rosa, California, USA
Cause of Death: Colon cancer
Height: 6' (183 cm)

Death Summary: In November 1999 Schulz suffered a stroke, and later discovered he had colon cancer that had metastasized. As a result of the chemotherapy and poor vision Schulz announced his retirement on December 14, 1999. This was very difficult for the artist.

According to Wikipedia, he is quoted saying to Al Roker on The Today Show, I never dreamed that this would happen to me. I always had the feeling that I would stay with the strip until I was in my early eighties, or something like that. But all of sudden it's gone. I did not take it away. This has been taken away from me."

Schulz died from complications related to colon cancer at 9:45 p.m. on February 12, 2000. He is buried in the Pleasant Hills Cemetery in Sebastopol.

The last original Peanuts comic strip ran the day after his death. Schulz had often predicted that the strip would outlive him.

Who was Charles M. Schulz : Schulz was a beloved cartoonist who is best known for his Peanuts comic strip.

He got his start in comics after he submitted one of his drawings to The Saturday Evening Post, they paid him $40 and asked that he send more. Schulz sent in a total of 13 comics before he ended his partnership with the publication.

Peanuts debuted on October 2, 1950; it would go on to become one of the most popular comic strips of all time.

Schulz drew most of his inspirations for Peanuts from his own life, even the main characters. Schulz's father was a barber and his mother was a housewife (like Charlie Brown), Linus and Shermy were based on his good friends, Lucy was inspired by his first wife, Peppermint Patty was inspired from a cousin, and "The Little Red Haired Girl" that Charlie Brown is always pining over is based after a girl that Schulz had intended on marrying… but let her slip away.

Peanuts ran for nearly 50 years without interruption and appeared in more than 2, 600 newspapers in 75 countries.

Add items to section
Death 1995
Full Name at Birth: Bob Ross
Age: 52 (age at death)
Date of Birth: 29 October, 1942
Birthplace: Daytona Beach, Florida, USA
Date of Death: 4 July, 1995
Location of Death: New Smyrna Beach, Florida, USA
Cause of Death: Cancer - Lymphoma
Height: 6' 2" (188 cm)

Death Summary: Bob Ross died at the age of 52 in New Smyrna Beach, Florida from lymphoma.

Who was Bob Ross : Ross was a painter who is best known for his television show "The Joy of Paining", which was shown on public broadcast stations across the United States.

During each episode Ross would show viewers the art of oil painting using the quick-study technique that kept colors to a minimum and broke the whole process down to simple steps that anyone could follow.

Ross is known for painting landscapes, mainly lakes, mountains, and snow scenes. His paintings were heavily influenced by his time in the Air Force, where he was stationed in Alaska.

Ross stated once on his show that one of his favorite parts about painting was simply cleaning the brush, specifically drying the brush off. He would dip the brush into the cleaner then gently hit it across the legs of his easel. He would often say, "Beat the devil out of it.".

The Joy of Painting with Bob Ross ran from 1983 – 1995.

Add items to section
Death 1987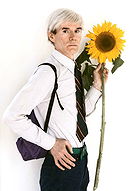 Full Name at Birth: Andrew Warhola
Age: 58 (age at death)
Date of Birth: 6 August, 1928
Birthplace: Pittsburgh, Pennsylvania, USA
Date of Death: 22 February, 1987
Location of Death: New York City, New York, USA
Cause of Death: Complications of Surgery
Height: 5' 11" (180 cm)
Weight: 170 lbs (77.1 kg)

Death Summary: Warhol died from a sudden heart attack in his sleep at New York Hospital while recovering from gallbladder surgery.

He was buried in a solid bronze casket wearing a black cashmere suit, a paisley tie, a platinum wig, and sunglasses.

As according to Warhol's will, most of his estate went to funding "advancement of the visual arts".

Who was Andy Warhol : Andrew Warhola was an American artist (of Slovakian descent). He is mostly known as a painter, but also made films including a version of Frankenstein.

His Pop Art pieces include the famous Campbell's Soup can painting, the Velvet Underground album cover with the banana, and "Marilyn diptych", which displayed Marilyn Monroe's face in rows with different color combinations.
Added to

5 votes
Find Out How They Died ?
(13 lists)
list by Milena
Published 9 years, 3 months ago

1 comment