22

vote
The Complete Works of Terry Brooks
Sort by:
Showing

44

items

Add items to section
Books & Stories of Shannara
Note: The list below represents Terry Brooks' suggested reading order for new readers.

Add items to section
Shannara Related Works

First Publication: 1986
Published by: ???

Honestly, I cannot give any real details on this one, as I could not locate much of any information on this one. I do not know the quality, or even what was largely in this book, aside from being about the world of Shannara. If anyone locates anything additional on this, please let me know. It is most elusive.


First Publication: 2005
Published by: Amazon

This one is going to be very difficult to locate for anyone, if you did not purchase it when it was first released. It was an online only story, non-fiction, discussing why he writes fantasy. I would highly recommend it if you can locate it. I have a copy of it, and am glad I do. There are very few good books and essays on writing fantasy out there, especially those that discuss why they write fantasy, and where their inspiration and process comes from. So much focus on world creation and creatures and the like, which are all important, but miss so much of the writing process, which this touches on, if only in brief, being an essay and not a book.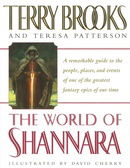 First Publication: 2001
Published by: Simon and Schuster Ltd

I bought my copy of this at a book fair and am glad I did. This is a beautiful book, and very well laid out. I cannot attest to how accurate all the information is in this book, as I have not read it in its entirety, but as a gloss to the world of Shannara, it is the best and largely only one out there. This one is definitely worth owning.

Fraterlucis's rating:

Add items to section
Other Series

Add items to section
Other Works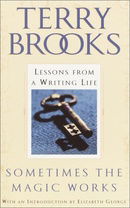 First Publication: 2003
Published by: Del Rey Books

I read a review of this that cites large portions of it as being self-serving, and yes, in some manner, that is true, but it is true of many such books. However, I enjoyed this book more than many other fantasy books on writing. He does include some practical advice on things, but what I found more interesting are just that, his anecdotes and experiences within the industry. I love hearing about his experiences with Hollywood producers that are actually quite humorous, and about people initial reactions to his writing fantasy. I won't say it's the most detailed in covering all the basis of writing epic fantasy, but it is a good read that provides good insights into the industry.

Fraterlucis's rating: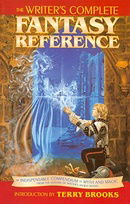 First Publication: 2000
Published by: Writer's Digest Books

I cannot say that this book is worth it for Brooks fans. It has some good information on fantasy in general within, but Brooks' only contribution is an introductory essay. That is hardly worth buying the book for. In general, I am not very impressed with many of the reference books out there on fantasy. I do own this, as I bought it back when I was exploring more what kinds of reference materials are out there in fantasy, though I won't say I refer to it often. Not a high priority to buy.

Fraterlucis's rating: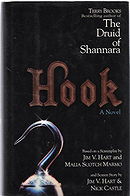 First Publication: 1991
Published by: Ballantine Books

I have not read this, and am not sure I want to. The movie was alright, fun for a one time watch, but I'm not interested enough in the story of the movie to want to buy this. If you really enjoyed the movie, I am sure you would probably love this, and want to go nab it. In fact, you probably already have it or have read it. If not, this is one Brooks title you might hold off on getting.