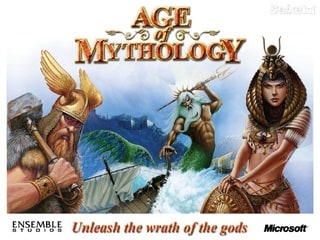 History of AoM
Ensemble Studios began work on their first fully 3D engine, the BANG! engine, in parallel to their development of Age of Empires II: The Age of Kings. This new engine was to be used in a new game, codenamed RTSIII. RTSIII would eventually be revealed as Age of Mythology.
In developing Age of Mythology, Ensemble Studios decided to move away from the center of the Age of Empires series, history, to avoid becoming stale and repetitive. This allowed them to work with new ideas and concepts.
Age of Mythology underwent a large amount of play-testing during its developmental phase, as Ensemble Studios attempted to create a more balanced and competitive game than its predecessors. Greg T. Street commented that one of the reasons Age of Mythology became so popular was because the development team spent many hours working on the game through active testing, rather than just taking advice from a "faceless drone in another building."
There was much debate during Age of Mythology's construction concerning the unbalanced nature of god powers and how to make them "fair" while still maintaining an element of fun in them. It was concluded that the best way to make it fair for everyone was to limit the use of god powers to one a game.
Added to

28 votes
Game Series of Interest
(199 lists)
list by Zozoulini
Published 11 years, 7 months ago

21 comments