Top 10 Genre Shifted Toku Episodes
Sort by:
Showing

11

items
Decade:
Rating:
List Type:

Add items to section
Honorable Mentions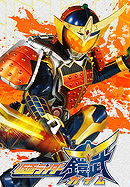 Baron's Soccer Showdown! The Summer Battlefield!
Genre Shift: Soccer Episode




Plot
Kaito gets send to an alternate dimension where, instead of being a competitive dancer, everyone settles things in soccer instead.
jenndubya's rating:


Add items to section
Top 10
You can't mention tokusatsu without someone usually thinking of a person fighting a weirdly designed rubber suit. However, each series still has a distinct tone or mood to it.

These are my top episodes that are anomalies towards the overall theme/mood of the show. Whether it's a serious show getting silly, time travel shenanigans galore, or some straight up creepy stuff, these episodes are NOT to be used for judging whether or not you'd enjoy that series.

While holiday episodes may sometimes count, I'm excluding anything explicitly holiday related because that feels like cheating.
Added to

3 votes
My Toku Top Tens
(20 lists)
list by jenndubya
Published 6 years, 11 months ago