It's a Gif! Star Wars edition (Also ranked)
Decade:
Rating:
List Type:

Add items to section
Not seen yet...
Sceptical but curious....
I'll definitely be watching this as I'm interested to see how they do it...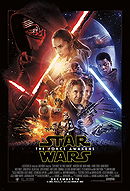 FG93's rating:
Meh why not?

The Star Wars movies in my prefered order, accompanied by the best gifs I could find.
Added to

31 votes
Gifs Taking Over
(19 lists)
list by FG93
Published 10 years, 4 months ago

2 comments