2

vote
369 Views Share:
Sort by:
Showing

10

items
Decade:
Rating:
List Type:

Add items to section
SAID TO BE
I've read these are like that, but I haven't experienced them enough yet.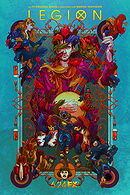 A weird version of it perhaps?
Stories based around a bunch of seemingly unconnected mysteries, where you don't even know what question you should be asking, where you only know something is mysterious and can ask "what is the deal with this?" and "how does this fit in with everything else?".
Added to