16

vote
Top 10 Manliest Movies of 2014
Sort by:
Showing

11

items
Decade:
Rating:
List Type:

Add items to section
Top 10

Add items to section
Honorable Mention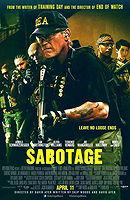 Most of us expected more from this movie, but that doesn't mean it doesn't have any merit. On the contrary, it still contains some incredible shootouts imbued with Ayer's trademark brand of violence. Arnie is a solid anti-hero here as well, and the rest of the ensemble are badasses who banter and swear. Yeah, I liked it, though I would've preferred the original ending that's included as an extra on the Blu-ray. Ayer's original vision would've been better.
PvtCaboose91's rating:

Added to

7 votes
Annual Manliest Movies Lists
(10 lists)
list by PvtCaboose91
Published 3 years, 10 months ago

3 comments