1

vote
6 Views Share:
Decade:
Rating:
List Type: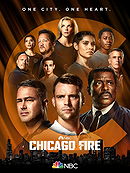 5x01 - The Hose or the Animal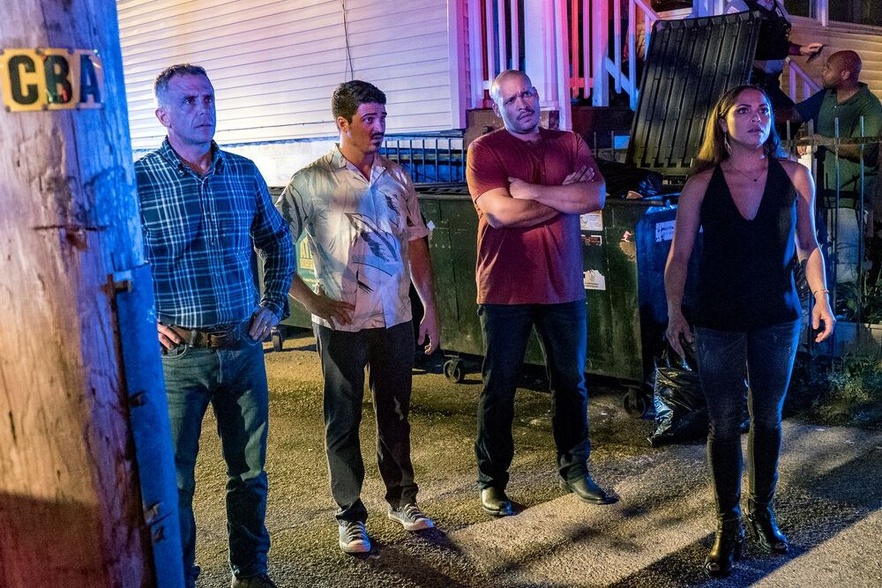 After fostering Louie, Dawson and Casey are back together and Dawson decides to return to Ambulance 61. Severide and Stella are also together but Stella finds that her ex-husband Grant has escaped from psychiatric hold and is after them. Borelli questions Boden's leadership after his brother is killed in a building collapse. Mouch and Brett write fiction and she unexpectedly runs into Antonio Dawson.
 5x02 - A Real Wake-Up Call
Grant is charged with attempted murder and placed on a psychiatric hold, leading Stella to not press charges, which infuriates Severide. Stella makes a difficult decision. Truck 81 refuses to work with Jimmy because his grief is affecting his attitude. Mouch and Brett continue to pursue writing an erotic book. Also, Casey finds himself in a tough spot.
5x03 - Scorched Earth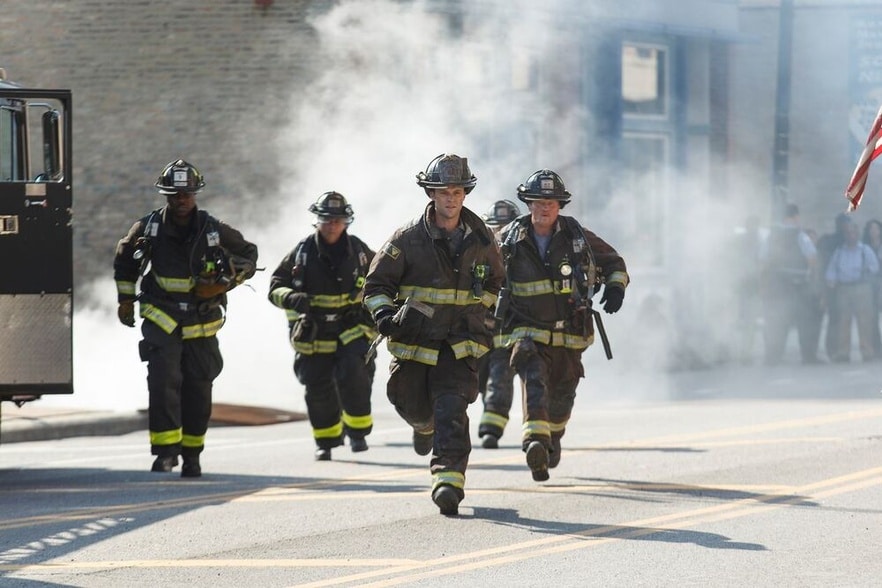 Casey continues to pursue information into who tipped off the aldermen about Louie after the DCFS comes after him and finds his consultant Susan Weller isn't who she said she was. Severide continues to hang out with local celebrity Travis Brenner (guest star Scott Elrod).

5x04 - Nobody Else is Dying Today
Casey investigates a warehouse as an alderman and does everything in his power to prevent a major disaster. Dawson and Brett deal with an advocate over an old lady's health. Otis and Cruz prank each other.

5x05 - I Held Her Hand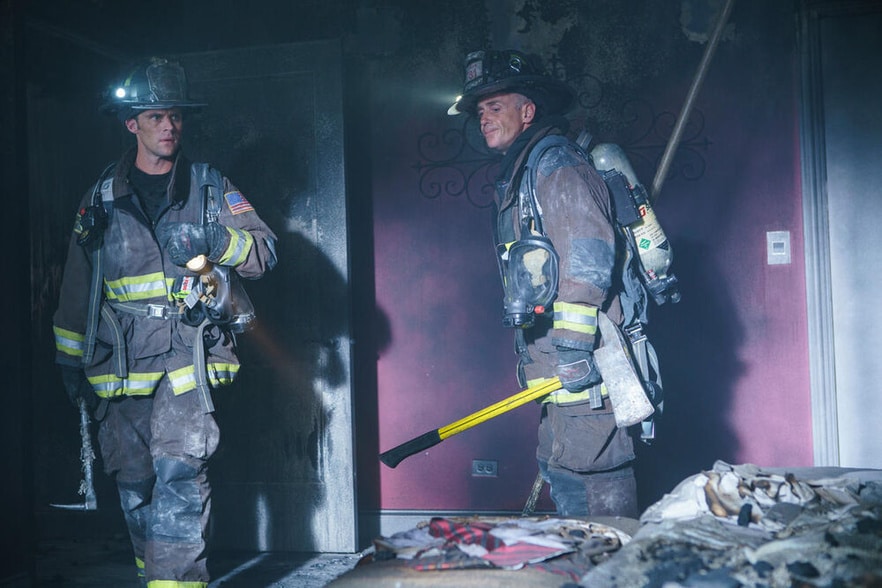 Tensions rise when Severide and Casey disagree on a call when it's thought to be accidental or arson murder. Mouch and Brett run into trouble. Herrmann investigates into who is vandalizing 51 with graffiti.

5x06 - That Day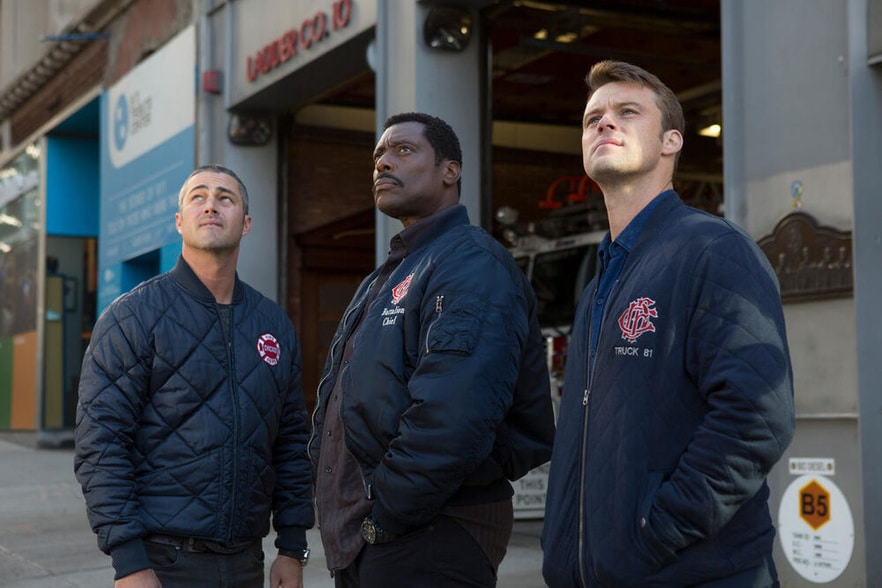 Dawson runs into trouble with the CFD. Casey and Severide continue to investigate the fire from the last call. Herrmann considers a promotion. Casey therefore decides to shadow him to see Herrmann's leadership skills for himself. Someone from Boden's past comes to see him. Brett takes her relationship with Antonio Dawson to the next level.

5x07 - Lift Each Other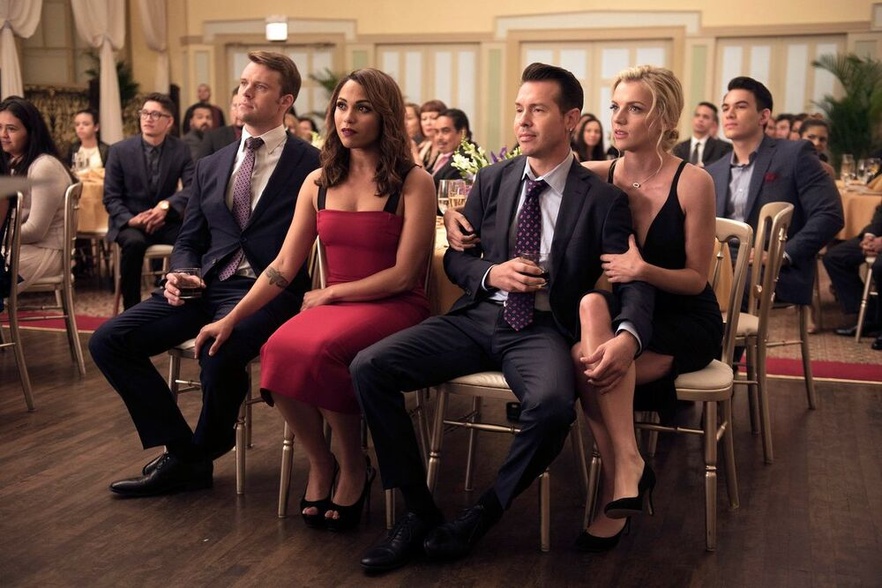 Casey is upset following a recent call. Cruz comes to Severide about Boden's stepson, James and suspects abuse. Things take a dramatic turn at Antonio and Gabriela's parents' wedding anniversary.
5x08 - One Hundred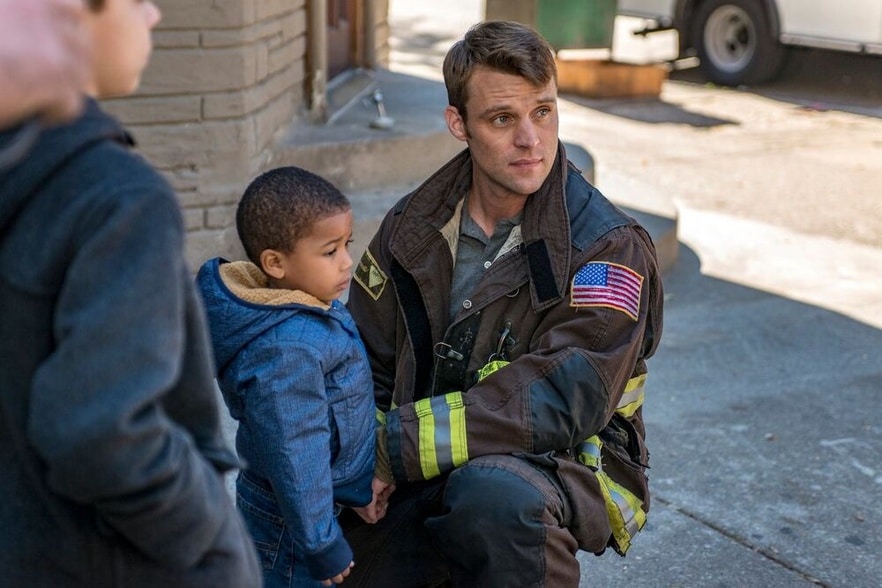 Severide seeks treatment for a neck injury and runs into medical student Jeff Clarke, who asks him for a huge favor. Dawson and Casey run into a problems trying to adopt Louie permanently and make a life-changing decision.

5x09 - Some Make It, Some Don't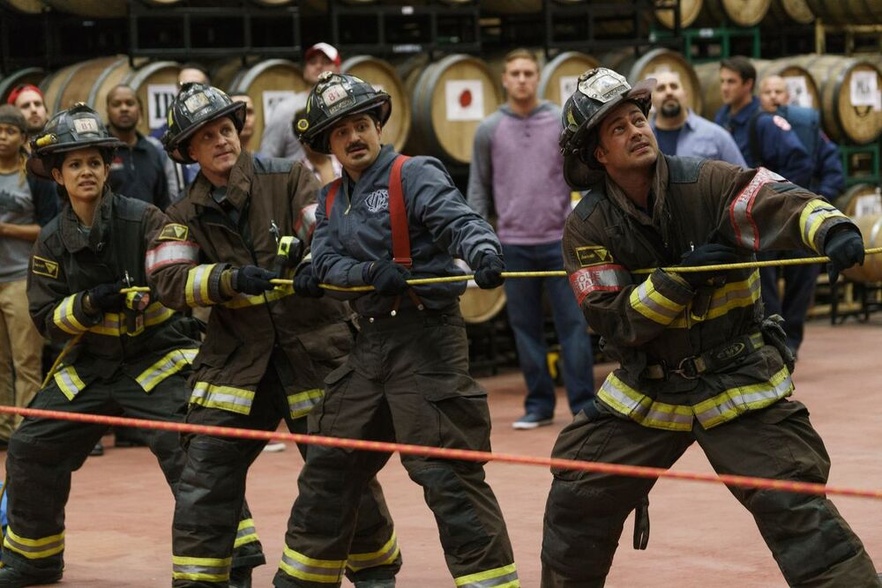 Crossover between Chicago PD and Chicago Fire.
Louie's biological father confronts Casey and Dawson. Severide finds out he is a match for a patient for a bone marrow transplant, but an accident sends Severide into a downward spiral. Firehouse 51 responds to a hit-and-run accident involving Severide's car with Severide missing from the car.
5x10 - The People We Meet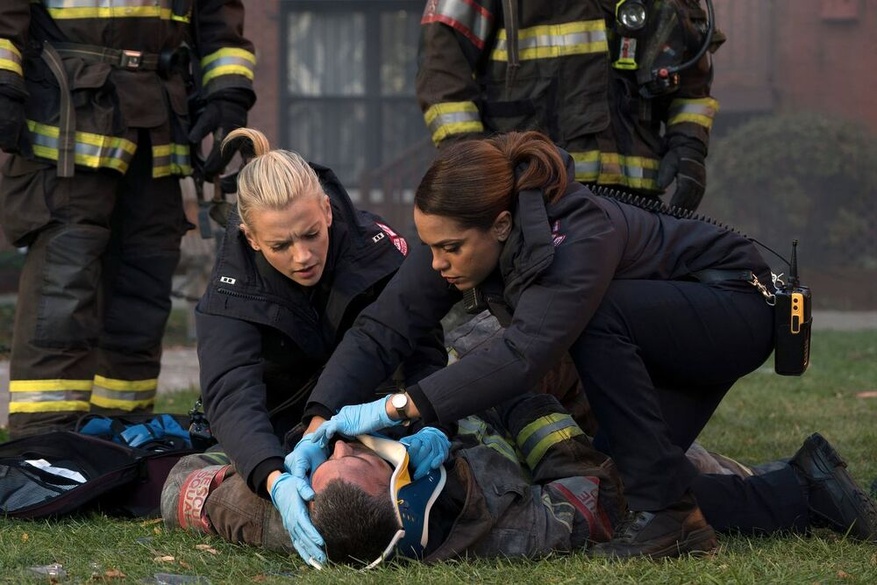 Louie's father throws a wrench into Casey and Dawson's family plans. Severide agrees to a bone marrow donation but a work accident throws everything into flux. Casey and Dawson try to find harmony at home. Meanwhile, Otis and Mouch decide to film a PSA encouraging people to join the Chicago Fire Department but hit a creative wall in the process.

5x11 - Who Lives and Who Dies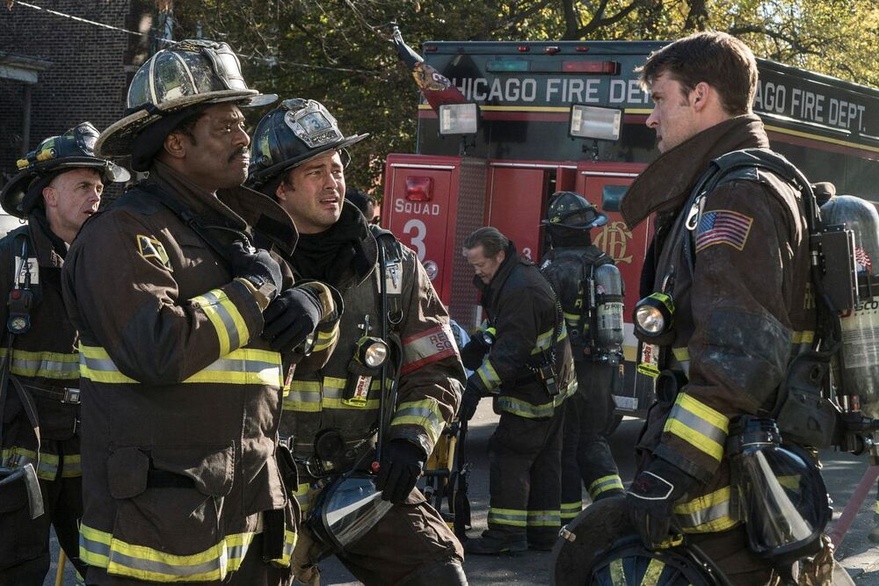 Dawson is upset after a call involving a young girl and an unknown pregnancy. Casey takes his anger out on Firehouse 51. Casey makes a last-minute decision following a call.
5x12 - An Agent of the Machine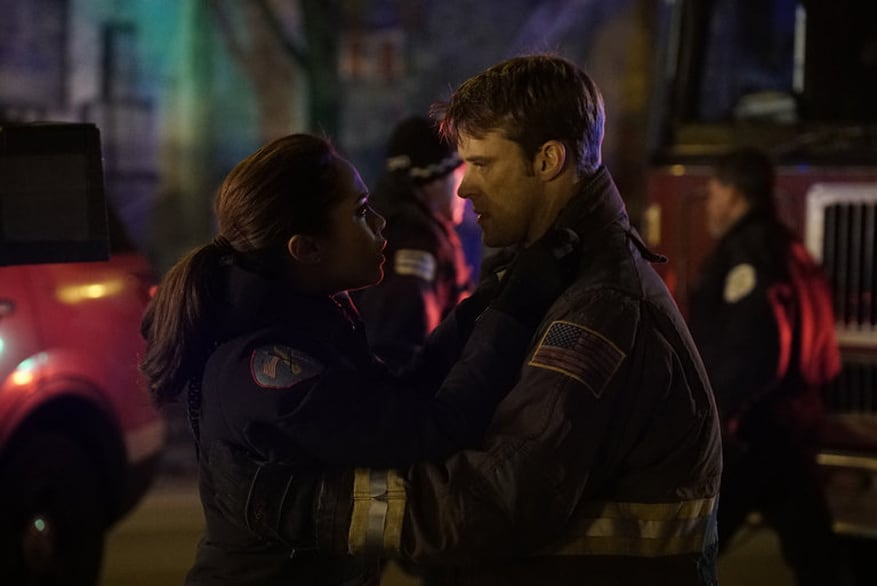 Firehouse 51 is on high alert when an escaped criminal returns to kill Casey and targets Firehouse 51 - the CPD steps in. Brett and Antonio face difficulties after she is confronted by his ex-wife, Laura. A friend of Severide's dad comes to Firehouse 51 to shadow him.

5x13 - Trading in Scuttlebutt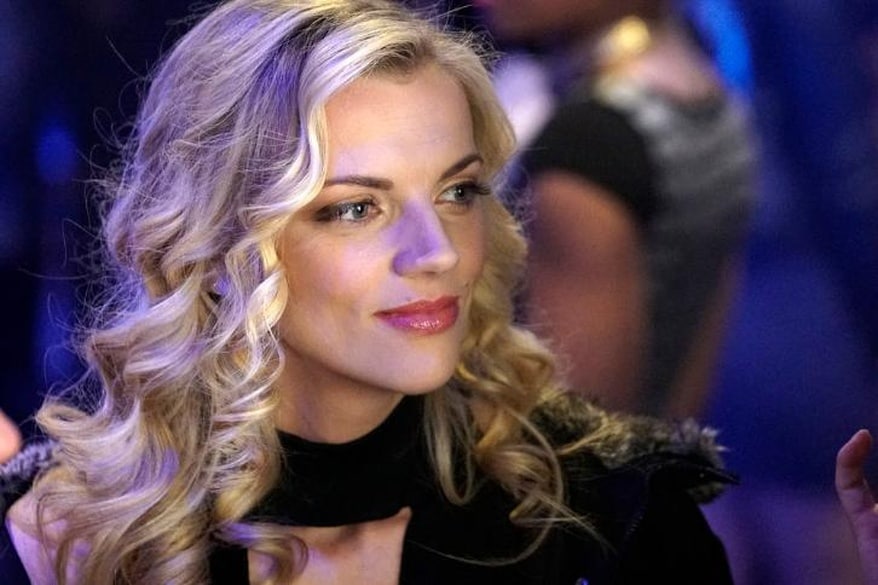 An argument breaks out between Chief Boden and another house when Boden questions his decision. The other chief, who recently received a higher rank, decides to get back at Boden. Severide tries to make a difficult decision involving his career and life. Brett is upset about the state of her love-life, so she attempts to make some drastic changes. Herrmann does a good deed.

5x14 - Purgatory
The team deals with being split up after being reassigned to different firehouses by Chief Anderson. Boden tries to repeal this and Severide tries to help while also trying to decide whether he should move to Springfield.

5x15 - Deathtrap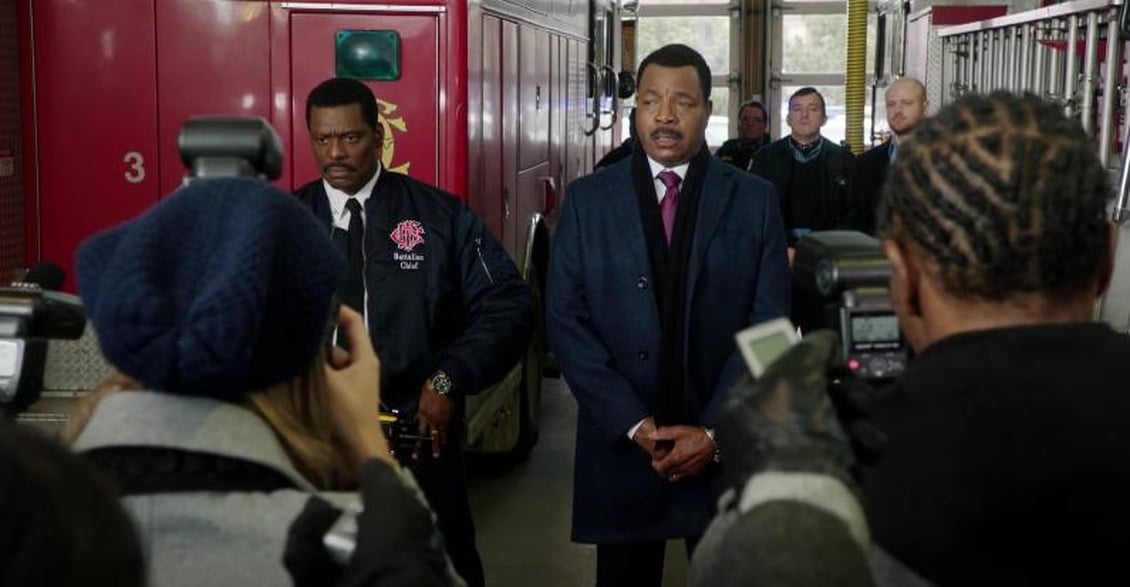 The firehouse responds to a catastrophic fire at a party held inside a factory - and Olinsky's daughter is one of the dozens trapped inside; Severide eyes an open position at Med, hoping Anna can fill the role.
Crossover event that that begins with the Chicago Fire episode "Deathtrap", continues with the Chicago P.D. episode "Emotional Proximity" and concludes with the premiere Chicago Justice episode "Fake".
5x16 - Telling Her Goodbye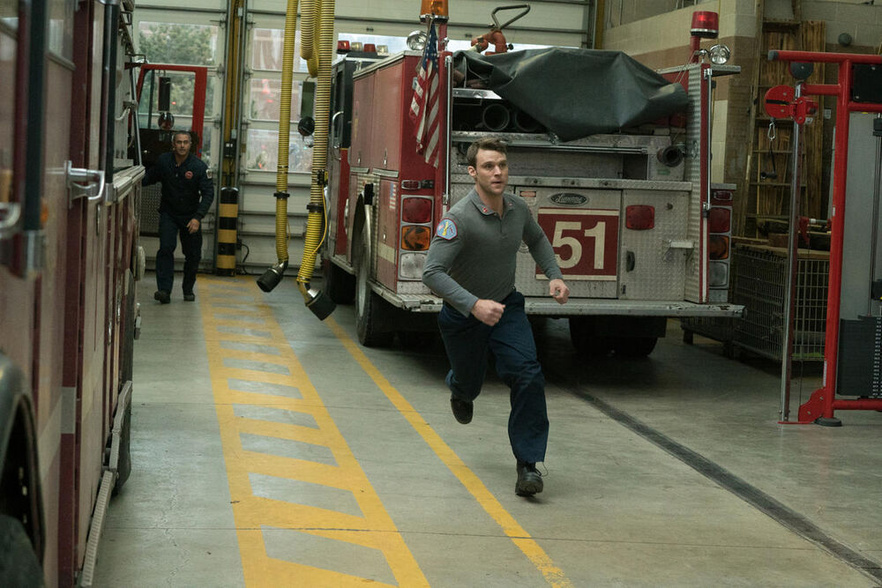 The team is dragged into a hostage crisis after a gang takes shelter at Firehouse 51; each member of the team works to keep the situation from escalating, especially Boden, who must lead a gunpoint.
5x17 - Babies and Fools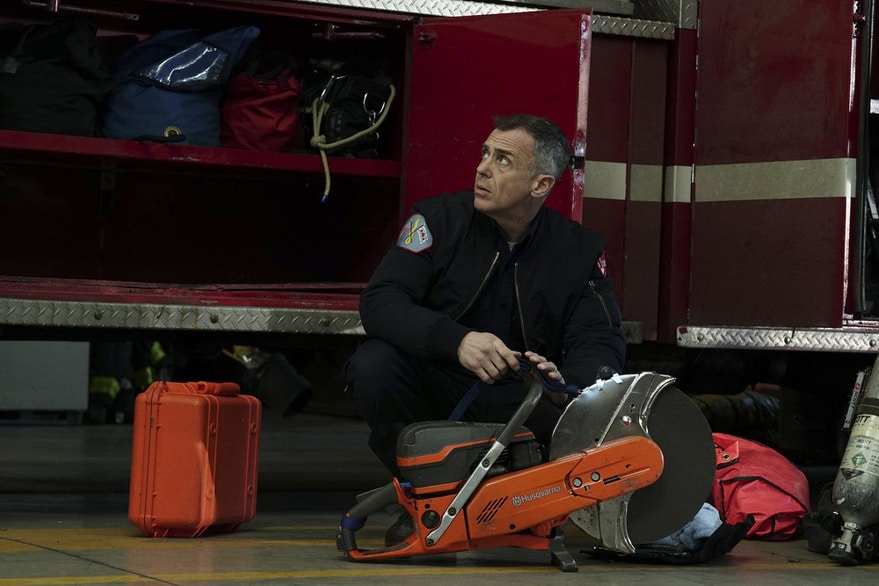 After a mysterious car crash, Dawson hunts down the culprit - whom she believes is a sociopath; Casey faces a new challenge from a disgruntled constituent; Severide worries Anna's homesickness will pull her away from Chicago for good.

5x18 - Take a Knee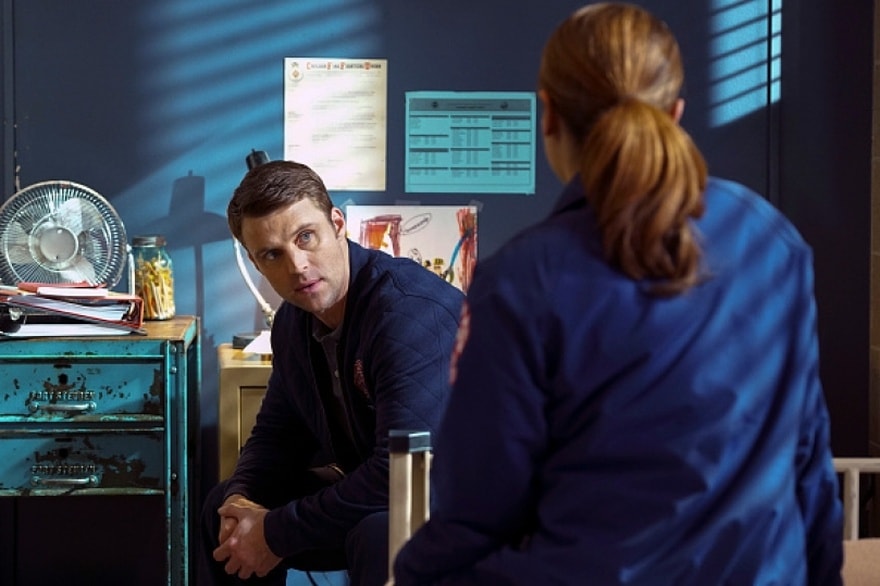 Dawson and Brett have a new trainee assigned for their shift; Severide's father pays him an unexpected visit.
5x19 - Carry Their Legacy
Casey reunites with an old friend who is assigned as a temporary Squad replacement as Severide's truck has broken. While at a call, Casey makes a big decision. Meanwhile, Severide makes strides in figuring out why Anna abruptly left, Dawson and Brett are forced to be retrained as EMT's following an incident. Also, Connie returns to work and the members on Truck makes bets to see how long her temporary replacement will last.

5x20 - Carry Me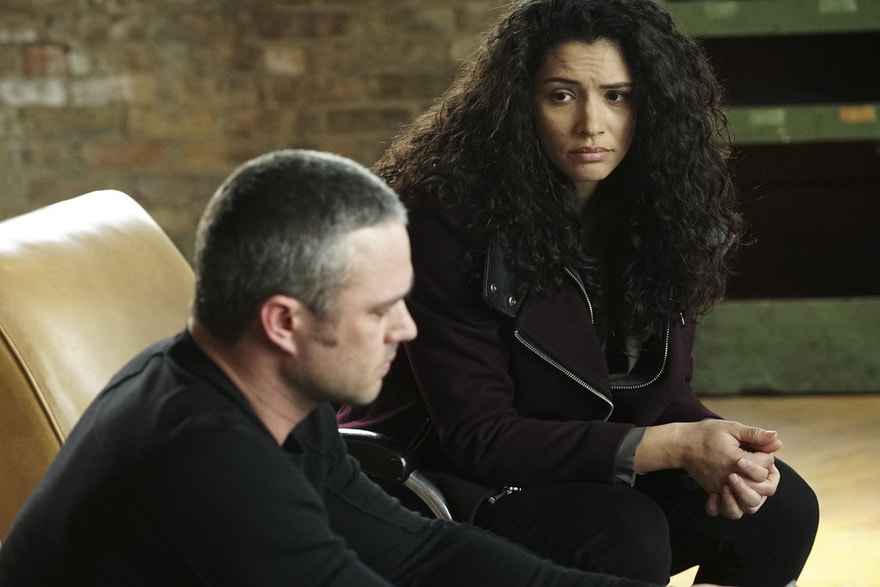 With support from Boden, Casey goes out of his way to help one of his fellow firefighters who is taking the blame for the loss of his team. Meanwhile, Severide continues to be by Anna's side when her health continues to deteriorate, at the same time responding to a call of an elderly woman refusing to leave her burned-out home. Also, Otis and Cruz look for a roommate for their apartment.

5x21 - Sixty Days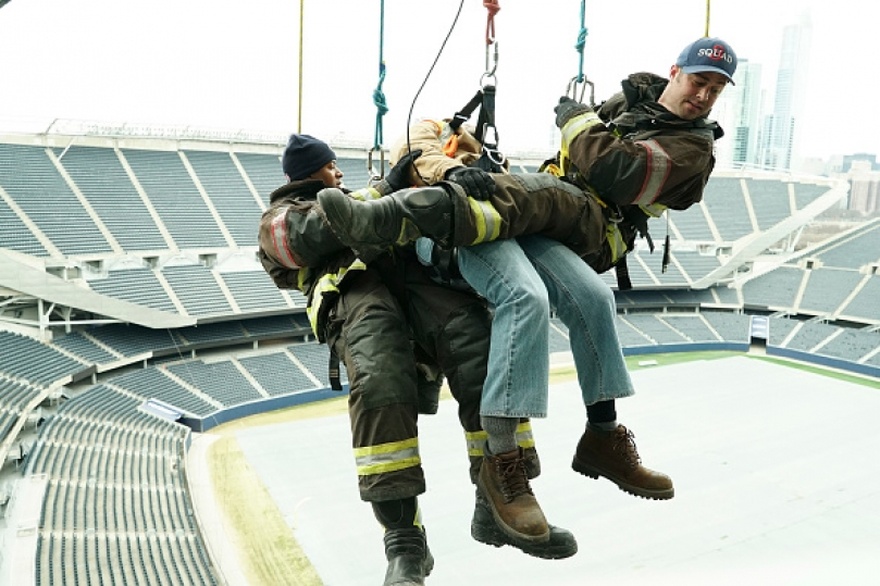 Cruz faces disciplinary action when trying to escort a drunk out of a bar when he discovers that Cruz has a tattoo with the CFD logo. Meanwhile, Casey goes head-to-head with another Alderman when trying to pass a bill for First Responders. Members of Firehouse 51 help Severide grieve the loss of Anna and Dawson's father makes a visit to the firehouse. Also, Squad 3 welcomes its newest member Jason Kannell. Casey and Dawson and Cruz and Mouch are at each other's throats and Mouch considers retiring.

5x22 - My Mircale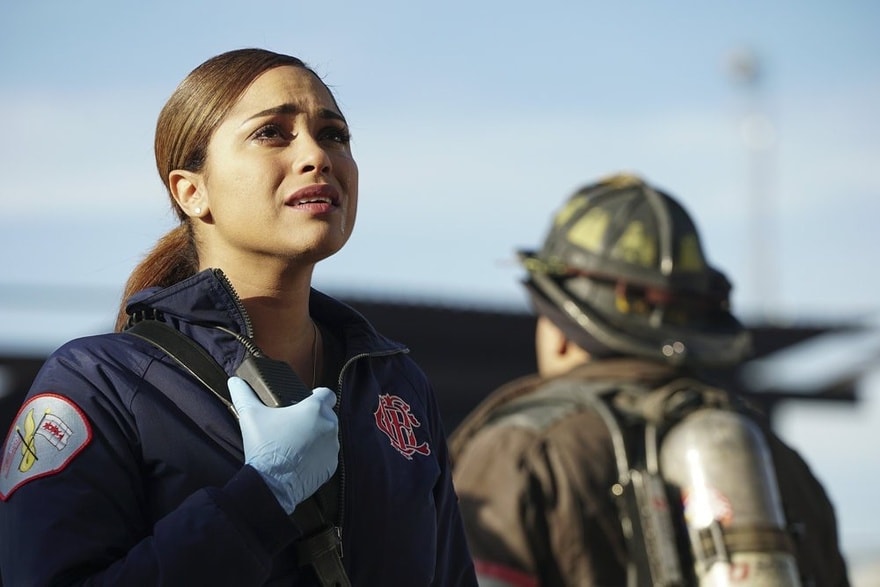 In the Season 5 Finale, Mouch, Cruz, Dawson and Casey all have issues, but even worse is when Cruz is put on a 60-day suspension. But in the end. a fire call puts members of 51 in danger.
jordanwiles94's rating:

Chicago Fire Season 5
Added to

1 votes
One Chicago
(17 lists)
list by jordanwiles94
Published 4 days, 3 hours ago