16

vote
Television Anthologies: Tales from the Crypt
Sort by:
Showing

13

items
Decade:
Rating:
List Type: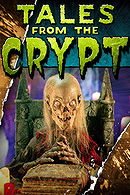 Years: 1989-1996
Broadcaster: HBO
Genre: Horror, Dark Comedy
Written by: Gilbert Adler, A L Katz,
Scott Nimerfro, Fred Dekker, Ron Finley,
Larry Wilson, Colman deKay, Terry Black,
John Harrison, Walter Hill, Mae Woods,
Frank Darabont, Randall Jahnson, Donald Longtooth,
Jeffrey Price, Doug Ronning, Peter S. Seaman,
Scott Alexander, Harry Anderson, Jeri Barchilon,
Dick Beebe, Myles Berkowitz, Jim Birge,
Jeffrey Boam, A. Whitney Brown, Rita Mae Brown,
Manny Coto, Battle Davis, Randolph Davis,
Nancy Doyne, Rodman Flender, Bob Gale,
Brian Helgeland, Tom Holland, W. Peter Iliff,
Connie Johnson, Jonathan David Kahn,
Michael Alan Kahn, Kim Steven Ketelsen,
Bill Kopp, Bernard Krigstein, Tom Lyons,
William M. Gaines ...and many others
Episodes: 93
Episode Average: 5.656*
BEST EPISODES:
Abra Cadaver (1991), The New Arrival (1992)
*not including films
The
Amicus
Films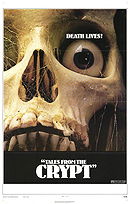 FILM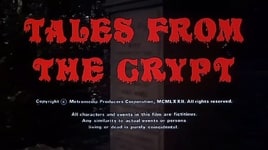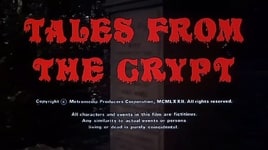 (1972)
FILM

TALES FROM THE CRYPT

Released: 8 March 1972
Directed by: Freddie Francis
Written by: Milton Subotsky, Al Feldstein,
Johnny Craig, William M. Gaines
Five people are told how they will die when they go on a catacombs tour.
AND ALL THROUGH THE HOUSE
A housewife is visited by Santa after she commits murder on Christmas Eve.
REFLECTION OF DEATH
A man and his lover crash their car after he abandons his wife and children.
POETIC JUSTICE
A kindly old rubbish collector is targeted by a campaign to make him move.
WISH YOU WERE HERE
A woman ignores warnings about a statuette by wishing for lots of money.
BLIND ALLEYS
The new superintendent of a blind home makes a series of cruel cutbacks.

James Elliot (Robin Phillips), Ralph Jason (Richard Greene),
Joanne Clayton (Joan Collins), Carl Maitland (Ian Hendry),
and Major William Rogers (Nigel Patrick)
HOLY GODIVA 3 - ONION JACK 4
TOTAL: 7
Holy Godiva's rating: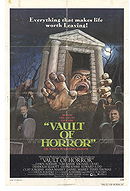 FILM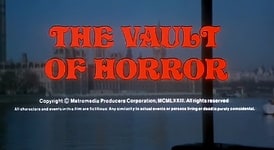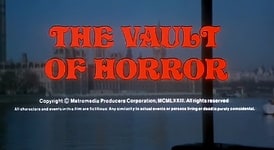 (1973)
FILM

THE VAULT OF HORROR

FURTHER TALES FROM THE CRYPT
Released: 16 March 1973
Directed by: Roy Ward Baker
Written by: Milton Subotsky, Al Feldstein, William M. Gaines
Five men who are locked in a vault talk about their recurring nightmares.
MIDNIGHT MESS
A man with inheritance on his mind finds his sister in an odd little village.
THE NEAT JOB
A new wife is nagged about keeping things tidy and in their proper place.
THIS TRICK'LL KILL YOU
A couple searching for new magic tricks in India find a girl charming a rope.
BARGAIN IN DEATH
A writer comes up with a way to scam his insurance by being buried alive.
DRAWN AND QUARTERED
An artist turns to voodoo to get revenge on those who have ripped him off.

Moore (Tom Baker), Maitland (Michael Craig),
Critchit (Terry-Thomas), Sebastian (Curd Jürgens),
and Rogers (Daniel Massey)
HOLY GODIVA 3 - ONION JACK 3
TOTAL: 6
Holy Godiva's rating:
The
TV Series
&
Spin-Off Films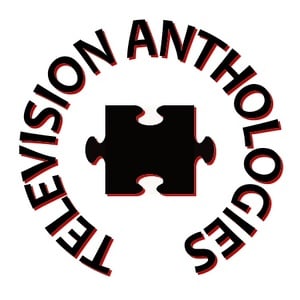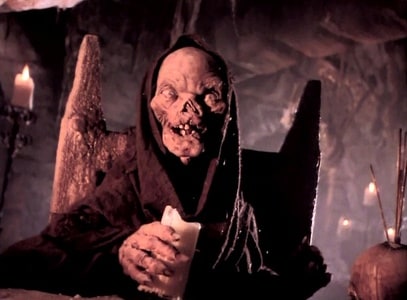 SEASON SCORES

Season 1: 6.67
Season 2: 6.78
Season 3: 5.93
Season 4: 5.79
Season 5: 5.00
Season 6: 4.60
Season 7: 5.08
FAVOURITE EPISODES

HOLY GODIVA

1. Abra Cadaver
(Season 3, Episode 4 - 1991)

2. Strung Along
(Season 4, Episode 12 - 1992)

3. The New Arrival
(Season 4, Episode 7 - 1992)

4. Three's a Crowd
(Season 2, Episode 5 - 1990)

5. Death of Some Salesmen
(Season 5, Episode 1 - 1993)

6. For Cryin' Out Loud
(Season 2, Episode 8 - 1990)

7. Four-Sided Triangle
(Season 2, Episode 9 - 1990)

8. What's Cookin'
(Season 4, Episode 6 - 1992)

9. The Ventriloquist's Dummy
(Season 2, Episode 10 - 1990

10. Fatal Caper
(Season 7, Episode 1 - 1996)

ONION JACK

1. The New Arrival
(Season 4, Episode 7 - 1992)

2. Abra Cadaver
(Season 3, Episode 4 - 1991)

3. Strung Along
(Season 4, Episode 12 - 1992)

4. Death of Some Salesmen
(Season 5, Episode 1 - 1993)

5. The Man Who Was Death
(Season 1, Episode 1 - 1989)

6. Two for the Show
(Season 5, Episode 6 - 1993)

7. The Ventriloquist's Dummy
(Season 2, Episode 10 - 1990

8. For Cryin' Out Loud
(Season 2, Episode 8 - 1990)

9. What's Cookin'
(Season 4, Episode 6 - 1992)

10. Staired in Horror
(Season 6, Episode 9 - 1994)
Added to