16

vote
Basil Rathbone's Sherlock Holmes
Sort by:
Showing

14

items
Decade:
Rating:
List Type:

Add items to section
20TH CENTURY FOX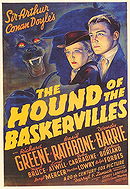 THE HOUND OF THE
BASKERVILLES
Released: 31 March 1939
(76 minutes)
Directed by: Sidney Lanfield
Written by: Ernest Pascal, Arthur Conan Doyle
A terror-stricken man dies of heart failure, a doctor tells Sherlock Holmes the legend of a family curse, and Watson is sent to Baskerville Hall to investigate.

"Good heavens, you're not going to start scratching on that infernal thing, are you?"
HOLY GODIVA 3 - ONION JACK 3
TOTAL: 6


THE ADVENTURES OF
SHERLOCK HOLMES
Released: 1 September 1939
(78 minutes)
Directed by: Alfred L. Werker
Written by: Edwin Blum, William Absalom Drake,
William Gillette, Arthur Conan Doyle
A scheme is devised to distract from the main event, a strange picture must be worked out before it's too late, and Holmes is asked to help with keeping a valuable jewel safe.

"You've a magnificent brain, Moriarty. I admire it. I admire it so much I'd like to present it, pickled in alcohol, to the London Medical Society."
HOLY GODIVA 4 - ONION JACK 4
TOTAL: 8

Add items to section
UNIVERSAL STUDIOS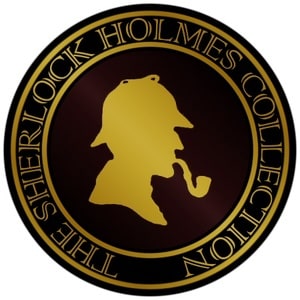 OUR FAVOURITES
1. The House of Fear
2. The Scarlet Claw
3. Sherlock Holmes in Washington
THE CREATOR

SIR ARTHUR CONAN DOYLE
THE RECURRING CHARACTERS
SHERLOCK HOLMES

Played by
BASIL RATHBONE

in... The Hound of the Baskervilles (1939)

Appearances: 14
DR. JOHN WATSON

Played by
NIGEL BRUCE

in... The Adventures of Sherlock
Holmes (1939)

Appearances: 14
MRS. HUDSON

Played by
MARY GORDON

in... Sherlock Holmes and the
Secret Weapon (1942)

Appearances: 10
INSPECTOR LESTRADE

Played by
DENNIS HOEY

in... Sherlock Holmes
Faces Death (1943)

Appearances: 6
PROFESSOR JAMES MORIARTY

Played by
GEORGE ZUCCO

in... The Adventures of Sherlock
Holmes (1939)

Appearances: 1


Played by
LIONEL ATWILL

in... Sherlock Holmes and the
Secret Weapon (1942)

Appearances: 1


Played by
HENRY DANIELL

in... The Woman in Green (1945)

Appearances: 1
THE LEADING LADIES
WENDY BARRIE

as
BERYL STAPLETON

in... The Hound of the Baskervilles (1939)
IDA LUPINO

as
ANN BRANDON

in... The Adventures of Sherlock
Holmes (1939)
EVELYN ANKERS

as
KITTY

in... Sherlock Holmes and the
Voice of Terror (1942)
KAAREN VERNE

as
CHARLOTTE EBERLI

in... Sherlock Holmes and the
Secret Weapon (1942)
MARJORIE LORD

as
NANCY PARTRIDGE

in... Sherlock Holmes in
Washington (1943)
HILLARY BROOKE

as
SALLY MUSGRAVE

in... Sherlock Holmes
Faces Death (1943)
GALE SONDERGAARD

as
ADREA SPEDDING

in... The Spider Woman (1944)
KAY HARDING

as
MARIE JOURNET

in... The Scarlet Claw (1944)
EVELYN ANKERS

as
NAOMI DRAKE

in... Pearl of Death (1944)
SALLY SHEPHERD

as
MRS. MONTEITH

in... The House of Fear (1945)
HILLARY BROOKE

as
LYDIA MARLOWE

in... The Woman in Green (1945)
MARJORIE RIORDAN

as
SHEILA WOODBURY

in... Pursuit to Algiers (1945)
RENEE GODFREY

as
VIVIAN VEDDER

in... Terror by Night (1946)
PATRICA MORISON

as
MRS. HILDA COURTNEY

in... Dressed to Kill (1946)
Added to

22 votes
Favorite Lists #26
(30 lists)
list by kathy
Published 7 years, 11 months ago

1 comment