Add image to section
The Hobbit art concept
Web Site:
nickkellerart.com
Soundtrack of the list
Nick is a senior concept designer at Weta Workshop, having worked on films including The Chronicles of Narnia: Prince Caspian, Under the Mountain, Avatar, Indiana Jones and the Kingdom of the Crystal Skull, and most recently, the Hobbit trilogy.
He spends his days in the film world working digitally so in his spare time he enjoys painting in traditional media, creating fantastical imagery mainly with oils. Nick's paintings have also appeared on a number of heavy metal album covers such as Beastwars, Heresiarch, Razorwyre, Exordium Mors and Bulletbelt.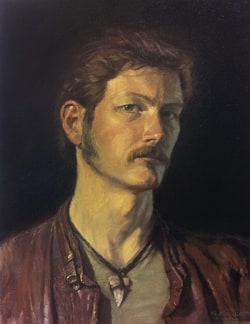 Added to

18 votes
Art History | Surrealism and Visionary Art
(18 lists)
list by Nusch
Published 2 years, 3 months ago

3 comments

64 votes
My Fantasy art gallery
(33 lists)
list by Antares
Published 10 years, 4 months ago

5 comments

26 votes
Even in Hell exist beauty
(7 lists)
list by Antares
Published 9 years, 4 months ago

1 comment