Add items to section
Johnny at Sun Records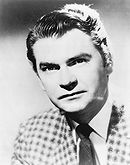 Johnny's recording career began at Sam Phillips' Sun Records in Memphis, TN. He wrote his first hits while at Sun and had a 2 piece backup band that developed a Rockabilly style. It had the familiar Boom-Chica-Boom sound present on his early records. Johnny said the sound had more to do with their limitations as musicians rather than any pre-conceived style.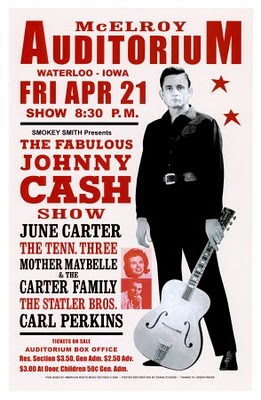 If you look closely at this old concert poster, you will notice this touring show consisted of the same acts he got to back him up on his TV show in 1970.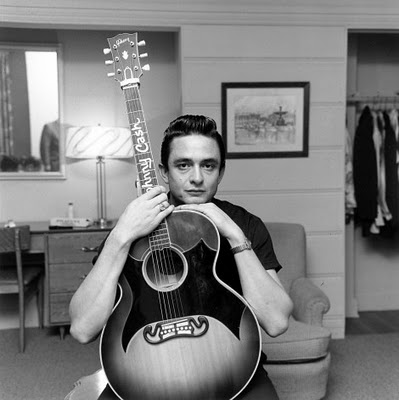 Sun had a stable of yountg talent that was destined to go on to be stars. The biggest star-to-be, of course was Elvis Presley. Phillips also had Jerry Lee Lewis, Carl Perkins, and Roy Orbinson.
Here is a shot of Jerry Lee, Carl, Elvis, and Johnny at Sun studios. Elvis plopped down at the piano and started playing some of his favorite Gospel songs. The other three soon joined in. Sam Phillips had enough smarts to flip on the recorder while they were jamming. The session was bootlegged for decades before it was finally released as 'The Million Dollar Quartet'. The title was a little misleading as Johnny left early and his voice is absent from most of the recording.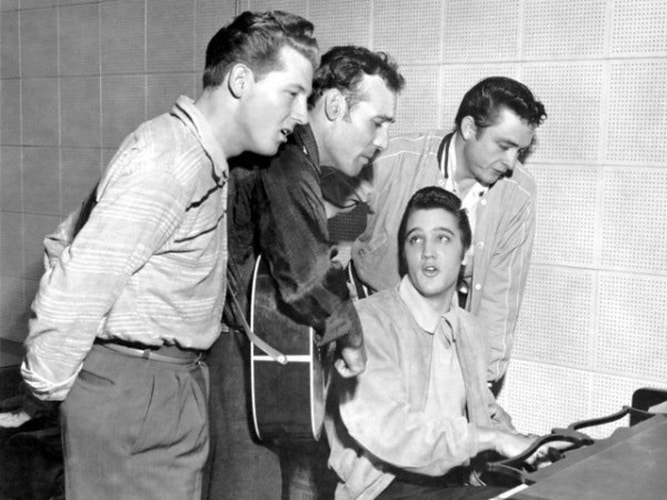 Here's Johnny with Elvis in the early days.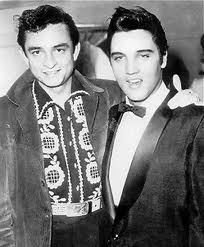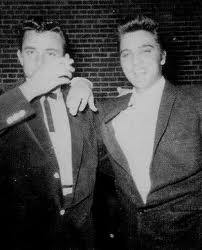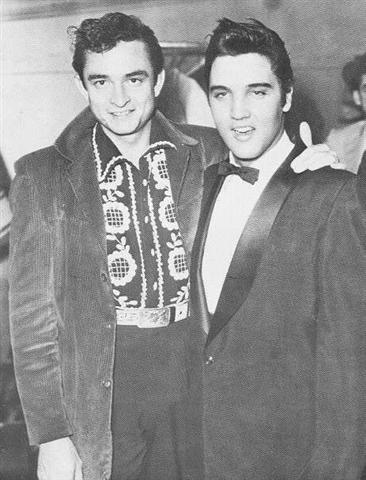 And here he is circa 1957/58 with Ricky Nelson and Gene Vincent.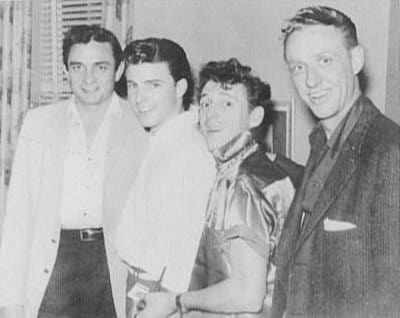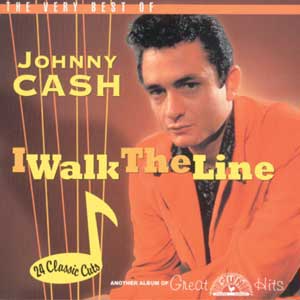 Add items to section
Johnny at Columbia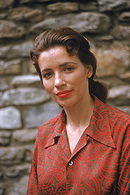 Johnny left Sun because he wanted to do a Gospel album and Sam Phillips wouldn't let him do it. Columbia agreed to let him do one and he signed with them. His first release on Columbia was an album called 'Hymns' and it was one of the best selling Gospel albums at the time.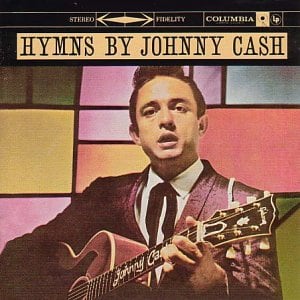 Johnny always had eclectic taste in music and now he was free to record whatever he wanted.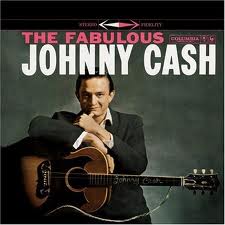 With this new found artistic freedom, Johnny released a string of concept albums on Columbia.
Ride This Train was a collection of folk songs and stories from all over the United States.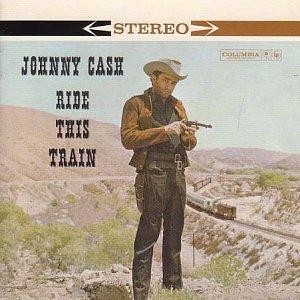 Bitter tears depicted the plight of the Native Americans.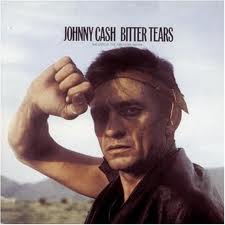 Blood, Sweat, and Tears was a collection of folk songs about the working man.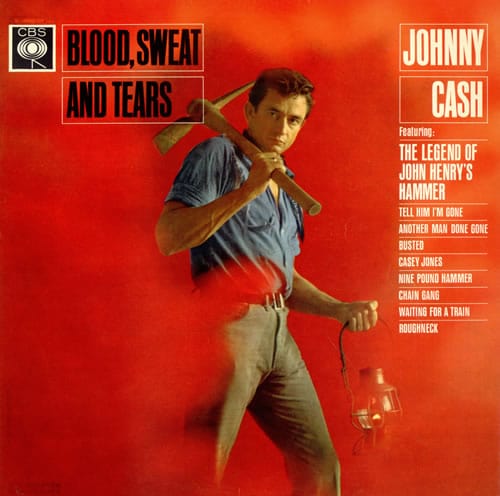 Trains and the open road were frequent sujects.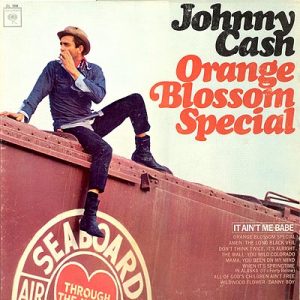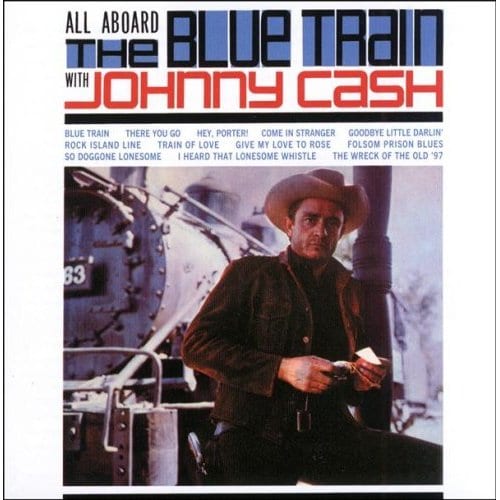 After the breakup of his first marriage, Johnny got together with his true soulmate and the love of his life, June Carter. Johnny credits her with saving his life by getting him off drugs.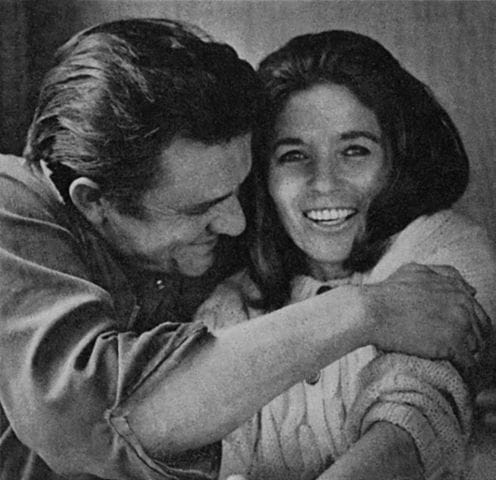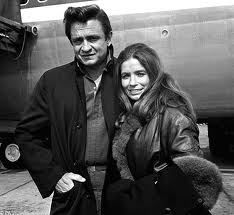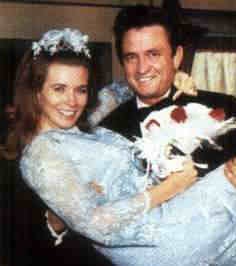 They often performed together and June wrote one of Johnny's biggest hits, The Ring of Fire.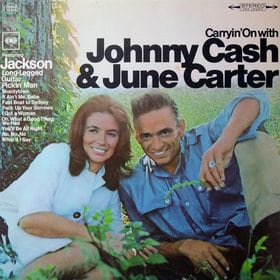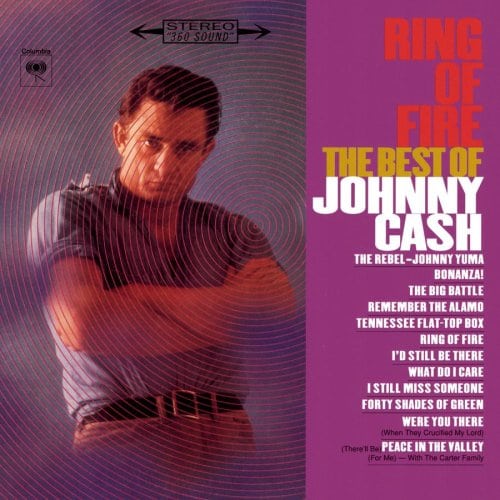 "The name's Cash...Johnny Cash"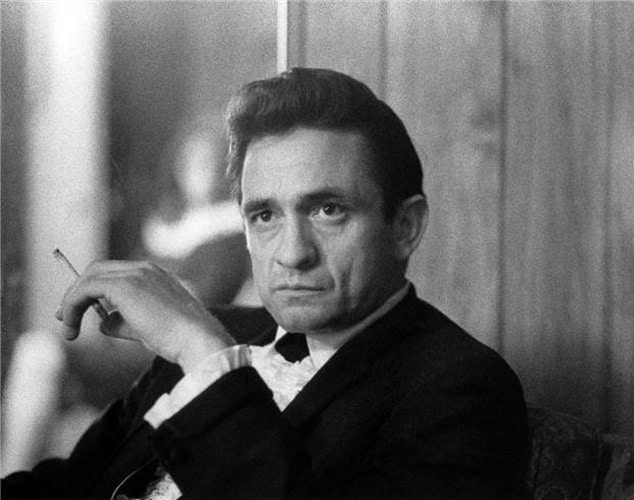 Add items to section
Johnny Cash's Prison Shows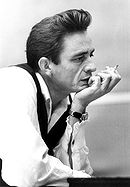 Johnny Cash had his demons. His drug addiction causing him to have run-ins with the law and almost killed him until he cleaned up. Here is his mugshot taken in El Paso in 1965 when he was arrested for smuggling pills into the country from Mexico.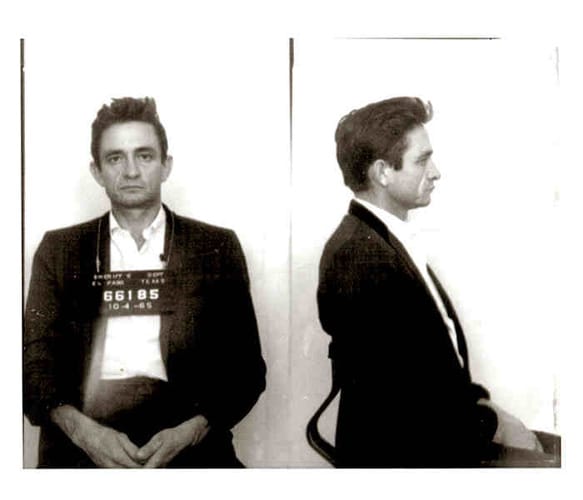 He also has the dubious distiction of being the only person in history to be successfully sued by the government for starting a forest fire in a US Park during one of his binges.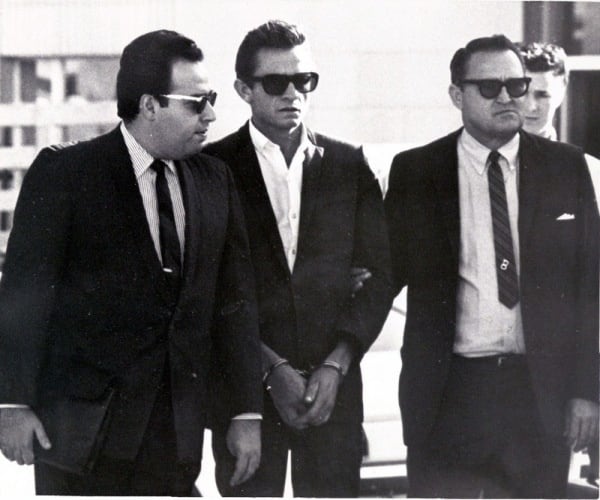 Here is a shot of a gaunt-looking Cash getting ready for a show.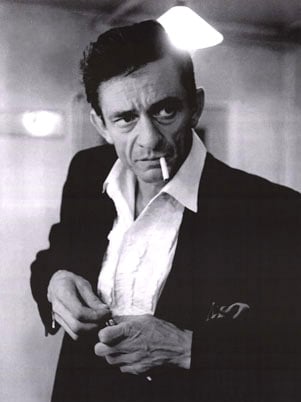 Contrary to popular rumor, Cash never did any prison time. Several of his exploits have landed him in local jails a few times. His association with prisons began when he decided he wanted to do benefit concerts for the federal prisoners. This led to many shows, the most famous of which would be at Folsom Prison and San Quentin. He had hit albums taken from recordings of each of these 2 shows.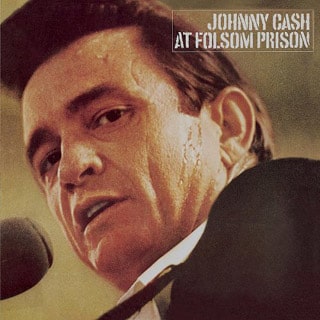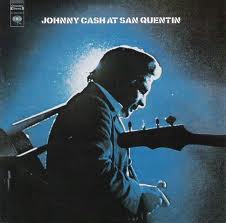 Here are some shots of Johnny at Folsom Prison.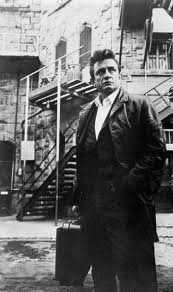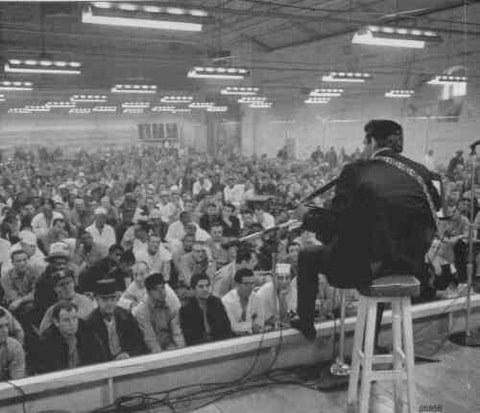 And here are some other prison shots, San Quentin included.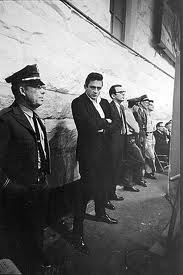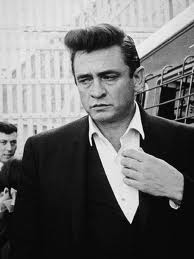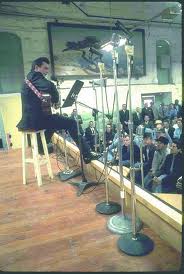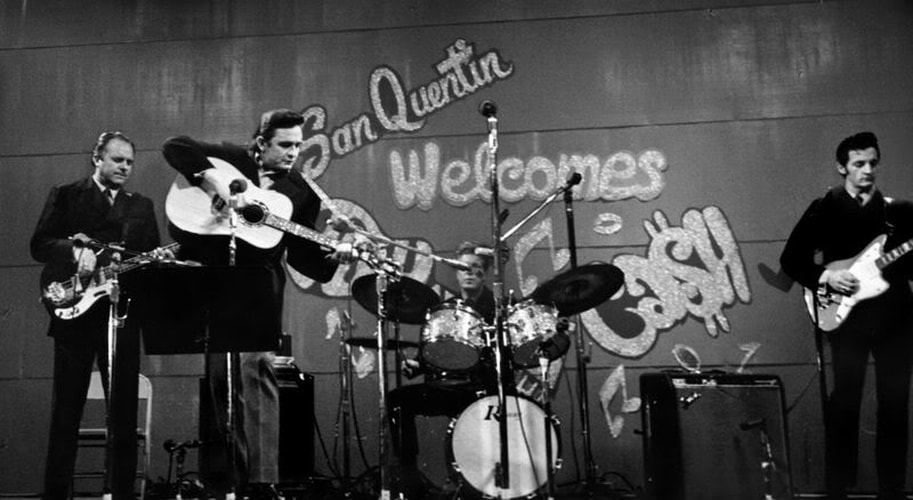 And here is probably the most infamous photo of his career. It has been ripped off hundreds of times, but the original picture was taken the night before his historical concert at San Quentin in 1969. Johnny and the guys were backstage rehearsing for the show and he was wearing the prison jumpsuit. The photographer, Jim Marshall, said, "Let's do a shot for the warden." The picture would go on to become a legendary, iconic image.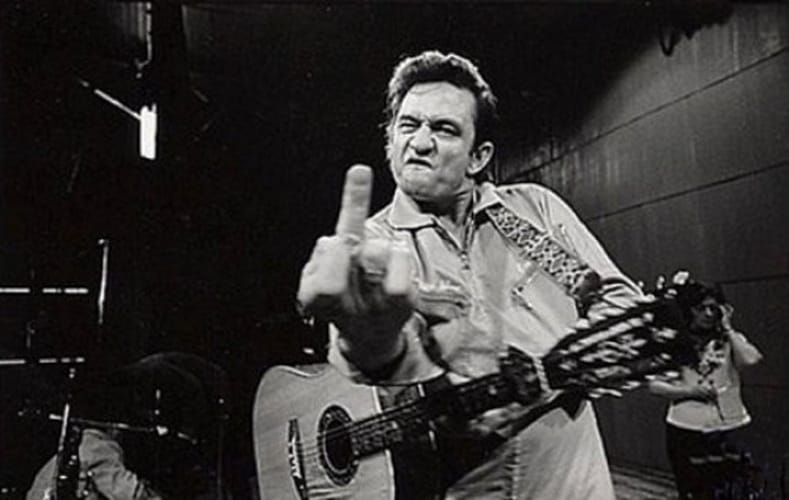 Add items to section
The Johnny Cash Show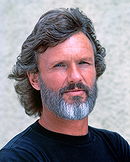 With the tremendous success of the back to back prison show albums, Johnny was enjoying a renewed popularity. This lead to him getting his own variety show in 1970. He had guests that rarely did TV and turned Ride This Train into a weekly segment where he would spotlight a certain subject in story and song.
Here are some shots of him and guest Waylon Jennings.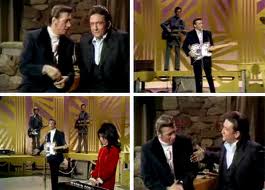 Johnny worked with Waylon on many projects. Here they are a few years after doing the TV show.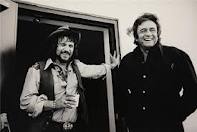 Around 1970, Johnny was very instrumental in helping Young Kris Kristofferson get a recording contract by recording one of his songs and introducing him to some people at Columbia. Of course, he had him as a guest on his show, too.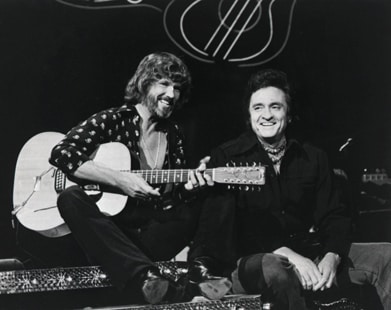 Here is a shot of them years later, still friends and still working together occasionally.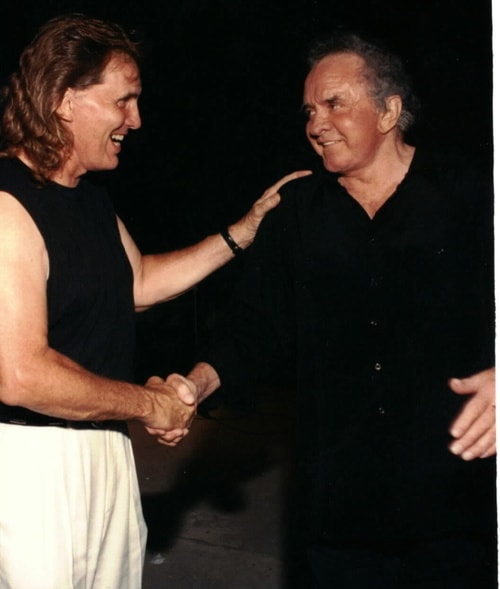 The guests on the first episode of his new show was Bob Dylan and Joni Mitchell. Johnny had sang on Bob's 1969 album, Nashville Skyline, as well as contribute the liner notes.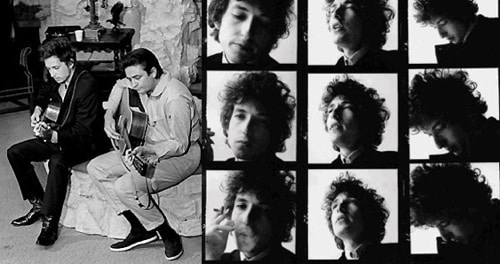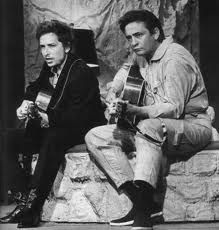 Johnny got to work with a lot of his musical heroes on his show. Here he is with guest Ray Charles.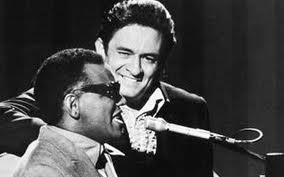 And he got to work with the currrent artists of the day. Here he is with Mamma Cass Elliott guesting on the show.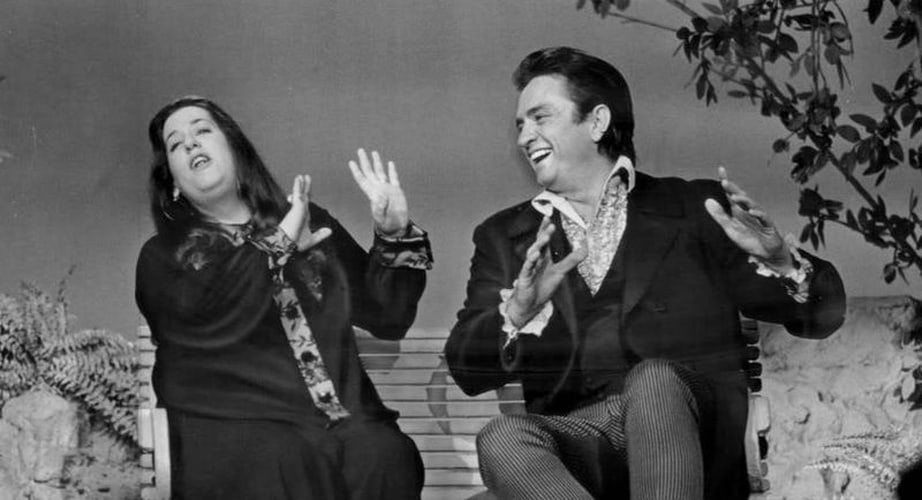 He even got to stage a reunion of his old Sun labelmates on the show. Here he is with Carl Perkins, Roy Orbinson, and Jerry Lee Lewis.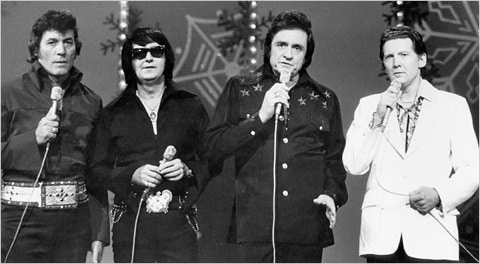 The success of Johnny's show led to acting roles, like this shot taken from the remake of Stagecoach with co-star Willie Nelson.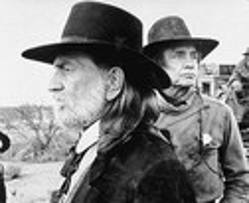 Johnny's fame allowed him to meet some very influentual people, like Richard Nixon.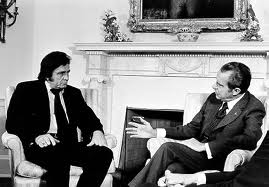 And Billy Grahamn, who became a very good friend of his.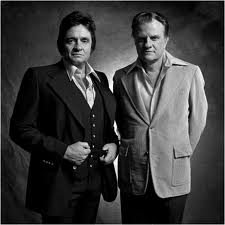 Johnny Cash was one of the most influetial musicians of the 20th century. His simple, spare style was deceptive. To many it seemed he had little talent to offer. He was more of a Folk artist than Country. He had his start at Sun Records in Memphis writing and playing Rockabilly music. He was also a greast Gospel artist. He may have been a Country Music superstar, but Country Music did not define him. For a true testiment of his talent and influence, look at all the great musicians that associated with him.
Added to