Games of 1978 and Earlier - ranked by preference
Sort by:
Showing

18

items

Add items to section
1971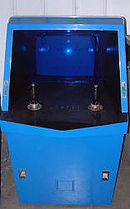 Release Date: September 1971 (NA)
Publisher: Bill Pitts and Hugh Tuck
Developer: Bill Pitts and Hugh Tuck
Genre: Shooter

Galaxy Game is the earliest known coin-operated video game...It was installed in Stanford University two months before the released of the first mass-produced video game, Computer Space. Originally, only one unit was built, but later the game included several consoles so players could play against each other. The concept for Galaxy Game is simple, really - fly around the screen and shoot at your opponent as they do the same to you. Since the game takes place in space, it takes quite a while to get your ship moving and it's also difficult to move in a different direction once you've started to move, so the game often breaks down into the loser getting hit by a stray bullet rather than one that was strategically aimed. For what it was, it's passable...But even for back then, the gameplay is very slow and it doesn't take more than one or two plays before you've had your fill. It's a historical game that's worth playing just so you can see how video games were in the beginning, but games that came out later on in that decade really blew this out of the water in terms of gameplay.
ape's rating:


Add items to section
1972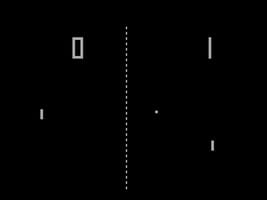 Release Date: November 29, 1972 (NA)
Publisher: Atari
Developer: Atari
Genre: Sports - Table Tennis

There's a legend linked to the first Pong arcade machine: The prototype was installed at Andy Capp's Tavern in Sunnyvale, CA and shortly afterward, Atari received a phone call from the bar's owner, complaining that the machine had broken. Al Alcorn, the man who had built the game, drove to the pub and discovered that everything was working perfectly fine...The problem was that patrons had fed so many quarters into the machine that the coin slot couldn't take any more. Eventually, Pong took over bars, arcades, and living rooms all over the world. With its simple "don't miss the ball" premise, Pong is simple fun that anyone could understand and enjoy...And it's just as fun today as it was when it was released...So long as you've got a friend to trade trash talks with while you play.
ape's rating:

Add items to section
1976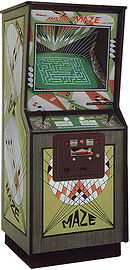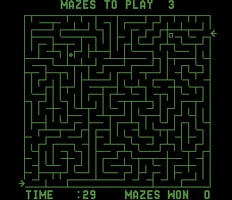 Release Date: 1976 (NA)
Publisher: Bally Midway
Developer: Bally Midway
Genre: Action

Amazing Maze was one of the early arcade games and one that probably will be looked down upon by younger gamers for its graphical simplicity, but for its time, it was very addicting. In Amazing Maze, you battle either a friend or the computer, with player one controlling a square and player two (or the computer) controlling a diamond. The first one to make it to the part of the maze where the other one began is the winner. When playing against friends, it's frantic fun to see which one can exit the maze first. When playing against the computer, it's not quite as fun since the computer doesn't make any mistakes. There's a handicap of the computer moving a bit slower than you, but it's still not much of a handicap considering there's only one correct path, and plenty of dead-ends for you to run into. But, for what it is, and for the time it was released, it's still a decent game and one that's still moderately fun today if you'd got a friend to play it with.
ape's rating:


Add items to section
1977

Add items to section
1978
Yes, another branch of my 'ranked by preference' lists...This time, by year.

Due to the lack of games released in 1978 and prior, I'm just lumping them all in this list to avoid a bunch of lists with just one or two items.
Added to

9 votes
Timeline of Games - ranked by preference
(37 lists)
list by ape
Published 9 years, 5 months ago

1 comment