3

vote
The Disney Worlds of Kingdom Hearts
Sort by:
Showing

24

items

Add items to section
The Worlds That Never Was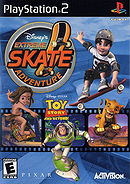 The Jungle Book in Birth by Sleep


Fantasia 2000:
They first wanted Sora to go to Fantasia while Riku go to Fantasia 2000 but they went with just Fantasia.
In honor of Dream Drop Distance's release, here's a Kingdom Hearts list. The worlds that appears in the games and some that was going to be but isn't in the final cuts of some games.
Added to