15

vote
Crossroads Blues
"You demons. You think you're something special, but you're just spirits -- twisted, perverted, evil spirits, but end of the day, you're nothing but ghosts with an ego."
—Bobby Singer, speaking to Crowley

Add image to section
History
A crossroads demon (pl. crossroads demons) is a type of demon that specializes in writing Faustian contracts and bartering for human souls, particularly virtuous ones. Like all demons, they were once HUMAN, and either sold their soul or performed enough evil in life to be sentenced to HELL. Those souls whose chief sin in life was avarice will eventually be warped into crossroad demons.
Crossroads demons are, in some ways, the jocks of Hell. They're lean and have more of the stereotypical demon characteristics - goat horns (which range in size from small bumps to top-heavy prongs), cloven hooves (sometimes paired with shaggy goat legs), and the occasional pointed devil's tail. Their eyes are a glowing red, somewhat like embers, with no variation between pupil, iris, and sclera. Crossroads demons can adopt a human form that resembles their form in life, but only within the bounds of a crossroads or SUMMONING CIRCLE. Like all demons, they can render themselves invisible. Also, they are physically capable of overpowering any human, in either their own or a POSSESSED vessel.
Crossroads demons can do just about anything - provided it's in the contract. Once the bargain is struck, reality is theirs to toy with, according to the terms of the deal. They can also sense souls, and 'read' them in a way - they can tell if there is a contract pending on a soul, and how much karmic smut the soul is carrying around. Once they've made a bargain, they always know the location of the soul they are due.

Add image to section
Summoning Rituals
According to Supernatural:
A Crossroad Demon can be summoned by digging a hole in the dead center of a set of crossroads and burying a box containing a picture of the mortal wishing to make the deal, some graveyard dirt, and a bone from a black cat.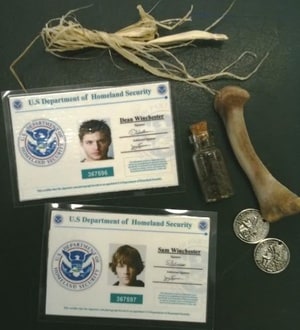 According to the Hoodoo lore:
"Perform this act for 9 consecutive nights. Take the item you wish you master with you to a crossroads (where two streets intersect at right angles to make a "+" shape) arriving about 15 minutes before midnight. When you arrive, sit on the corner and use your item (toss your dice trying to get a 7, play your guitar, etc.) the entire time you are there. Continue until about half an hour past midnight. While you are there, take note of black animals that might approach you, people dressed in black, etc. There is absolutely no need to do anything aside from showing up and doing your skill that you wish to master. The effort of showing up every night IS your offering to the spirit of the black man at the crossroads.

On the final night, a black man will approach you, take the object from your hand, show you how to use it, and hand it back to you. You've just made your pact with the Black Man at the Crossroads to become a master in your skill."
(...source: conjuredoctor.blogspot.ro/2009/03/crossroads-ritual.html)

Add image to section
Powers and Abilities
Possession - Standard demon power.
Super Strength - Standard demon power.
Reality Warping - The Crossroad Demon's main power is that it can manipulate reality to make the wishes of the mortals it deals with come true, they can't however do this without a deal for a soul. Crowley reveals that their ability is purely down to a spellcasting, rather than innate power. Although never specified, there are limits to what they are capable of.
Teleportation - They have the ability to teleport, and commonly appear when summoned to make deals.
Immortality - As demons they have the potential to live forever, some have been known to make deals for decades.
Invunerability - Standard demon power, still vulnerable to demonic weaknesses though.
They also appear to have control over Hellhounds which are shown as their main method of dragging a soul to Hell, although this not so much a power, as many types of demon have shown control over hellhounds.

Add image to section
The Famous Deal with the Devil
Robert Johnson is considered to be one of the greatest blues performers of all time. His hits include "I Believe I'll Dust My Broom" and "Sweet Home Chicago," which has become a blues standard. Part of his mythology is a story of how he gained his musical talents by making a bargain with the devil. He died at age 27 as the suspected victim of a deliberate poisoning.
Part of the lasting mythology around him is a story of how he gained his musical talents by making a bargain with the devil: Son House, a famed blues musician and a contemporary of Johnson, claimed after Johnson achieved fame that the musician had previously been a decent harmonica player, but a terrible guitarist—that is, until Johnson disappeared for a few weeks in Clarksdale, Mississippi. Legend has it that Johnson took his guitar to the crossroads of Highways 49 and 61, where he made a deal with the devil, who retuned his guitar in exchange for his soul.

Strangely enough, Johnson returned with an impressive technique and, eventually, gained renown as a master of the blues. While his reported "deal with the devil" may be unlikely, it is true that Johnson died at an early age.
Added to

16 votes
Favorite lists published in 2013
(102 lists)
list by Nusch
Published 7 years, 4 months ago

2 comments

69 votes
Mythology and Folklore
(40 lists)
list by Katherine Fell
Published 10 years, 7 months ago

3 comments