Add items to section
Death 2014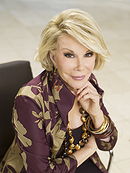 Full Name at Birth: Joan Alexandra Molinsky
Age: 81 (age at death)
Date of Birth: 8 June, 1933
Birthplace: Brooklyn, New York
Date of Death: 4 September, 2014
Location of Death: Mount Sinai Hospital New York, USA at 1:17pm
Cause of Death: Complications of throat surgery (cardiac arrest)
Height: 5' 2" (157 cm)
Weight: 110 lbs (49.9 kg)

Death Summary: Joan Rivers died several days after complications from throat surgery, which led her to stop breathing, enter cardiac arrest, and be put into a medically induced coma. She was put on life support, but her condition did not improve. She died at the age of 81 after being transferred from the ICU at Mount Sinai Hospital into a private room.

Who was Joan Rivers : Joan Rivers (real name Joan Molinksy) was an actress, comedian, writer, producer, and television host. She co-hosted Fashion Police, starred in Joan & Melissa: Joan Knows Best?, and appeared in a number of films and TV shows, but was probably known best for her stand-up comedy.
Added to
5 votes
Find Out How They Died ?
(13 lists)
list by Milena
Published 6 years, 2 months ago

1 comment