13

vote
1878 Views Share:
American World War I Propaganda Films
Movie list created by Wetzneer
Nations were new to cinema and its capability to spread and influence mass sentiment at the start of World War I. The early years of the war were experimental in regard to using films as a propaganda tool, but eventually became a central instrument for what George Mosse has called the "nationalization of the masses" as nations learned to manipulate emotions to mobilize the people for a national cause against the imagined or real enemy.

The U.S. entered the war in April 1917, which achieved Wellington House's primary objective. The DOI increased its production of war films, but did not know what would play most effectively in the U.S., leading to nearly every British war film being sent to the States thereafter, including The Tanks in Action at the Battle of the Ancre and The Retreat of the Germans at the Battle of Arras, both of which were eventually released as serials. It also turned away from feature-length films because they took longer to produce, leaving greater gaps between releases. The DOI found it better to constantly release films and shorts of varying lengths and topics, including newsreels, to increase the market saturation. Newsreels became increasingly popular and a part of the standard war propaganda policy with the DOI and its successor, the Ministry of Information.

The U.S. developed its own propaganda organization, the Committee on Public Information (CPI), days after the declaration of war. Originally wary of film as a propaganda medium, it created the Division of Films on 25 September 1917 to handle films taken by army Signal Corps cameramen. It did not release commercial films. Urban's Kineto Company of America edited, processed, and printed the CPI's films, including Pershing's Crusaders, America's Answer, and Under Four Flags. Similar to Britain, American interest in feature-length films waned, in favor of newsreels and shorts. This also proved to be more profitable though even American audiences came to prefer British war films.

Charlie Chaplin produced and starred in multiple pro-US propaganda films. One film, Zepped, which contains the only known scenes of a Zeppelin bombing raid over London, was designed to be used on a morale mission for the troops in Egypt and to defuse the terror inspired by the frequent Zeppelin raids. In 1918, Chaplin made, at his own expense, The Bond, and produced short clips in which he beat up Kaiser Wilhelm with a hammer bearing the inscription "War Bonds".
Sort by:
Showing

14

items
Decade:
Rating:
List Type: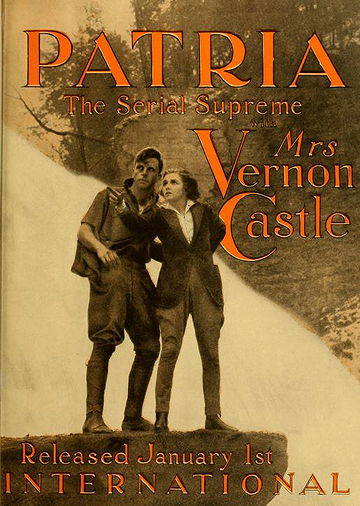 Jacques Jaccard, Leopold Wharton, Theodore Wharton
Irene Castle
as Patria Channing / Elaine
Milton Sills
as Capt. Donald Parr
Warner Oland
as Baron Huroki
Dorothy Green
as Fanny Blair
NR  |  6 January 1917  |  310 min  |  Action, Drama
Patria
is a 1917 15-chapter serial film starring Irene Castle, Milton Sills, and Warner Oland, based on the novel The Last of the Fighting Channings by Louis Joseph Vance. Patria was an independent film serial funded by William Randolph Hearst in the lead-up to the United States' entry into World War I. The film in its original form contained anti-Japanese propaganda and was investigated by a Senate committee.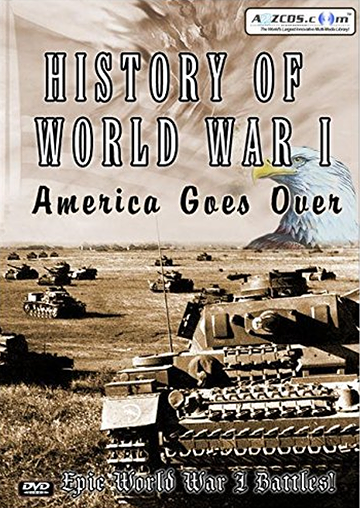 NR  |  1918  |  58 min  |  Documentary, War
America Goes Over
is a silent documentary propaganda film produced by the US Army Signal Corp in 1918, documenting the activities of the American Expeditionary Forces in World War I under General John J. Pershing. The movie was a product of the Division of Films of the Committee on Public Information, the Washington, DC-based federal agency in charge of wartime propaganda in the United States.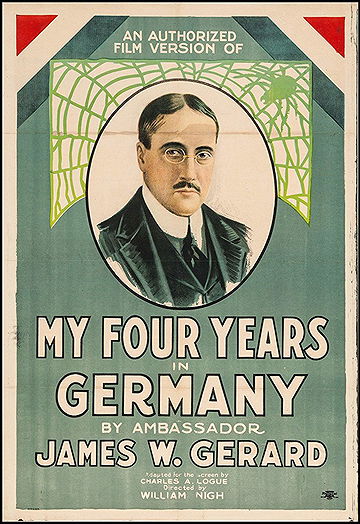 William Nigh
Halbert Brown
as Ambassador James W. Gerard
Willard Dashiell
as Sir Edward Goschen
Louis Dean
as Kaiser Wilhelm II
Earl Schenck
as Crown Prince of Germany
NR  |  10 March 1918  |  108 min  |  Drama
My Four Years in Germany
is a 1918 American silent war drama film that is notable as being the first film produced by the four Warner Brothers, Harry, Sam, Albert, and Jack. It was directed by seasoned William Nigh, later a director at Metro-Goldwyn-Mayer, and was based on the experiences of real life U. S. Ambassador to Germany James W. Gerard as described in his book. The film was produced while World War I was still raging and is sometimes considered a propaganda film.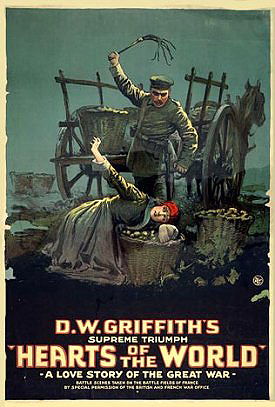 D. W. Griffith
Lillian Gish
as The Girl, Marie Stephenson
Robert Harron
as The Boy, Douglas Gordon Hamilton
Dorothy Gish
as The Little Disturber
Josephine Crowell
as The Mother
NR  |  12 March 1918  |  117 min  |  Drama, War
Hearts of the World
is a 1918 American silent World War I propaganda film written, produced and directed by D. W. Griffith. In an effort to change the American public's neutral stance regarding the war, the British government contacted Griffith due to his stature and reputation for dramatic filmmaking.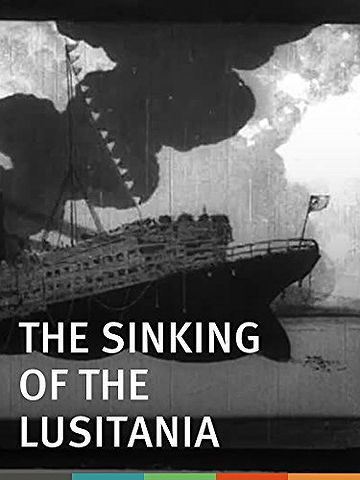 Winsor McCay
NR  |  20 July 1918  |  12 min  |  Animation, Short
The Sinking of the 'Lusitania'
is a silent animated short film by American cartoonist Winsor McCay. It is a work of propaganda re-creating the never-photographed 1915 sinking of the British liner RMS Lusitania. At twelve minutes it has been called the longest work of animation at the time of its release. The film is the earliest surviving animated documentary and serious, dramatic work of animation.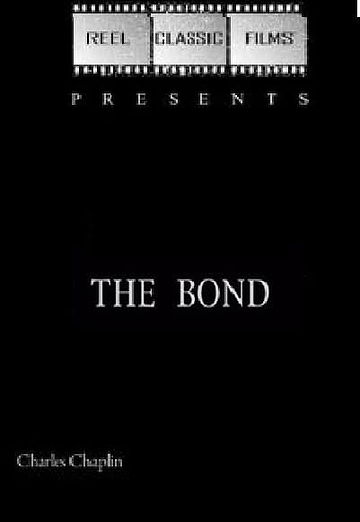 Charlie Chaplin
Edna Purviance
as Charlie's Wife / Liberty
Charlie Chaplin
as Charlie
Syd Chaplin
as The Kaiser
Joan Marsh
as Cupid
NR  |  29 September 1918  |  10 min  |  Short, Comedy
The Bond
is a propaganda film created by Charlie Chaplin at his own expense for the Liberty Loan Committee for theatrical release to help sell U.S. Liberty Bonds during World War I.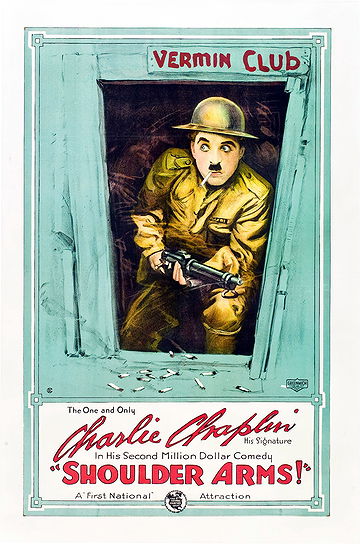 Charlie Chaplin
Edna Purviance
as The Girl
Charlie Chaplin
as Doughboy
Syd Chaplin
as Charlie's Comrade / The Kaiser
Loyal Underwood
as Short German Officer
NR  |  20 October 1918  |  45 min  |  Comedy, War
Shoulder Arms
is Charlie Chaplin's second film for First National Pictures. Released in 1918, it is a silent comedy set in France during World War I. The main part of the film actually occurs in a dream. It co-starred Edna Purviance and Sydney Chaplin, Chaplin's elder brother. It is Chaplin's shortest feature film as well as the first feature film that he directed.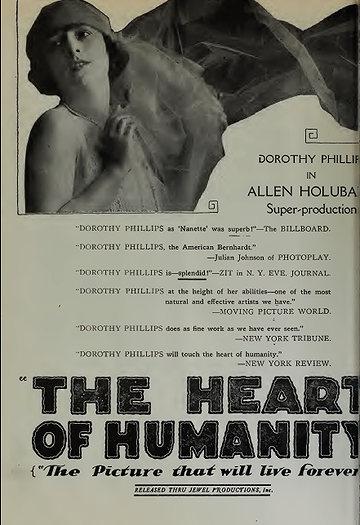 Allen Holubar
Dorothy Phillips
as Nanette
William Stowell
as John Patricia
Robert Anderson
as Paul Patricia
Erich von Stroheim
as Eric von Eberhard
NR  |  22 December 1918  |  110 min  |  Drama, Romance, War
The Heart of Humanity
is a 1918 American silent war propaganda film produced by Universal Pictures about an American woman who is terrorized by the ravages of war and a lecherous Prussian lieutenant when she becomes a Red Cross nurse overseas during the Great War.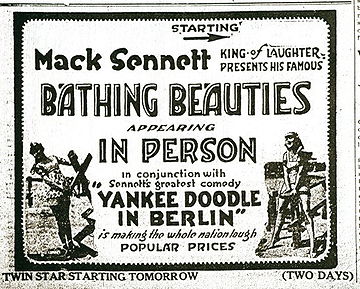 F. Richard Jones
Bothwell Browne
as Captain Bob White
Ford Sterling
as Kaiser Bill
Malcolm St. Clair
as The Crown Prince Freddy
Bert Roach
as Von Hindenburg
NR  |  2 March 1919  |  58 min  |  Comedy
Yankee Doodle in Berlin
is a 1919 American silent comedy and World War I propaganda film from producer Mack Sennett. It was Sennett's most expensive production up to that time. Hiram Abrams was the original State's Rights marketer before the film's release, but producer Sol Lesser bought the rights in March 1919.

Add items to section
Lost Films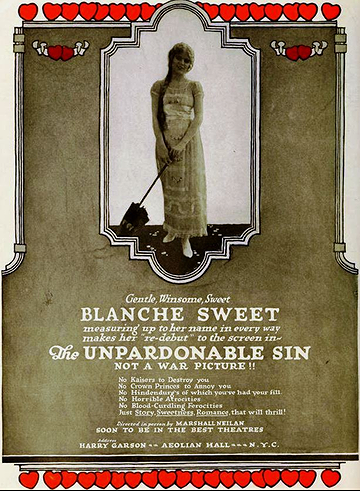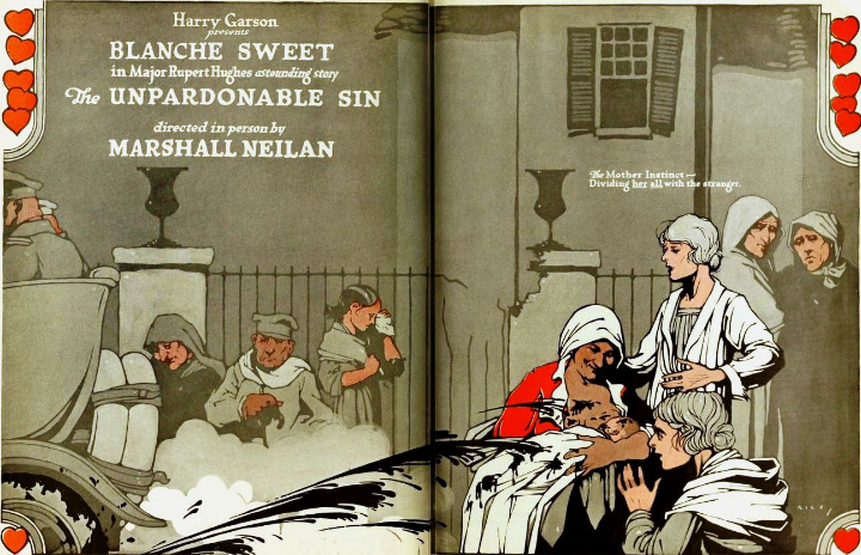 Marshall Neilan
Blanche Sweet
as Alice Parcot / Dinny Parcot
Edwin Stevens
as Stephen Parcot
Mary Alden
as Mrs. Parcot
Matt Moore
as Nol Windsor
NR  |  2 March 1919  |  90 min  |  Drama, War
The Unpardonable Sin
is a 1919 American silent drama/propaganda film set during World War I. The film was produced by Harry Garson, directed by Marshall Neilan, and stars Neilan's wife Blanche Sweet whose portrays dual roles in the film. The Unpardonable Sin is based on the novel of the same name by Rupert Hughes. It is not known whether the film currently survives, suggesting that it is a lost film.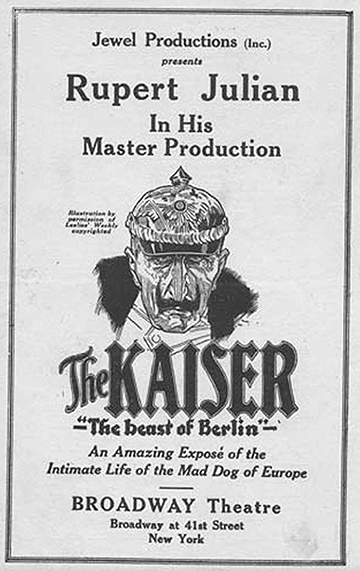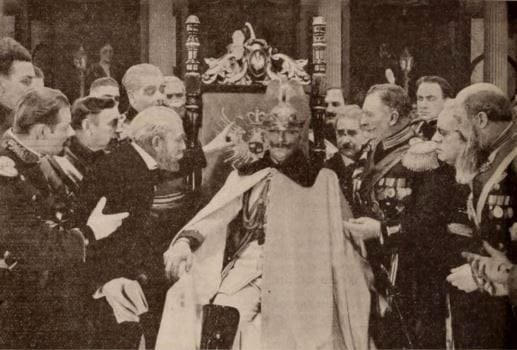 Rupert Julian
Rupert Julian
as The Kaiser
Elmo Lincoln
as Marcas, the Blacksmith
Nigel De Brulier
as Capt. von Neigle
Lon Chaney
as Bethmann-Hollweg
NR  |  9 March 1918  |  70 min  |  Drama, History, War
A propagandistic view of the First World War, showing the political greed of the German Kaiser Wilhelm, the resistance of some of his own soldiers, and fanciful prediction of the nature of the war's end.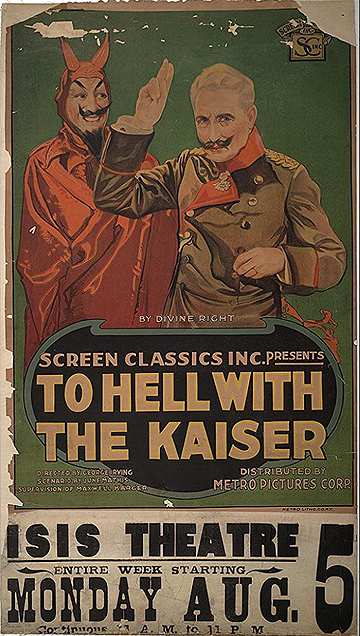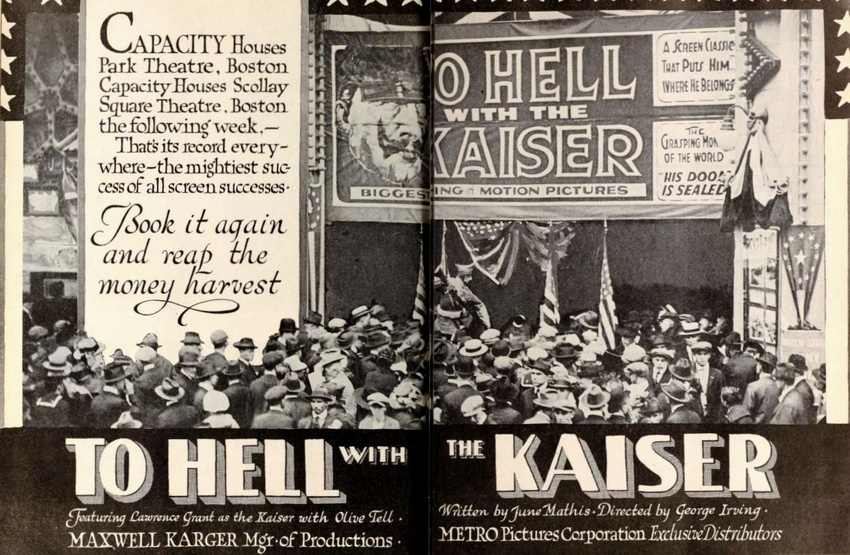 George Irving
Lawrence Grant
as The Kaiser / Robert Graubel
Olive Tell
as Alice Monroe
Betty Howe
as Ruth Monroe
John Sunderland
as Winslow Dodge
NR  |  30 June 1918  |  70 min  |  Comedy, War
To Hell with the Kaiser!
is a lost 1918 American silent Great War propaganda comedy film produced by Screen Classics Productions and distributed by Metro Pictures. It was directed by George Irving and starred Lawrence Grant as the Kaiser.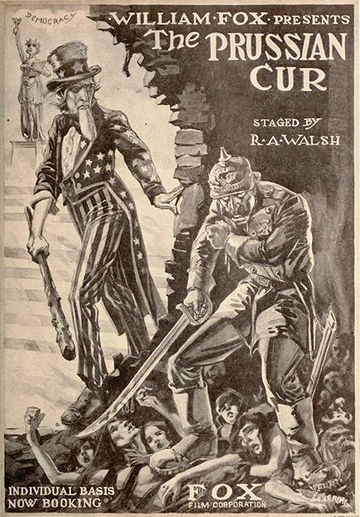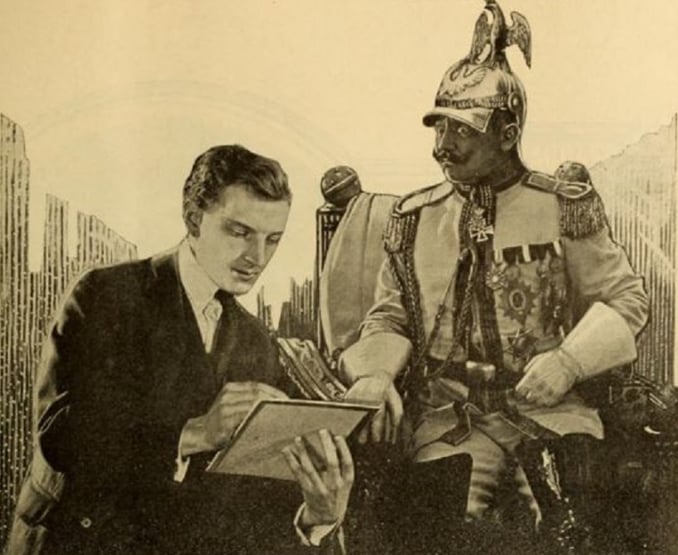 Raoul Walsh
Miriam Cooper
as Rosie O'Grady
Sidney Mason
as Dick Gregory
H. von der Goltz
as Otto Goltz
Leonora Stewart
as Lillian O'Grady
NR  |  1 September 1918  |  70 min  |  Drama, War
The Prussian Cur
is a 1918 American anti-German silent propaganda film produced during World War I. Now considered a lost film, it is notable for telling the story of the Crucified Soldier.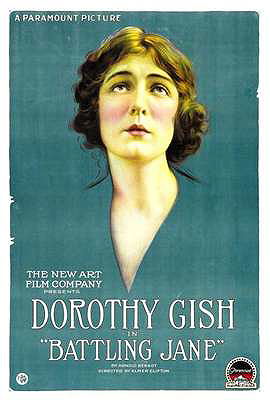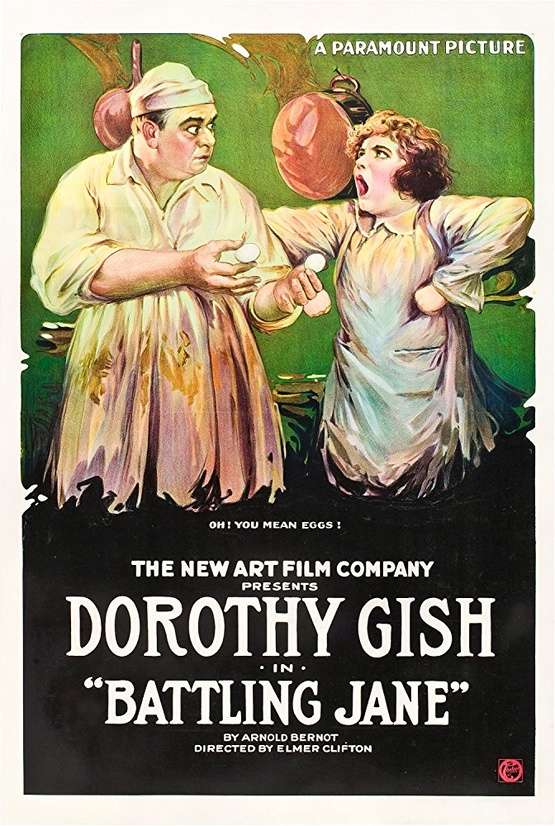 Elmer Clifton
Dorothy Gish
as Jane
May Hall
as Mrs. Sheldon
Katherine MacDonald
as Poliet's daughter
Ernest Marion
as Baby Sheldon
NR  |  29 September 1918  |  50 min  |  Drama, Comedy
Battling Jane
is an American silent melodrama film released in 1918. It was directed by Elmer Clifton as a vehicle for Dorothy Gish and included some patriotic overtones. According to the Progressive Silent Film List at SilentEra.com, it is not known whether the film currently survives.