Sort by:
Showing

38

items
Decade:
Rating:
List Type:
✦ No picture shall be produced that will lower the moral standards of those who see it. Hence the sympathy of the audience should never be thrown to the side of crime, wrongdoing, evil or sin.
✦ Correct standards of life, subject only to the requirements of drama and entertainment, shall be presented.
✦ Law, natural or human, shall not be ridiculed, nor shall sympathy be created for its violation.
► Murder
► Methods of Crime should not be explicitly presented.
► Illegal drug traffic must never be presented.
► The use of liquor in American life, when not required by the plot or for proper characterization, will not be shown.
► Adultery, sometimes necessary plot material, must not be explicitly treated, or justified, or presented attractively.
► Scenes of passion should not be introduced when not essential to the plot.
► Excessive and lustful kissing, lustful embraces, suggestive postures and gestures, are not to be shown.
► In general passion should so be treated that these scenes do not stimulate the lower and baser element.
► Seduction or Rape should never be more than suggested, and only when essential for the plot, and even then never shown by explicit method.
► White slavery shall not be treated.
► Miscegenation (sex relationships between the white and black races) is forbidden.
► Scenes of actual child birth, in fact or in silhouette, are never to be presented.
► Obscenity in word, gesture, reference, song, joke, or by suggestion (even when likely to be understood only by part of the audience) is forbidden,
► Pointed profanity (this includes the words, God, Lord, Jesus, Christ - unless used reverently - Hell, S.O.B., damn, Gawd), or every other profane or vulgar expression however used, is forbidden.
► Complete nudity is never permitted. This includes nudity in fact or in silhouette...
► Undressing scenes should be avoided, and never used save where essential to the plot.
► Dances suggesting or representing sexual actions or indecent passions are forbidden.
► Dances which emphasize indecent movements are to be regarded as obscene.
► No film or episode may throw ridicule on any religious faith.
► Ministers of religion in their character as ministers of religion should not be used as comic characters or as villains.
► The treatment of bedrooms must be governed by good taste and delicacy.
► The use of the Flag shall be consistently respectful.
► The history, institutions, prominent people and citizenry of other nations shall be represented fairly.
► Salacious, indecent, or obscene titles shall not be used.
Actual hangings or electrocutions as legal punishments for crime
Third degree methods.
Apparent cruelty to children or animals.
The sale of women, or a woman selling her virtue.
Branding of people or animals.
"If motion pictures present stories that will affect lives for the better, they can become the most powerful force for the improvement of mankind."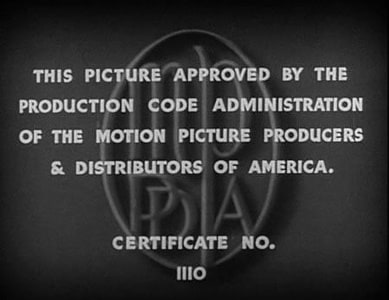 The Motion Picture Production Code or The Hays Code (due to Hollywood's chief censor of the time, Will H. Hays) was created to censor the films released by the cinema studios from 1930 to 1968.
With over the years, the code was changed... but here are some of its first General Principles...curious indeed.
Added to

90 votes
SwornShadow's Favorite Lists :D
(472 lists)
list by SwornShadow
Published 10 years, 10 months ago

13 comments

13 votes
Interesting
(23 lists)
list by Lydia
Published 10 years, 10 months ago

1 comment

25 votes
Censored Cinema
(13 lists)
list by Gia
Published 10 years, 6 months ago

1 comment