"In space, no one can hear you scream. On Earth, it won't matter."
A great take on the classic tagline from
Ridley's Alien
but this is all that this film has to offer. Yeah! We get it. Alien, Aliens & Predator were great films, inconic and cult classics in everyway, but do they have to feel the need to reference them in almost every single scene? Apparently, they do! The Strausse have made it abundently clear that they are HUGE fans of both franchises but they didn't feel the need to stand on their own.
AvP:R is set in modern day USA. Thats the first mistake! Carrying on from
a film
that was an abysmal failure is exactly what made this film start at a minus! Nobody wants to see some quaint little town getting on with their lives and have a big ol' interstellar crisis at their doors! Also, the future couldn't deal with the Xenomorph threat so what made anyone think that their ascendants could! IDIOCY!
Every human character was immediately forgettable. No tears, all sighs. They should have just removed them or replaced them with a redundant currency! The story was made as a chronicling of how much the Aliens and Predators go to extreme lengths to usurp the other. The human characters are meant to tell the story! You find out things as they do, but evidently in this they are so unimportant that they barely find anything out about their foe. The Directors must have known how pointless they all were so just left them in the dark (visually aswell!) to compliment their already non-existent IQs.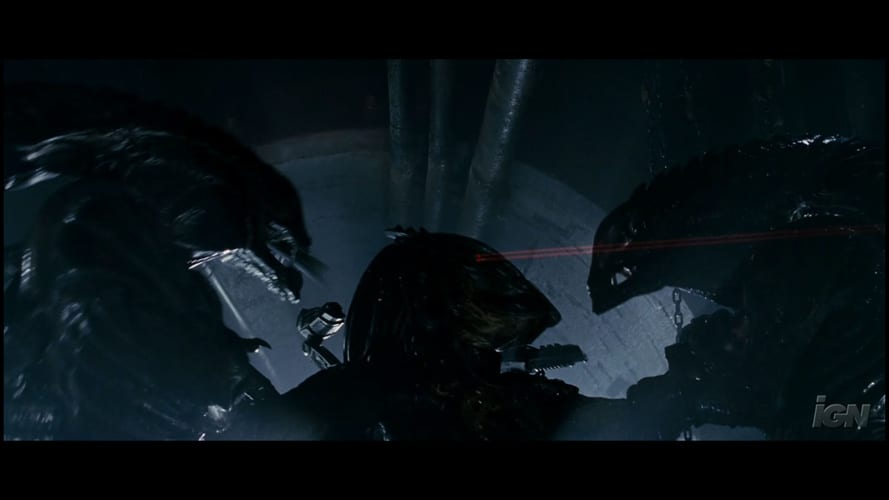 THIS WAS THE MOST RIDICULOUS SCENE OF THE FILM! The Predator can lift up two aliens with one hand on each, I can buy that. He works out! But the fact that the Aliens don't use their razor sharp tails to cut him a new one is absurd! If the Strausse Brothers knew anything about the mythology, the Xenos use their tails like a limb. Constantly! They wouldn't be pancing thats for sure.
The only reason this film received my rating was because of the visual aspects. Puppets still being used for the close encounters and the vibrant and inspiring sound effects. They pretty much used the SFX from Aliens to help it win back the fans. They didn't...but I enjoyed the old Motion Tracker sounds. New Ringtone anyone?
Also, the gore was extremely satisfying. Nothing like watching people melt due to acid spiilages or explode from impregnation. Essentially it brought back the series' to a standard horror rating with more blood than the human body can handle! This was the only improvement. These creatures don't mess around, when they kill you they do it as brutally as possible and this film displayed that in a serene fashion that made it feel soo natural. Welcome back!
The Predalien made its debut in this movie. Can't say I felt overwhelmed but its presence. It was giving a unique ability seeing as it was an immature Queen, although most casual viewers think that all Predaliens can do this. They can get bent. It might aswell not have been there considering the film was so dark. Classic gag from my AvP forum, the film was shot entirely like this:

Alien 5, Predator 3? Impossible. Sigourney, Cameron and Ridley had all expressed making a new title in the future for their respective stories *sigh* Both series have been diluted by the other now. You can't expect one of these films now without a cameo from the other species. This film has made me sad but not in a good way.
2/10