The evolution of Jodelle Ferland
Sort by:
Showing

45

items
Decade:
Rating:
List Type:
Jodelle Micah Ferland
was born on October 9th, 1994 in Nanaimo, British Columbia. She is a young Canadian actress, making her movie debut at the tender age of 4 in the TV-movie Mermaid; playing a character coming to terms with the death of a parent, and for which she received a Daytime Emmy Award nomination, making her the youngest nominee in Emmy history.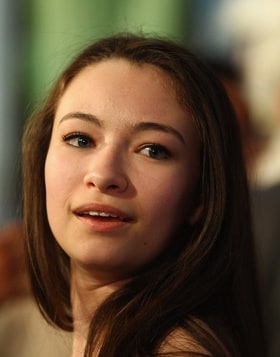 Jodelle then went on to make guest appearances in several television series', including Smallville, Dark Angel, Stargate SG-1 and Supernatural, and has appeared in films including They and Trapped. In 2005, she starred in the cult drama Tideland for Terry Gilliam, and later appeared in the 2006 film Silent Hill, an adaptation of the well-known video game. Ferland's upcoming films include a role in Wonderful World and a leading role opposite Renée Zellweger in Case 39 for Paramount Pictures.
In January of 2007, she received a Genie Award nomination in the Best Actress category for her work in Terry Gilliam's Tideland. And later nominated for a 2008 Young Artist Award for her performance in Pictures Of Hollis Woods. In 2010 it was announced that Jodelle was to portray the role in the highly anticipated movie, Twilight: Eclipse.
Jodelle is a natural talent, the following years saw her bring more projects with the entertainment industry, recieve more nominations for a Genie and a Leo Award and also a special recognition for her role in the horror film genre. Aswell as acting Jodelle maintains a well balanced and well grounded life, enjoying life at home with her friends and family and of course her dog Gena. Jodelle travels a lot but resides in Canada. She likes to connect with her fans through her Twitter and Facebook, she likes to bake and be creative and is a sensational artist. Jodelle has been nominated for an incredible, 6 Young Artist Awards and continues to add the list of nominations to her life. Jodelle is homeschooled and works hard balancing, life, studies and acting the best thing about Jodelle Ferland, is her kind nature, her unbelievable talent, and her love of life.
Added to
48 votes
My Theme Lists
(33 lists)
list by Villiana
Published 6 years, 6 months ago
56 votes
Evolution
(597 lists)
list by Drako Z
Published 6 years, 10 months ago

6 comments