Takeshi Kovacs (Richard K. Morgan)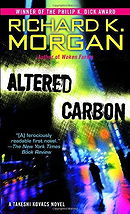 CelShader's rating: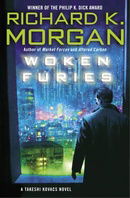 CelShader's rating: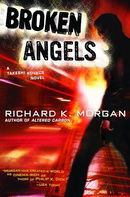 CelShader's rating:

Takeshi Lev Kovacs (pronounced "Koh-vach," Hungarian for "Smith"; the same in Slovak and in some other Slavic languages) is the protagonist of the books Altered Carbon, Broken Angels, and Woken Furies by Richard K. Morgan, which take place several centuries in the future.

A native of the planet Harlan's World, Kovacs is a half-Japanese, half-Eastern European individual who was a teenage gang member before enlisting in the military. After leaving the Envoy Corps, an elite military force, Kovacs returned to criminal life and became a mercenary, and was eventually imprisoned, his cortical "stack" stored without a body for decades at a time as punishment before being paroled or hired out to work a high-risk situation.
Added to