4

vote
Nintendo DS Reviews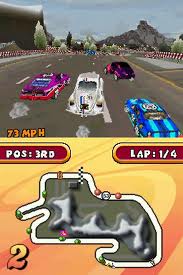 7.0/10 Stars

The lovable bug with a mind of its own - that's Herbie to you - stars in this racing game that, though interesting, isn't wildly entertaining. As a racing game it has charm, likability, a good, easy-to-follow story, a likable heroine; but at times it goes a lap, or a race, too far.

You are Louise, who has a passion for racing. When Herbie enters her life, racing is all she can think of. The main story sees the E. Vile Corporation trying to take your animal sanctuary. I liked the graphics and the engaging aspect of the game. The track designs were good, littered with shortcuts and hazards, such as dust devils and falling rocks.

Anytime power-ups appear in a racing game, it's hard not to think about Mario Kart. That game practically invented it. Though I was successful in not thinking about Mario Kart, I was, however, reminded of another racing game: Toy Story Racer. Both this and Toy Story Racer share the same vein. Well, almost.

Another thing I enjoyed was Herbie's mechanics. Herbie is, literally, a sputtering and dying car who coughs and wheezes to the finish line. A sputtering car should be controlled like one, and Herbie did. For that I give it solid points. What I didn't enjoy was the fact the strenuous feeling my fingers got when I finally stopped playing it. Even while writing this review, I'm been driven by this strange compulsion to push the keys harder.

In conclusion, Rescue Rally isn't an exciting game, like F-Zero is, but it certainly is charming, likable, and full of the 60's. If you disagree, then you probably haven't played this game full.
Happy Vader's rating:


7.5/10 Stars

As one of the many handful racing games I downloaded for the Nintendo DS, the reason for starting my evening off with this game was because I'd recently played the excellent original Colin McRae for the PS1. That original is easily one of the best racers I've played. This one may have worn the king's crown in the PC, PS3 and XBOX 360 versions, but doesn't even amount to a pair of dirty socks in this one. I mean, DiRT 2 is entertaining, offers you plenty of speed and some serious challenge, but it's not polished, feels awkward at times, has bad collision detection and just isn't handsome looking.

Look, in the car selection menu, the cars look very detailed and all. It is during a race, however, that the vehicles become very ugly, like shoe-boxes with wheels. The more cars onscreen, the more it feels a parade of Abstract Daddy's from Silent Hill 2. If you were lucky, or stupid, enough to select a compact car; then you will see it's a race of Jazz Jackrabbits... or greyhounds in the pursuit of Jessica Rabbit. I mean, what is this? A kart racer?

Though your car drives like it should in a video game, it feels loose at times, unfinished. The collision detection on the other hand won't be getting any gold stars from anyone. Every-time I would collide with another car, my car would bounce off. No, literally, it would bounce off. You know those old arcade games where if you crash into another car from the behind, it would seemingly give him a boost, while it would slow down your car to an agonizing speed? Yea, painful old times. I'm looking at you, Cruis'n Exotica. Why does a modern racer have to behave like that I don't know. Here I am, gaining speed, catching up with the leading car; when suddenly he decides to block my way, thus reducing my speed to zero and letting all other cars to overtake me... while he bloody gets an unlimited supply of nitrous oxide. But despite all this, I still won races. It's just the collision detection from hell kept me from cheering too much.

But the C-D is not limited to cars bumping. Hell no. When something frustrates you, it makes a point to go all the way. Many times, during a race, other cars would veer off-road... only to come back on track through sign-boards and rocks. When I attempted that, my car flipped and came to a halt. I once side-bumped a car towards a rock, but it only passed through it. Call it an unlucky ROM, a technical error or glitch or whatever, but I know the real cause. Just plain unplayable at times.

But despite the setbacks, I quite enjoyed the game. Once you get the hang of it and once you gain the lead, life becomes wonderful again. But then a big rock appears out of nowhere and the smile is quickly wiped off your face. Had DiRT 2 been a silly game - that is to say a kart racer - then I could have passed off these things as minor peccadillo's... but since it's not, these hindrances from hell are very unprofessional and unlikable!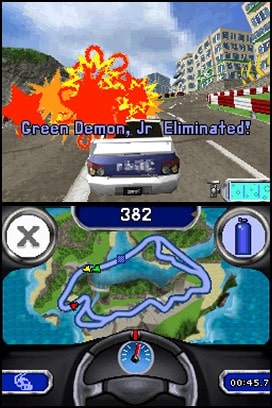 9.0/10 Stars

Every console specialized in a genre. The SNES was home to some of the greatest RPG's known to gamers. The PS1 to some of the best fighters back in the day. The NES was the birth place of a handful of classic side-scrollers. Disagree with me all you want, but the NDS's strongest genre running - to me, so far - is racing games. It's host to a great many other games from other genres, but the racing games stand out like glowing embers. The others dim somewhat by this genre's glow.

Now, love or hate EA, but they're responsible for some of the legendary title in gaming history. What's unfortunate is that their quality has dwindled down awfully a lot from the mid-2000's. What's fortunate, however, is that this version of Need for Speed: Nitro is developed by Firebrand Games; the go-to game company for racing games. Having now played 4 of their games, Firebrand Games has become my second favorite racentric company after Synetic GmbH; a German-based company which mainly develops games for the PC.

The basic gist of Nitro is to come first, but with a twist. You see, Nitro employs style and speed over substance and sense. So basically, gaining the first position is just not enough; you have to look cool while doing it. There are objects to smash, ostensibly called "smackables", various areas to graffitize and the whole wide world to conquer. With initially 6 cars at your disposal, you unlock more cars after successfully conquering an area.

The areas are - Dubai, Rio de Janeiro, Singapore, Cairo, Madrid & San Diego - and each has, in the opening bronze section, 4 tracks to complete. The tracks include sprint, knockout, time challenge, elimination and smash brawls, where you take out smackables. I have to say that the smash brawls were awkward, a la top-down levels in Contra III. With the first three tracks being any combination of the above, the fourth will either be a sprint or elimination but with the boss in it. Frankly, the bosses aren't too much of a challenge and can be beaten easily. I mean, I never had to play one track twice just because I came in second. But then again I was playing the bronze section, so maybe the bosses do indeed get tough in the silver and gold sections, but I'm going to give it a rest now because apart from unlocking new cars, the other difficulty sections are not going to alter the gameplay. Though the game is linear, the tracks can be completed either chronologically or in a non-linear fashion, whichever suits you fine.

With great emphasis on speed, turns and style, Nitro was a refreshing respite from serious, simulation racing games. With just one feature shy from being a kart racer-type - that being the power-ups - Nitro is a fun and enjoyable homage to the 90's arcade racing games, namely Cruis'n Exotica, Roadsters Trophy, Rush 2: Extreme Racing USA and California Speed. Its colorful presentation and unyielding character has the power to both entertain and offend - badly!

Not to say this game has subliminal adult messages, oh no, nothing like that, but that Nitro is practically another nail on the coffin for long time Need for Speed fans. Me, for example. I grew up with the series, buying the titles while they were sizzling hot on the shelves. As a massive fan of Porsche Unleashed and Hot Pursuit, I gotta say I was extremely disappointed at how the series shifted gears to the wrong tracks from Underground 2 onwards. Despite most titles being developed by other companies, every move was still being watched by EA. Nitro, for the first time since NFS II: SE, returned back to its original roots of arcade goodness. With the 2nd, 3rd and 4th era titles being reminiscent of the Fast & Furious movies, Nitro, for a brief period of time, provided a silver lining of hope for long-time fans of the series. Sadly that was quickly turned dark black. The recent titles are all been there, (painfully) done that, with almost no originality or distinguishable features. The NFS empire fell faster than a tree!

Though Nitro isn't exactly a bright bulb in the graphics and look department, it doesn't need to be. Was NFS II: SE spectacular in graphics? If it has exciting gameplay, a thrill of speed and an overall feeling of satisfactory fun, then it matters very little if it looks good or not. Take a look at Colin McRae Rally for the PS1. It hasn't aged well, but the gameplay is still challenging and great as ever and is a delight to visit over and over again. If time does its thing on games like it usually does, then I'm guessing Nitro will be to my future adult self what Colin McRae Rally is to my present, younger self.

As mentioned before, the game's roots are in arcade, which means that impossible speed and even more impossible collision detection are the ingredients of this delicious cake. If you crash into a wall, it will only decrease your speed. If you crash into another vehicle, you will see flying debris but no visible damage to your car or the others'. If you tailgate another car long enough, you will be prompted to press a button which will see your car do a somersault in the air and land in front of him... like I said, arcade goodness. You also get titular chemical compound to help you win races. As if the somersaulting ability wasn't enough, you're given a small bar of nitrous oxide. But the bar is so unfairly small that it depletes in mere seconds - a heavy contrast to how long it takes to fill it up. But since virtually every vehicle is abnormally fast, the N2O is best left forgotten.

As I mentioned before, Nitro's platform is made up of many 90's racing games, and if similarities are observed by the player, it's not a thing of surprise. While playing this game I felt as if I was playing the aforementioned 90's titles along with it as well. The sound effects, however, remind me of a different game series altogether. A series so wonderfully detached from reality, this genre, everything. A series so absorbed in its impossible pink and logic that one cannot hate it, just distance oneself away from it.

Barbie games. That's right. Now before you start contemplating whether I'm secretly fruit or deserves to be a vegetable right now, let me tell you that I have three sisters, the youngest of which is fond of Barbie games. Since the TV to which the consoles are hooked up to is in my room, I know more about Barbie games than anyone, bar no-one! Anyway, back to topic. The sound effects in this game reminded me a-lot of 12 Dancing Princesses. The said sound effects is one of the reasons why the nail got banged on the coffin and why long-time fans are being buried alive. Porsche Unleashed and Road Challenge did not have girly sound effects, no sir!

The other downfall of Nitro is the music selection. Most Wanted did the rap and hip-hop right. Given its story and atmosphere and nail-biting sequences, the unearthly screams of Celldweller and the charismatic voice of Lupe Fiasco felt right at home, did the trick. Over here in this game, the music selection stuck out badly as a guy wearing a Justin Bieber shirt in a Venom concert. I believe the soundtrack of Burnout: Dominator could've worked very well here. I mean, given Nitro's colorful and wild tracks, I could use a little Avril Lavigne or Jane's Addiction in the background!

In conclusion, Nitro is strictly not for hardcore fans of the series. But I think that those said fans should slow down a little and appreciate this rather bold effort from a company that had been at that time getting serious backlash from the gaming industry, most notably due to their Harry Potter games. Any company that gambles with their flagship series and is not afraid to try anything new, no matter how cliched or preposterous, gets respect from me and is deserving of giving a shot. One might leave disappointed, but never in that bad-taste-in-your-mouth disappointed!


Happy Vader's rating:
Added to

13 votes
Hamza Plays Games!
(11 lists)
list by Happy Vader
Published 9 years, 5 months ago

2 comments