Add items to section
Death 2014

Add items to section
Death 2013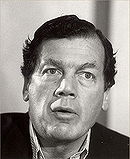 Full Name at Birth: Edgar Miles Bronfman
Age: 84 (age at death)
Date of Birth: 20 June, 1929
Birthplace: Montreal, Quebec, Canada
Date of Death: 21 December, 2013
Location of Death: Manhattan, New York, U.S.

Death Summary: Edgar Bronfman Sr. died of natural causes at the age of 84

Who was Edgar Bronfman Sr. : Edgar Bronfman Sr. was a Canadian-American businessman who served as the CEO of the Seagram Company from 1971 to 1994. He also served as the President of the World Jewish Congress from 1981 to 2007. Bronfman was known for being an outspoken advocate of Jewish causes.
Added to

5 votes
Find Out How They Died ?
(13 lists)
list by Milena
Published 8 years, 9 months ago

1 comment