Midsummer Night's Dream (Everyman Paperback Classics)
Written by
Lists

26 votes
Books Read in 2010
(95 items)
list by Keaster
Published 11 years, 8 months ago

11 comments

22 votes
Books Read in 2019
(36 items)
list by PulpRoman
Published 2 years, 8 months ago

1 comment

14 votes
Book Diary 2021
(59 items)
list by Darth Brutus
Published 9 months, 4 weeks ago

7 comments


7 votes
Books I've read
(65 items)
list by Pq.rocio
Published 10 years, 11 months ago

3 comments
Pictures
Manufacturer: Orion Publishing Group, Ltd.
Release date: 15 July 1993
ISBN-10 : 046087246X | ISBN-13: 9780460872461

Tags:
My tags:

Add tags
Update feed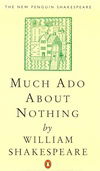 Book Diary 2021 (59 books items)
"22.10. "


My Favourite Books (44 books items)
"Again. How can someone write so... maybe aliens helped him. "

PulpRoman
added this to a list
1 year, 12 months ago

Books Read in 2019 (36 books items)
" "Lovers and madmen have such seething brains, Such shaping fantasies, that apprehend More than cool reason ever comprehends. The lunatic, the lover and the poet Are of imagination all compact: One sees more devils than vast hell can hold, That is, the madman: the lover, all as frantic, Sees Helen's beauty in a brow of Egypt: The poet's eye, in fine frenzy rolling, Doth glance from heaven to earth, from earth to heaven; And as imagination bodies forth The forms of things unknown, the poet's p"