Added by kathy
on 1 Sep 2017 10:20
Report
4

vote
Noor Inayat Khan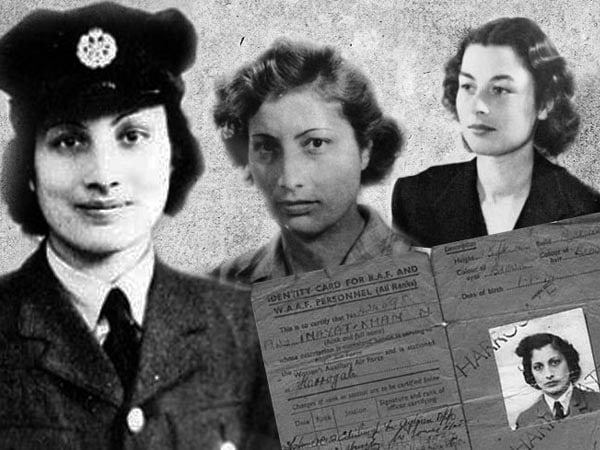 Noor-un-Nisa Inayat Khan GC (2nd January 1914 – 13th September 1944) was an Allied Special Operations Executive (SOE) agent during the Second World War who was posthumously awarded the George Cross, the highest civilian decoration in the United Kingdom and other Commonwealth nations.

Also known as "Nora Baker", "Madeleine" and "Jeanne-Marie Rennier", she was of Indian and American origin. As an SOE agent, she became the first female radio operator to be sent from Britain into occupied France to aid the French Resistance.

As the only remaining wireless operator still at large in Paris, Inayat Khan continued to transmit to London messages from agents of what remained of the Prosper/Physician circuit, a network she also worked to keep intact despite the mass arrests of its members.

She was now the most wanted British agent in Paris with SD officers sent out to look for her at subway stations and an accurate description of her widely circulated among German security officers. With wireless detection vans in close pursuit, Inayat Khan could transmit for only twenty minutes at one time in one place, but constantly moving from place to place, she managed to escape capture while maintaining wireless communication with London: "She refused to abandon what had become the most important and dangerous post in France and did excellent work."

Inayat Khan was betrayed to the Germans by an SOE double agent in 1943 and arrested and interrogated at the SD Headquarters in Paris. Though SOE trainers had expressed doubts about her gentle and unworldly character, on her arrest she fought so fiercely that SD officers were afraid of her. She was thenceforth treated as an extremely dangerous prisoner. There is no evidence of her being tortured but her interrogation lasted over a month. During that time, she attempted escape twice. Hans Kieffer, the former head of the SD in Paris, testified after the war that she did not give the Gestapo a single piece of information, but lied consistently.

After refusing to sign a declaration renouncing future escape attempts, Inayat Khan was taken to Germany on 27 November 1943 "for safe custody" and imprisoned at Pforzheim in solitary confinement as a "Night and Fog"prisoner, in complete secrecy. For ten months, she was kept there shackled at her hands and feet. The prison director testified after the war that Inayat Khan remained uncooperative and continued to refuse to give any information on her work or her fellow operatives, although in her despair at the appalling nature of her confinement, other prisoners could hear her crying at night. However, by the ingenious method of scratching messages on the base of her mess cup, she was able to inform another inmate of her identity, giving the name of Nora Baker and the London address of her mother's house.

On 11 September 1944, Khan was moved to Dachau Concentration Camp. In the early morning hours of 13 September 1944, she was executed by a shot to the back of the head. Her body was immediately burned in the crematorium. An anonymous Dutch prisoner contended in 1958 that Khan was cruelly beaten by an SS officer named Wilhelm Ruppert before being shot from behind. Her last word has been recorded as "Liberté".

She was Britain's first Muslim war heroine. In 1949 Inayat Khan was posthumously awarded the George Cross (Britain's highest award for gallantry not in the face of the enemy) and a French Croix de Guerre with silver star.
Added to