29

vote
938 Views Share:
Amazing Women You've Probably Never Heard Of
Person list created by kathy

Add image to section
Pioneers

Add image to section
War Heroines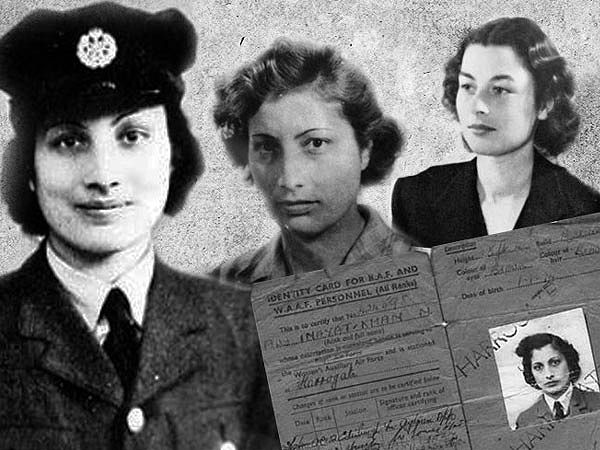 NOOR INAYAT KHAN


Noor-un-Nisa Inayat Khan GC (2nd January 1914 – 13th September 1944) was an Allied Special Operations Executive (SOE) agent during the Second World War who was posthumously awarded the George Cross, the highest civilian decoration in the United Kingdom and other Commonwealth nations.

Also known as "Nora Baker", "Madeleine" and "Jeanne-Marie Rennier", she was of Indian and American origin. As an SOE agent, she became the first female radio operator to be sent from Britain into occupied France to aid the French Resistance.

As the only remaining wireless operator still at large in Paris, Inayat Khan continued to transmit to London messages from agents of what remained of the Prosper/Physician circuit, a network she also worked to keep intact despite the mass arrests of its members.

She was now the most wanted British agent in Paris with SD officers sent out to look for her at subway stations and an accurate description of her widely circulated among German security officers. With wireless detection vans in close pursuit, Inayat Khan could transmit for only twenty minutes at one time in one place, but constantly moving from place to place, she managed to escape capture while maintaining wireless communication with London: "She refused to abandon what had become the most important and dangerous post in France and did excellent work."

Inayat Khan was betrayed to the Germans by an SOE double agent in 1943 and arrested and interrogated at the SD Headquarters in Paris. Though SOE trainers had expressed doubts about her gentle and unworldly character, on her arrest she fought so fiercely that SD officers were afraid of her. She was thenceforth treated as an extremely dangerous prisoner. There is no evidence of her being tortured but her interrogation lasted over a month. During that time, she attempted escape twice. Hans Kieffer, the former head of the SD in Paris, testified after the war that she did not give the Gestapo a single piece of information, but lied consistently.

After refusing to sign a declaration renouncing future escape attempts, Inayat Khan was taken to Germany on 27th November 1943 "for safe custody" and imprisoned at Pforzheim in solitary confinement as a "Night and Fog" prisoner, in complete secrecy. For ten months, she was kept there shackled at her hands and feet. The prison director testified after the war that Inayat Khan remained uncooperative and continued to refuse to give any information on her work or her fellow operatives, although in her despair at the appalling nature of her confinement, other prisoners could hear her crying at night. However, by the ingenious method of scratching messages on the base of her mess cup, she was able to inform another inmate of her identity, giving the name of Nora Baker and the London address of her mother's house.

On 11th September 1944, Khan was moved to Dachau Concentration Camp. In the early morning hours of 13th September 1944, she was executed by a shot to the back of the head. Her body was immediately burned in the crematorium. An anonymous Dutch prisoner contended in 1958 that Khan was cruelly beaten by an SS officer named Wilhelm Ruppert before being shot from behind. Her last word has been recorded as "Liberté".

She was Britain's first Muslim war heroine. In 1949 Inayat Khan was posthumously awarded the George Cross (Britain's highest award for gallantry not in the face of the enemy) and a French Croix de Guerre with silver star.

IRENA SENDLER


Irena Sendler (née Krzyżanowska), also referred to as Irena Sendlerowa in Poland, nom de guerre "Jolanta" (15 February 1910 – 12 May 2008), was a Polish nurse, humanitarian and social worker who served in the Polish Underground during World War II in German-occupied Warsaw and was head of the children's section of Żegota, the Polish Council to Aid Jews, which was active from 1942 to 1945.

Assisted by some two dozen other Żegota members, Sendler smuggled approximately 2,500 Jewish children out of the Warsaw Ghetto and then provided them with false identity documents and shelter, outside the Ghetto, saving those children from the Holocaust. With the exception of diplomats who issued visas to help Jews flee Nazi-occupied Europe, Sendler saved more Jews than any other individual during the Holocaust.

The German occupiers eventually discovered her activities and she was arrested by the Gestapo, tortured and sentenced to death, but she managed to evade execution and survive the war.

In 1965, Sendler was recognised by the State of Israel as Righteous among the Nations. Late in life, she was awarded the Order of the White Eagle, Poland's highest honour, for her wartime humanitarian efforts.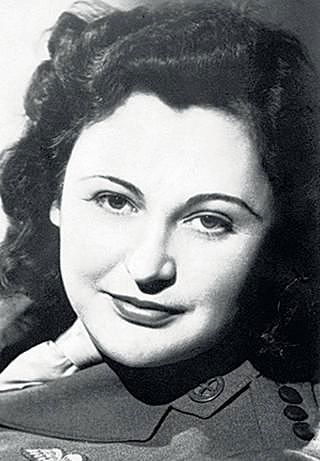 NANCY WAKE


Nancy Grace Augusta Wake AC, GM (30 August 1912 – 7 August 2011) served as a British Special Operations Executive agent during the later part of World War II.

Nancy Wake, "the White Mouse", was the most decorated woman of World War II. Ms Wake, who died in London just before her 99th birthday, was a New Zealander brought up in Australia. She became a nurse, a journalist who interviewed Adolf Hitler, a wealthy French socialite, a British agent and a French resistance leader.

She led 7,000 guerrilla fighters in battles against the Nazis in the northern Auvergne, just before the D-Day landings in 1944. On one occasion, she strangled an SS sentry with her bare hands. On another, she cycled 500 miles to replace lost codes. In June 1944, she led her fighters in an attack on the Gestapo headquarters at Montlucon in central France.

Add image to section
Writers & Journalists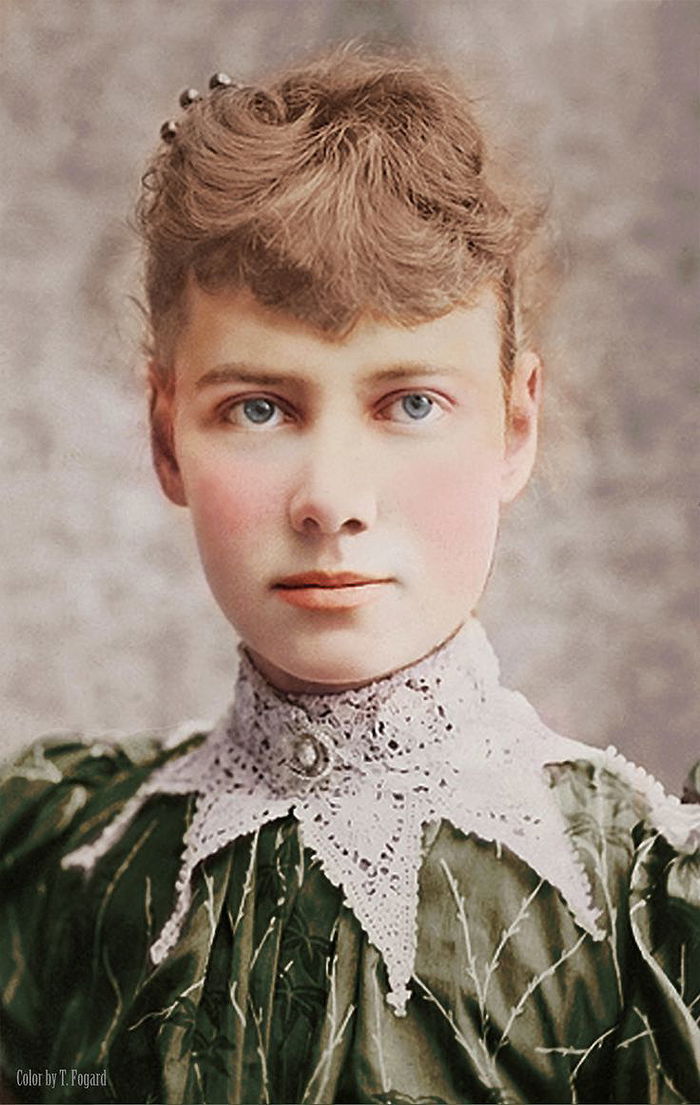 NELLIE BLY


Elizabeth Cochran Seaman (May 5th 1864 – January 27th 1922), better known by her pen name Nellie Bly, was an American journalist who was widely known for her record-breaking trip around the world in 72 days, in emulation of Jules Verne's fictional character Phileas Fogg, and an exposé in which she utilized her female paroxysm to study a mental institution from within.

She was a pioneer in her field and launched a new kind of investigative journalism.

Bly was also a writer, industrialist, inventor and a charity worker.

While at Joseph Pulitzer's newspaper the New York World, she took an undercover assignment for which she agreed to feign insanity to investigate reports of brutality and neglect at the Women's Lunatic Asylum on Blackwell's Island.

Committed to the asylum, Bly experienced its conditions firsthand. The food consisted of gruel broth, spoiled beef, bread that was little more than dried dough, and dirty undrinkable water. The dangerous patients were tied together with ropes. The patients were made to sit for much of each day on hard benches with scant protection from the cold. Waste was all around the eating places. Rats crawled all around the hospital. The bathwater was frigid and buckets of it were poured over their heads. The nurses behaved obnoxiously and abusively, telling the patients to shut up, and beating them if they did not. Speaking with her fellow patients, Bly was convinced that some were as "sane" as she was.

After ten days the asylum released Bly at the New York World's behest. Her report, later published in book form as Ten Days in a Mad-House, caused a sensation and brought her lasting fame.

While physicians and staff worked to explain how she had deceived so many professionals, a grand jury launched its own investigation into conditions at the asylum, inviting Bly to assist. The jury's report recommended the changes she had proposed.

Its call for increased funds for care of the insane prompted an $850,000 increase in the budget of the Department of Public Charities and Corrections. The grand jury also made sure that future examinations were more thorough so that only the seriously ill went to the asylum.

She later wrote stories on Europe's Eastern Front during World War I and covered the Woman Suffrage Parade of 1913.

Bly was an inventor, receiving U.S. patent 697,553 for a novel milk can and U.S. patent 703,711 for a stacking garbage can, both under her married name of Elizabeth Cochrane Seaman. For a time she was one of the leading women industrialists in the United States.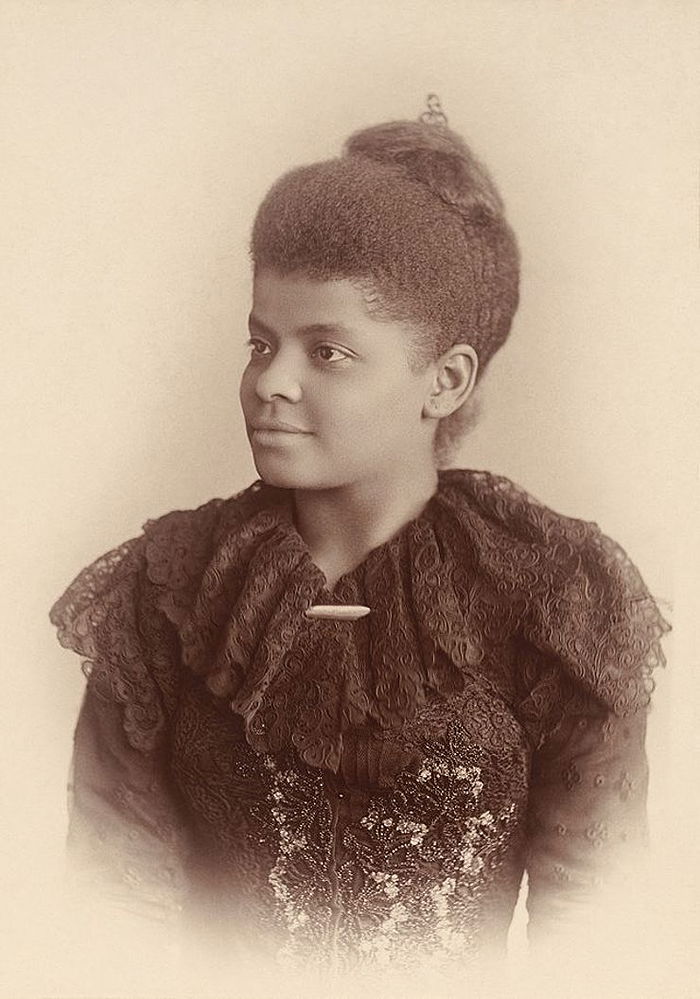 IDA B. WELLS


Ida Bell Wells-Barnett (July 16th 1862 – March 25th 1931), more commonly known as Ida B. Wells, was an African-American journalist, newspaper editor, suffragist, sociologist, feminist, Georgist and an early leader in the Civil Rights Movement.

Wells was born a slave and grew up in segregation. After witnessing several incidents of injustice, Ida B. Wells decided to pick up a pen to write about issues of race and politics in the South. Using the moniker "Iola," a number of her articles were published in black newspapers and periodicals. Wells eventually became an owner of the Memphis Free Speech and Headlight, and, later, of the Free Speech.

She spent two months traveling in the South, gathering information on lynching incidents. Wells wrote an in-depth report on lynching in America for the New York Age, an African-American newspaper run by former slave T. Thomas Fortune. She lectured abroad in 1893, looking to drum up support for her cause among reform-minded whites.

Also in 1893, Wells published A Red Record, a personal examination of lynchings in America. In 1898, Wells brought her anti-lynching campaign to the White House, leading a protest in Washington, D.C., and calling for President William McKinley to make reforms.

Ida B. Wells established several civil rights organizations. In 1896, she formed the National Association of Colored Women. After brutal assaults on the African-American community in Springfield, Illinois, in 1908, Wells sought to take action: The following year, she attended a special conference for the organization that would later become known as the National Association for the Advancement of Colored People.

Working on behalf of all women, Wells, as part of her work with the National Equal Rights League, called for President Woodrow Wilson to put an end to discriminatory hiring practices for government jobs. She created the first African-American kindergarten in her community and fought for women's suffrage.

In 1930, Wells made an unsuccessful bid for the state senate. Health problems plagued her the following year. Ida B. Wells died of kidney disease on March 25th 1931, at the age of 68, in Chicago, Illinois.

She left behind an impressive legacy of social and political heroism. With her writings, speeches and protests, Wells fought against prejudice, no matter what potential dangers she faced. She once said, "I felt that one had better die fighting against injustice than to die like a dog or a rat in a trap.".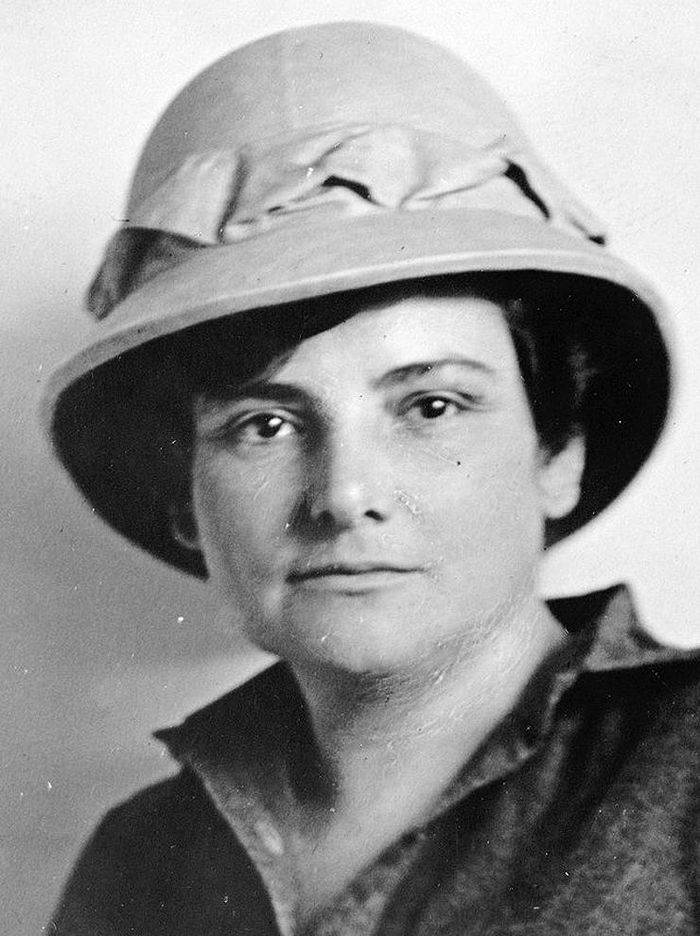 HARRIET CHALMERS ADAMS


Harriet Chalmers Adams (October 22nd 1875 – July 17th 1937) was an American explorer, writer and photographer.

She traveled extensively in South America, Asia and the South Pacific in the early 20th century and published accounts of her journeys in the National Geographic magazine.

She helped found the Society Of Women Geographers and she was the only female journalist let into the trenches during World War I.

Add image to section
Sporting Achievements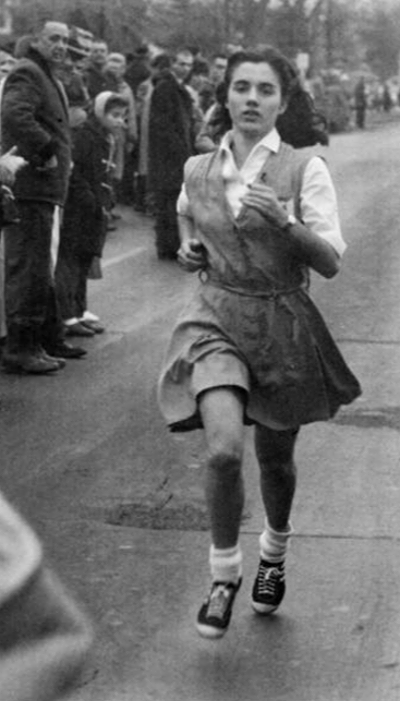 JULIA CHASE-BRAND


Julia Chase-Brand (born in 1942) is a female runner and physician currently living in New London, Connecticut. Her great-grandfather and grandmother were leaders in the American suffrage movement.

Julia Chase-Brand's first race was the New England championship in the 880-yard run, held in July 1960, which she won. However, she had to list her hometown as being in Rhode Island because women from Connecticut were not allowed to compete.

When she tried to run in the Manchester Road Race in Connecticut in 1960, which women were not allowed to run at that time, race officials told her that if she ran she would be banned from racing for life. She lobbied to be allowed to race for a year, but without success.

In 1961 she did run the race, without permission, but then racing's governing body vowed to ban her from all competition unless she agreed to stay out of "men's" road races. She agreed to stay out.

In 2011, at age 69, Julia returned to run the Manchester Road Race again, on the 50th anniversary of her historic run. She received a handwritten "thank you" letter from American marathon runner and 1984 Olympic champion Joan Benoit.

She was named a Hero of Running by Runner's World in 2012.

Chase-Brand studied zoology at Smith College. When she graduated she immediately took a liking to bats and later appeared on Nickelodeon as "Bat Lady". Julia was also a big part in the discovery that bats are in fact not blind and just have very poor eyesight.

She also helped produce a study about how orangutans and gorillas unconsciously stick out their tongues in matters of social aversion, just as people do.

At the age of 53 in 1996, she became the oldest person to obtain a degree in medicine at the Albert Einstein College of Medicine at Yeshiva University.

She practiced child psychiatry and has worked at the Montefiore Hospital, Hackensack University Medical Center and, as of 2012, is medical director of outpatient psychiatry at Lawrence and Memorial Hospital in New London, CT.

She contributed the section Effects of Maternal Postpartum Depression on the Infant and Older Siblings to the book 'Perinatal and postpartum mood disorders: perspectives and treatment guide'.

Add image to section
Doctors & Academics
A list of my favorite women who achieved amazing things but are not very widely known. Annie Oakley is probably the most famous due to the Hollywood musical 'Annie Get Your Gun'.
Added to

15 votes
My Historical Figures Lists
(5 lists)
list by kathy
Published 5 years, 10 months ago

1 comment