''Evil is everywhere. Someone will always sell you for thirty pieces of silver. New misfortunes constantly befall the peasant... either Tatars, or famine, or plague... and he still keeps on working... meekly bearing his cross. He does not despair. He is silent and patient. He only prays to God for enough strength. How could God not forgive him his ignorance?''

Andreiv Rublev charts the life of the great icon painter through a turbulent period of 15th Century Russian history...
Anatoli Solonitsyn
: Andrei Rublyov
Putting
Andrei Rublev
into words, is no mere feat. This is a film that goes above and beyond anything any film-maker future, present or past has ever achieved.
Andrei Rublev
is a film that loses it's conventionality and transcends into pure, asphyxiated art.
Andrei Rublev
offers what every film-maker strives for: A look at
why
art exists?
A story told in a medium that the majority will fail to comprehend, even some artists will be confused or fail to grasp the answers it delivers, but to those whom understand reap the rewards thus becoming moved by the unimaginable. The film captures not only the essence regarding the artist's purpose, but it captures truth regarding our personal existence.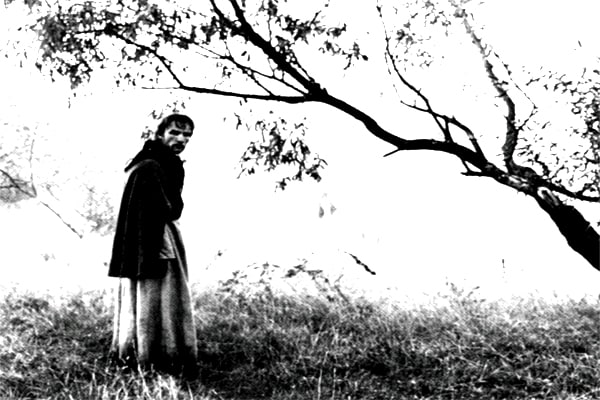 The film begins with a short scene thus showing us a man attempting flight, failing and crashing back to Earth witnessed only by a horse.
This scene alone shows us symbolism immediately if we choose to see it, the man representing the fall of all men or our need to become above other creatures, the horse representing life or loneliness and the barren countryside representing a world that is unfriendly to all men. This scene alone is up for multiple interpretations, many upon which, would be equally or essentially right. The film never tells you how to look at it, but allows you to bring your own philosophy, your own thoughts and of course your own justifications. Ultimately its basic themes are vivid, but many meanings remain as ambiguous as ever, countless viewings will bring more and more to the film's richness, and in truth it is perhaps impossible to fully fathom the meaning driving proceedings. As with all great art it must be experienced and made to relate to one personally to find its meaning, it cannot just be simply viewed and admired.
Rublev's personal artistic development is at best a secondary concern at times; the main concern is dealing with a world in which the exercise of power, whether by God or man, is unjust and arbitrary. Again and again, Tarkovsky presents the viewer with scenes of people being punished. Sometimes we know why: a jester is arrested for singing an obscene song about a boyar (and dropping his pants). Sometimes, we have no idea: the second act opens with a monk walking across a city square as a man in the background is tied to a rack. He protests his innocence, but we never know what he's innocent of.
Tarkovsky has an eye for the way cruelty and power are exercised. You can see it in the bored faces of the guards in the first act as they smash the jester's face into a tree, or the false bonhomie a Tartar warlord maintains as he marches toward a city he will utterly destroy. Tarkovsky is also keenly aware of the ways the powerless console themselves, from Theophanes the Greek's nihilistic wish for apocalypse (
"We'll burn like candles"
) to Rublev's withdrawal into asceticism. But then, growing up under Stalin would give anyone an unusually strong grasp of the way the powerful use cruelty, terror, and pain.
''In much wisdom, there is much sorrow.''

The vivid themes of the film blossom forth from ideas surrounding art, man's need for art and the artists scattered upon the pages of history.
Andrei Rublev is a film that deals with both the futility of being a Christian artist in a Godless world, and with the impact art can have to bring God to a more personal level. These themes are developed in seven stages, each one differing immensely from the other, with the core ideas and the artist Rublev being shared in every one. Though these themes seem to centre around and deal exclusively with suffering, violence, religion, and routine, they are very implicit to every human being's lifestyle. Expressing Art can be used as an allegory for our gifts, the idea that we should not hide what we can offer the world, just as the artist should not hide his gift. Our gifts and talents can be used to glorify God and bring hope, even if the world shies away, despite the often felt futility of doing what we are gifted in, we bring goodness into the world simply by existing and our actions.
Ultimately the film offers this at its underlying core, however there are many more ideas, meanings and political paths the viewer may make.
Through patience and connections the viewer can make the film into a personal venture and in doing so may become moved deeper than ever before. After all isn't this every artists wish? To capture the World, as well as being captured and enthralled by its beauty.
''...Then shall the dust return to the earth as it was and the spirit shall return unto God who gave it. "Vanity of vanities," saith the preacher; "All is vanity."''
10/10