''Quite an experience to live in fear, isn't it? That's what it is to be a slave.''

Deckard, a blade runner, has to track down and terminate 4 Replicants who hijacked a ship in space and have returned to earth seeking their maker...
Harrison Ford
: Rick Deckard
Rutger Hauer
: Roy Batty
Bladerunner
(1982) is definitely one of the most visionary films out there; it's right up there with the best dystopia visions of the future.
Loosely based upon on the novel
Do Androids Dream of Electric Sheep?
by Philip K. Dick,
Blade Runner
is the prodigal film-version son of Dick's visionary effort.
Ahead of its time artistically, visually and idealistically. As an end product
The Final Cut
,
Director's Cut
&
Theatrical
, all feel blooming with depth, messages, and significant poise ahead of it's 1982 release.
The final cut with it's 9 discs, is such a delight to come from Ridley Scott tantalizing questions and answers that will spark debate for many more years to come.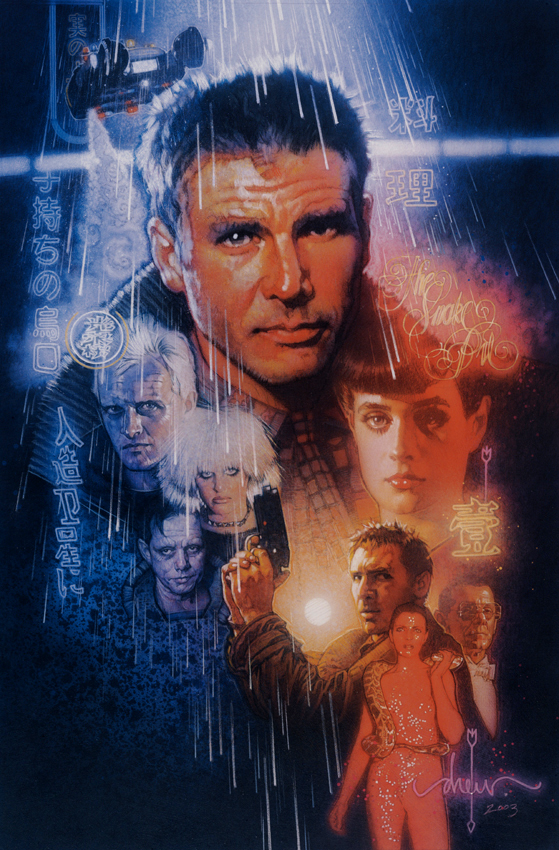 Blade Runner
is not merely confined to being a story; it's not restricted to its characters or being over blown entertainment. It is about landscape, a vast metropolis, and the pinnacle of civilization.
Addressing topics such as correcting our
present
state, knowing what happened in the past and rectifying the future.
The future is used; cue the science-fiction mood and atmosphere resounding from the visual locations. Paradoxical the resulting may be, the future tense gives the viewer the necessary distance towards what he is supposed to see and what he does actually perceive.
The Dystopian themes explored in
Blade Runner
are an early example of cyberpunk concepts expanding into film. Eyes are a recurring motif, as are manipulated images, calling into question reality and our ability to accurately perceive and remember it.
Practically every sci-fi film that tries to predict an entirely new city is based on what is futuristic in terms of its realization, from visual powerhouse masterpieces such as
Metropolis
; to franchised versions of a future world such as
Dark City
or
The Fifth Element
.
Ridley Scott proposes a city that exists already, today, now. We get to the future through present, our present and that links us to it where the future tense gave us distance. Everything is deliberately thrown into a dystopia, chaotic much like a whirlwind, that shakes and twirls, not because it's dark and rainy, but because it's in a city that exists
now
; a future which could very well be the past.
So, everything is classical and timeless; Sean Young, a Replicant that doesn't know who she really is, has a unblemished beauty, the characterization, the way she moves, the way she talks. She plays the piano. She has a
memory
. She is human, except for the fact she is a Replicant, created by man where man is elevated to the category of God and creator, in the exact measure that he creates with the same perfection as a higher being. The camera is Deckard, the camera is the observer and this observer works from the top of the buildings, works above humanity, works on the last floor of Tyrell's Olympus like industrial complex. What is made in here is a change in time scale notion in order to get us, as viewers, down to earth. If God is eternity, and Man's life is a second in eternity; what we see here is Man's future uncertain and the Replicants' 4 years of existence a paradoxical knowledge of when they expect life to meet death. Whenever Replicants are seen in
Blade Runner
it is in fact a unique being shown. Ultimately, this may be about falling to earth with the notion that time is precious, and 4 years can be eternity, if perceived in a way condescending time.
"All those moments will be lost in time like tears in rain"
, says Rutger Hauer's perfect, relentless Aryan: Roy Batty. This is about keeping memory for eternity, physicality the illusion; our souls like the many rain drops falling from the heavens.
''I've seen things you people wouldn't believe. Attack ships on fire off the shoulder of Orion. I watched C-beams glitter in the dark near the Tannhauser gate. All those moments will be lost in time... like tears in rain... Time to die.''

Man pauses to reflect upon his creation, his imperfections, but also his qualities, show up in what he creates. So, throughout the story, we come to change our view of the Replicants: from villainy and fear to
empathy
, from desire to eliminate aspiring to desire for enlightenment and consequent sadness for their demise. That's when Replicants become the higher being than the humans that created them. That is when we know he's not talking about robots, but essentially us.
"Pity she won't live, but again, who will?"
... This is the revelation;
nothing lasts forever, creator or creation
. Still, facing the inevitability of death doesn't stop Deckard from running from life or Replicants from trying to live.
These thematic elements provide an atmosphere of uncertainty for
Blade Runner
's central theme of examining humanity. In order to discover Replicants, an empathy test is used, with a number of its questions focused on the treatment of animals; It seems to be an essential indicator of someone's
humanity
. The Replicants are juxtaposed with human characters whom lack empathy, while the Replicants appear to show compassion and concern for one another, the mass of humanity upon the streets is cold, disjointed and impersonal. The film goes so far as to put in doubt whether Deckard is a human, and forces the audience to re-evaluate what it means to be human.
An ongoing controversy since the film's release, that elusive question:
Is Deckard a Replicant himself?
Both Michael Deeley and Harrison Ford wanted Deckard to be human while Hampton Fancher preferred ambiguity. Ridley Scott has confirmed that in his vision Deckard is a Replicant. Deckard's unicorn dream sequence inserted into the
Director's Cut
coinciding with Gaff's parting-gift of an origami unicorn shown to many as showing Deckard to be a Replicant, as presumably Gaff could have access to Deckard's implanted memories.
The interpretation that Deckard is a Replicant is challenged by others whom believe unicorn imagery shows that the characters, whether human or Replicant, share the same dreams and recognise their unique affinity, or that the absence of a decisive answer is crucial to the film's main theme.
The inherent ambiguity and uncertainty of the film, as well as its textual richness, have permitted viewers to see it from their own perspectives.
Another aspect is the soundscapes, as dystopic as the city, as dark as this future, as empty as no future without its grace.
This is given life by
Vangelis
whom match the visuals with haunting synthesized awareness and bring them to our perception via sound by merging these elements together. Those sounds are the story and hum of that city, are the emphasis of our past, captured in the present, where there is no distinctive memory, where memories are forgotten, or rather not personal, once more, a placement survival device.
''Memory is a pillow for emotions''
, says Tyrell, because he is god, he knows emotions are needed in order to exist, but he also knows he can't perpetuate lies about it, he knows the question and answer driving mortality.
Linguistically, the theme of mortality is subtly reiterated in the chess game between Roy and Tyrell based upon the famous
Immortal game
of 1851, though Ridley Scott stated this was merely coincidence.
You will find practically every aspect of film-noir in
Blade Runner
. . Between 1979 with
Alien
and 1982 with this offering, Ridley Scott moved definitely forward in understanding what science fiction is, and how it should cross over into film making. Every artist has his limits regarding innovation and creation, apparently Scott's limit was defined here. His post-work never would be as influential or visionary as these two films.
I don't remember ever being this blown away by a film upon first viewing and made to dwell upon higher aspects relating to
life
in general.
Usually it takes multiple viewings for a film to gain love and affection but more viewings only show me visions I never comprehended before, you can see the journey from a completely new vantage point. As it stands; This
IS
Ridley's Scott's shot on answers, on questions regarding existence, time and our
fear
of mortality, morality and temporary manifestation in the known physical universe.
Roy saving Decard symbolises humanity being saved by it's creation, the white dove flying away as Roy passes on, a representation for his own soul.
Acceptance and ambiguity answer Deckard's Human/Replicant question; Once our existence is in question, love and freedom show the answer no longer matter. Human or divine, hunter becoming the hunted and the cliche regarding dreams and memories. In the end, it's about living life and not living in fear.
Blade Runner
is greatness; Deep and hypnotic in all it's glory.
''Gaff had been there, and let her live. Four years, he figured. He was wrong. Tyrell had told me Rachael was special. No termination date. I didn't know how long we had together... Who does?''
10/10