23

vote
Wolfshade-A Werewolf Masquerade
(A Werewolf Masquerade)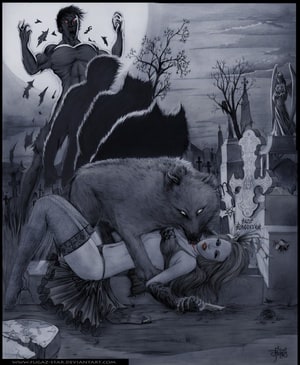 She brought the Night hidden in her sad Wolf eyes
The perfume of a twilight, her strongest scent
Half Wolf, Half female - what a strange wedding
Mother Nature that offered us to see...
Her mask lays lost in a fatal dawn
Closed were the eyes of the Sun. He sleeps.
And in the name of Her Father.
She will kill. My child kills.
Your nightly birth. A requiem God can¹t forget.
For your life is but a celebration of his death.
Without his thorns in her heart. She wears a shadow as face.
A werewolf masquerade. In her eyes the wolfshade.
She brought the Night and by the night was brought
We are but children of the powers she had set free
Strange are the ways of the wolfhearted...

Origin of the Werewolf Legend

During middle ages, especially from 15th to 17th century, Europe was under the dark shadow of ignorance and superstitions. Towns were underdeveloped and people lived near woods. The fear of wolves was like a nightmare. Their attacks were so frequent and atrocious in nature that people even feared to travel from one place to another. Every morning, countryside people would find half-eaten human limbs scattered on their fields.

The first recorded Werewolf sighting took place around the countryside of German town Colongne and Bedburg in 1591. An age-old pamphlet describes those shivering moments vividly. Few people cornered a large wolf and set their dogs upon it. They started to pierce it with sharp sticks and spears. Surprisingly the ferocious wolf did not run away or tried to protect itself, rather it stood up and turned out to be a middle-aged man he was Peter Stubbe from the same village.

Stubbe was put on a torture wheel where he confessed sixteen murders including two pregnant women and thirteen children. The history behind his downfall was rather bizarre. He had started to practice sorcery when he was only 12 and was so obsessed with it that even tried to make a pact with the Devil. Wearing a magic girdle he started to attack his enemies, real or imaginary. After several months, he would take the guise of a wolf and continued with his evil acts with more brutality. In the wolf form he used to tear up victims' throats and suck warm blood from veins. Gradually his thirst for blood grew and he roamed around fields in search of prey.



The savagery of his crimes was beyond imagination. The trial record motioned few of them. Once two men and a woman were walking along a road that went through the forest Stubbe used to hide in. He called one of them into the forest. When the man did not return for a long time the second one followed his trail and also disappeared into the forest. When both the man didn't return for a long time the woman ran for her life. Later, two mangled male corpses were recovered from the forest, but the woman's body never reappeared. It was believed that Stubbe had devoured it all. Young girls playing together or milking the cows in the fields were his frequent victims. He used to chase them like a hound, catch the slowest one, rape and kill her. Then he would drink hot blood and eat tender flesh from her body. However; the most gruesome sin he committed was upon his own son. He took him to a nearby forest, cracked the poor child's skull open and ate brain from it.

No punishment could match the magnitude of Stubbe's crime. His flesh was pulled off with red-hot pincer, his arms and legs were broken and he was finally decapitated. His carcass was burned to ashes.

The Magistrate of Bedburg built a grim monument remembering the ghastly incident. Workmen put the torture wheel atop a tall pole with Stubbe's head above it structured with the likeliness of a wolf. Sixteen pieces of yard long wood cuts were hung from the rim of the wheel commemorating poor souls of the victims. The words of Stubbe's trial and execution spread across the lands in no time. His brutality, atrocity and savagery were beyond human comprehension and was readily related with the behavior of a wolf. People started to believe that such individuals with the shadow of wolves were living among them. They named them Werewolves.





Portrait of a Werewolf and the Transformation Process

A composite portrait of a werewolf can be sketched from centuries of stories. In human form they had bushy eyebrows that met over the bridge of the nose. Their blood-red fingernails were long and Almond shaped;mouth and eyes were always dry and thirsty. Long and narrow ears were laid back on heads. Their skin was rough, scratched and hairy with yellowish, pinkish or greenish cast. In addition to such physical features, the werewolf also displayed certain psychological traits. They generally preferred the night and solitude, had an inclination towards visiting the graveyards and were known to dig up corpses and feast upon them.

The transformation was achieved by any of the following methods:

Curse: An ill fated man could become victim of witchcraft or fall under curse of evil spirits. The person then would involuntary turn into werewolf.

Bitten by Werewolf: Another common believe was that any one could become one if saliva of an werewolf could find a way to blood stream; might be from bite or scratch.

Putting on Wolf Skin: Most easiest way of becoming werewolf; however, there have been debates concerning effectiveness of the method. An evil minded person could put on hide of a dead wolf and become a werewolf. In case the complete skin was unavailable, a belt or girdle of wolf hide would supplement it.

Occult or Devil Worshiping: An wicked person can start worshiping the Devil and surrender his soul to it. The Devil then would grant him the power to become an werewolf. In some cases it could be any evil spirit answering to devotion.

Magic Salve or Ointment: A good number of recorded cases mentions a potent salve or ointment with which werewolf would rub their bodies for transformations. The compositions of those ointments were different, but generally contained plant ingredients like nightshade, belladonna and henbane. Pig fat, turpentine and olive oil were used as solvent for them. Later when the distillation of spirits was perfected, alcohol served the purpose.

Rituals: Evidence of ceremonial rituals are often mentioned in the werewolf cases. The rituals were mainly any combination of the voluntary methods of becoming a werewolf. First the afflicted man would locate an isolate place and trace a big circle on the soil. On the center of that circle he made a fire and prepared his magic ointment. ( After rubbing his body with the ointment, he would wear the wolf hide and concentrate on prayer to the Devil. At the end of the process the man turned into a wolf and ran in quest of prey.
Added to

17 votes
Favorite Lists
(207 lists)
list by Monstermaster
Published 8 years, 5 months ago

5 comments

26 votes
Why I Love Monsters
(80 lists)
list by Monstermaster
Published 8 years, 6 months ago

2 comments

63 votes
Voldie's Favorite picture lists
(204 lists)
list by Voldie
Published 10 years, 7 months ago

7 comments

69 votes
Mythology and Folklore
(40 lists)
list by Katherine Fell
Published 9 years, 11 months ago

3 comments

29 votes
All Halloween
(24 lists)
list by Katherine Fell
Published 9 years, 5 months ago

3 comments