Add image to section
Synapsids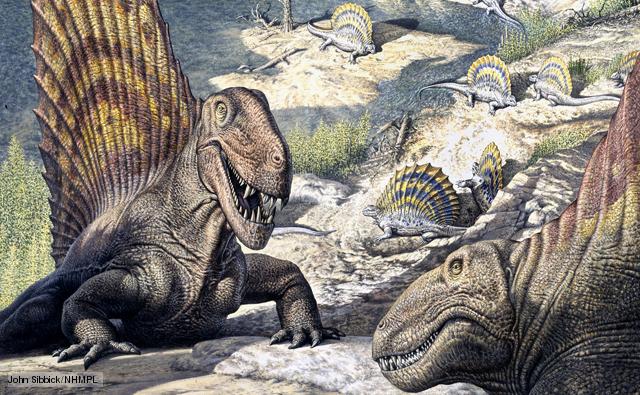 Synapsids are an unusual grouping of animals, an offshoot of the ancestors of the reptiles that includes all of the mammals and the mammal-like reptiles - also known as proto-mammals. These have their ambiguous name because they don't fit neatly into either category. They include the sail-backed prehistoric 'monsters' Dimetrodon and Edaphosaurus, the tusked dicynodonts and the ancestors of all today's mammals. Synapsids ruled the land in the Permian period, becoming the largest and most numerous terrestrial vertebrates. With the exception of the mammals, they were all extinct by the mid-Cretaceous.

Add image to section
Cynodonts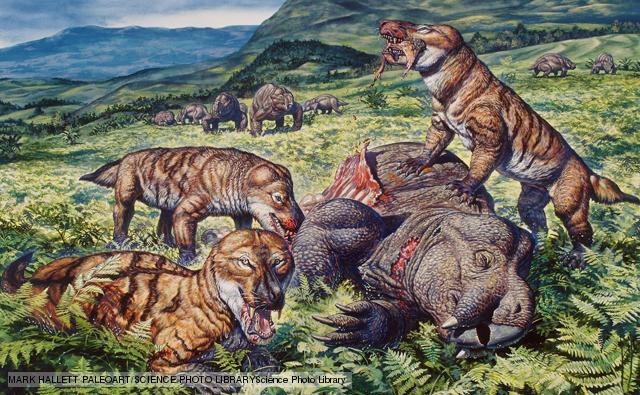 Cynodonts are said to be the missing links between reptiles and mammals. All of the latter are, techincally speaking, cynodonts themselves. It was during the evolution of the cynodonts that many things typical of mammals arose: their jaw structure, the hammer, anvil and stirrup bones of their inner ear, and - the secret of their success - their efficient chewing teeth. Things which don't fossilise so easily, such as warm-bloodedness, furry bodies and milk production also probably arose in the pre-mammalian cynodonts. They were most likely to have been nocturnal, as the areas of the brain associated with smell and hearing - useful senses in the dark - were enlarged.

Add image to section
Placerias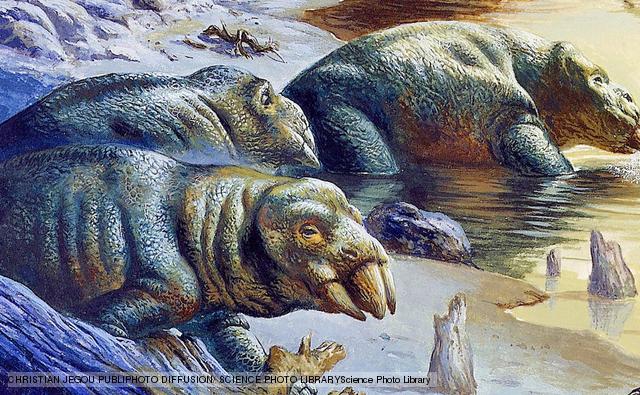 Placerias was, at 3.5m in length, the largest herbivore of the Late Triassic Period, whose chunky, barrel-like body may have weighed a little under a tonne. Despite its appearance, Placerias was not a dinosaur, but a type of mammal-like reptile. It was the last of the Dicynodonts, so with its extinction that whole lineage disappeared. Like other dicynodonts, Placerias had tusks which it used to dig up roots and a beak to chop up its food.

Add image to section
Therapsids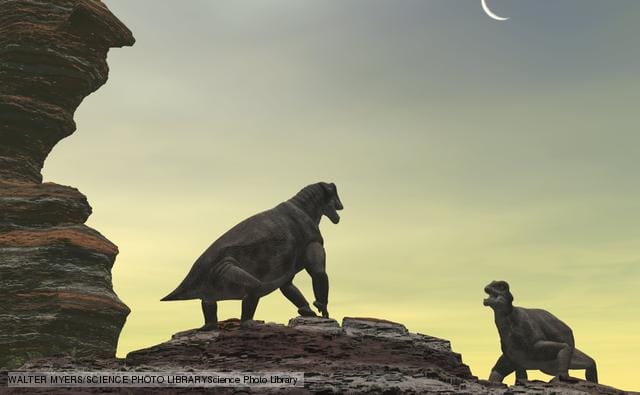 The therapsids include all mammals plus the many mammal-like reptiles, such as Dicynodon and the sabre-toothed gorgonopsids. The therapsids rose to prominence in the Permian to become the most successful land animals of their day. The secret of their success was in their teeth, as therapsids evolved new and better methods of chewing plant and animal food. However, the group took a hammering in the mass extinction at the end of the Permian, and was sidelined for millions of years as the dinosaurs diversified. The therapsids' ultimate successors - mammals - now rule the Earth courtesy of those efficient therapsid teeth and jaws.
Added to